Looking to give your old car a new look for the most inexpensive way? Try the Plasti-Dip Your Car method! Thousands of people have applied this to rims, wheels and cars on both new models and used vehicles. A complete "Dip Kit" for your car can be purchased that is relatively cheap and will contain everything to let you cover the whole or entire car for around $300 dollars. We did this to our old car and we made a review on the step by step process and the time and materials needed. This method is NOT recommended for brand new vehicles as you can remove the Plasti-Dip but over time it may pull off your cars paint in the process. This is mostly recommended for older model cars with bad paint jobs or to hide and cover dents and scratches. We used a nice little 1987 BMW 318i for our plastidip test. (The cheapest Plasti-Dip Kit to cover your ENTIRE CAR is available here and Spray Can Kits are available here)

HOW TO PLASTI-DIP YOUR WHOLE CAR FOR $300 DOLLARS COMPLETE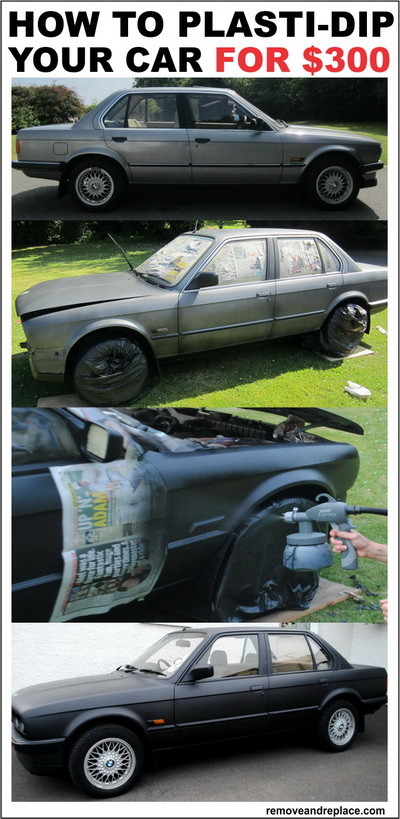 How to plasti-dip your car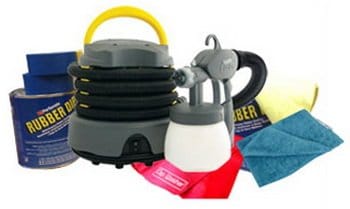 The $300 Car Dip Kit comes with a professional Sprayer, 3 Gallons of Sprayable Plasti-Dip,
1 roll of Blue Tape, a DipWasher, 2 Decals, Mixing Sticks and Microfiber Towels.
There are 3 kinds of finish you can choose from – MATTE, GLOSS and PEARL Finish
MATTE FINISH – Matte kit provides a matte finish.
GLOSS FINISH – Gloss kit includes (1) Gallon of Sprayable Glossifier to provide a gloss finish
PEARL FINISH – Pearl kit includes (1) Gallon of Sprayable Pearlizer to provide a pearl finish

Here is the BMW we used for this Plasti-Dip Kit review test.
There were multiple dents and scratches that we wanted to cover.
This vehicle needed a new paint job so we thought covering the entire car with the kit would be a good solution.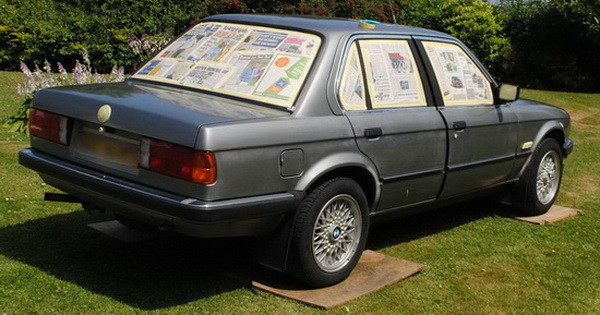 We first washed the vehicle thoroughly, let dry, then taped and covered everything we did not want covered.
Make sure you have a very sharp razor blade to cut the tape so the ends are even and do not overlap anything.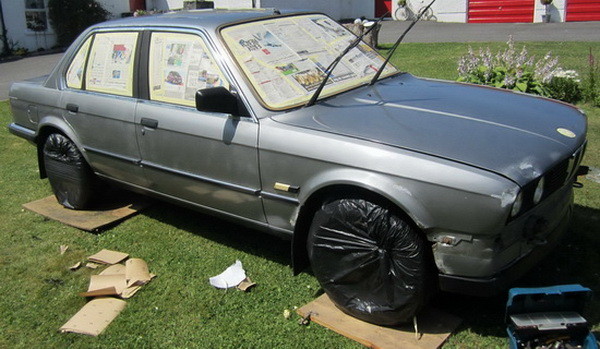 Everything needed to be covered including the BMW car emblem, windows, the tires, the lights and more.
Make sure you tape off absolutely everything that you do not want covered from the paint kit.
Preparation time will take you approximately 3 to 4 hours depending on vehicle type.
Note: The plasti-dip can be removed fairly easily but save yourself the trouble and tape things well!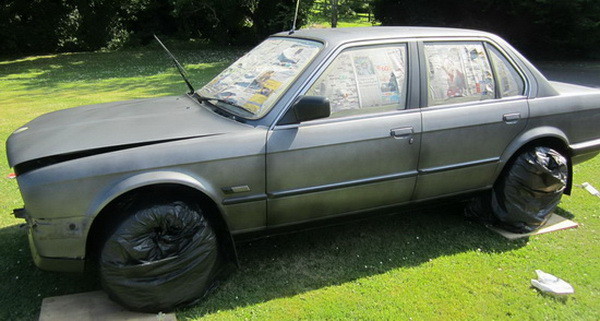 In this photo we are applying the first coat of our Plasti-Dip to our vehicle.
It sprays on very easy and smooth with the sprayer that is provided in the kit.
It took us about an hour to apply the first coat as we were being very careful not to make drips.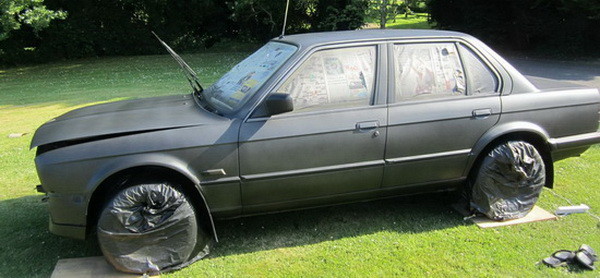 After we gave the first coat about 30 minutes to dry, we applied the second coat.
It is recommended to give your vehicle 3 to 5 coats to create a long lasting hard shell.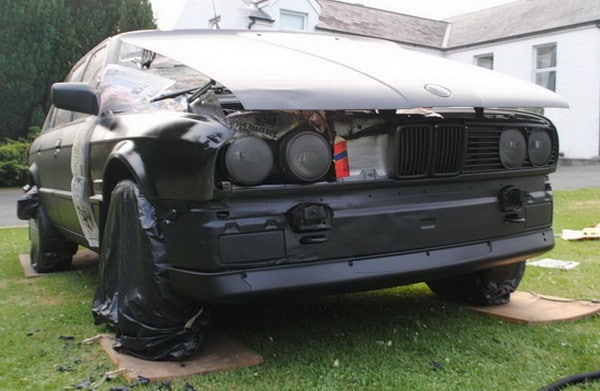 We sprayed the front of our car also including the grill, front bumper and tow hooks.
We did not cover the headlights but we recommend doing so as scraping it off took time.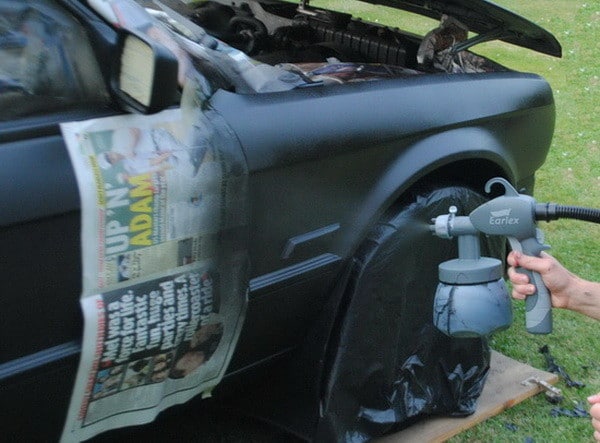 Here we are spraying a little extra on our front fender as we needed to cover up dents and scratches.
Using the Plasti-Dip kit is a truly great way to cover over minor cosmetic blemishes on your car.

Here is our vehicle totally sprayed and drying. Total time so far is about 5 hours.
A larger car might require a bigger spray kit and obviously more time involved.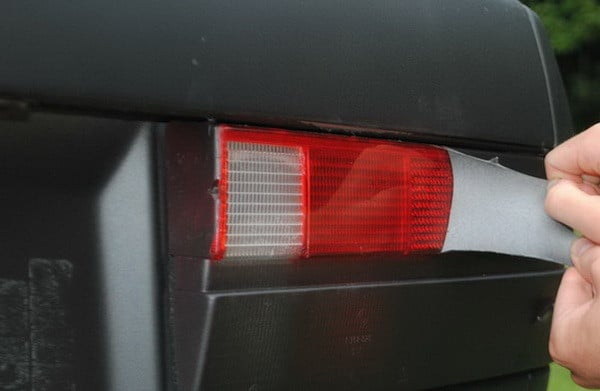 Once we let the dip kit completely dry, removing the tape was fairly easy and fast.
Remember if you do not do a good job masking and taping the vehicle before applying the kit,
you will need many more hours scraping off the material and touching up areas that did not get enough applied.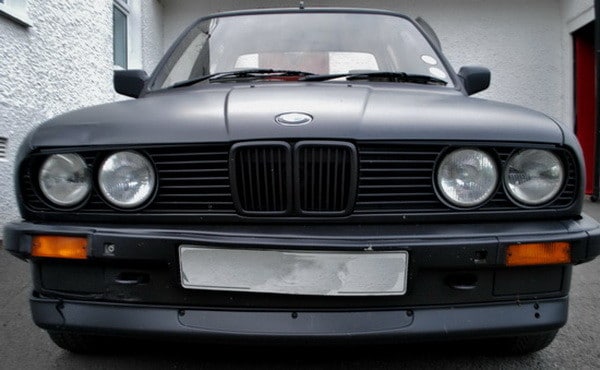 Here is the front of the vehicle completely "dipped" and finished with tape removed.
This type of application will last you from 1 to 3 years if your car is parked in a garage and not driven in heavy snow.
You can apply Plasti-Dip to your rims or wheels if desired and the aerosol can spray is best for small applications.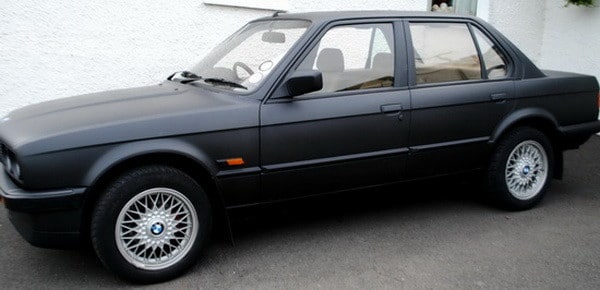 Here is a side view of our fresh plasti-dip application vehicle. It looks great and will last for years!
Overall we would recommend doing this to a vehicle that needs a new paint job or a used car with dents.
If you are planning on "dipping" a brand new car, we would not recommend it as this can severely damage paint.