Here is the list of the Top 10 BEST Photo Editing & Picture Taking Apps for the Samsung Galaxy S4. Each app has been thoroughly tested and reviewed by RemoveandReplace.com. These photography apps from the Google Play Store best utilize the large 5″ screen on this particular phone (Samsung S4). All of the 10 apps we tested are absolutely free apps and will not cost you money. Each app can be downloaded free and we have included the link to download after you read the unique features of each app. Our top 10 list below does not list the apps in any particular order. Each of these android photo applications have a slightly different purpose as there main function. Some of these apps focus on editing, some are strictly for using with Instagram, a few are best for creating a collage, some focus on just adding special filters to your photos and some are the best for adding borders or sketches to your photos. So have a look below and get some great info on getting the perfect photo app for your perfect Samsung phone.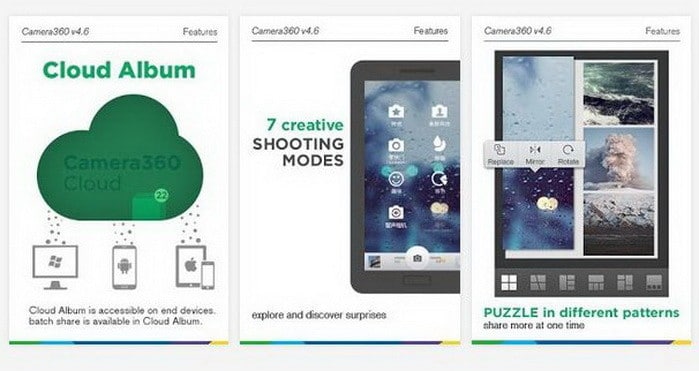 Camera360 Ultimate
Camera360 provides a comprehensive suite of professional yet fun mobile photography options. To make your life even easier, Camera360 has introduced Camera360 Cloud, a cloud platform that can help you manage, edit, store, and share your photos all in one place. Seven Shooting Modes that include: special effect mode, zooming mode, audio camera mode and more!
Improved Special Effects with our third generation image processing engine that can make Special Effects even clearer and more colorful, creating thrilling photography experiences like never before. Photo Montages that can help you piece together your most memorable moments! Camera360 Cloud which provides a safe and private platform for you to browse, manage, edit, and share (supports 2000 px photo uploads).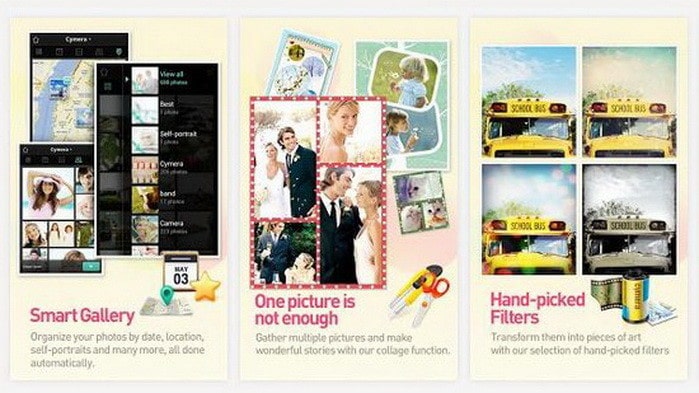 Cymera – Camera & Photo Editor
Cymera is simply the best camera application for portraits. It has everything you need in a camera and photo editor to help you capture and create photos worth awards. It offers a huge variety of lenses and shooting modes, hand-picked filters and the best beauty effects, run through our own face detection technology. All of this plus more than 800 decoration options and the most amazing collage effects.
Out of Focus, Anti-Shake, Timer, Self-Portrait, Touch Shots and other shooting modes to help you get the best out of your capturing experience. More than 20 carefully selected filters to bring different emotions to your photos. Adjust the light and intensity of the filters individually. Add one of our 20+ borders and light filters to give your photos a completely different feel. Big Eyes, Smile, Slim Face, Clear Spots, Liquify, Brighten and more options to help you make the most beautiful portraits. Our face detection technology allows Cymera to locate every trait of your face and know exactly where to add the effect. We have compiled over 70 different realistic hair and makeup items to help you complement your looks.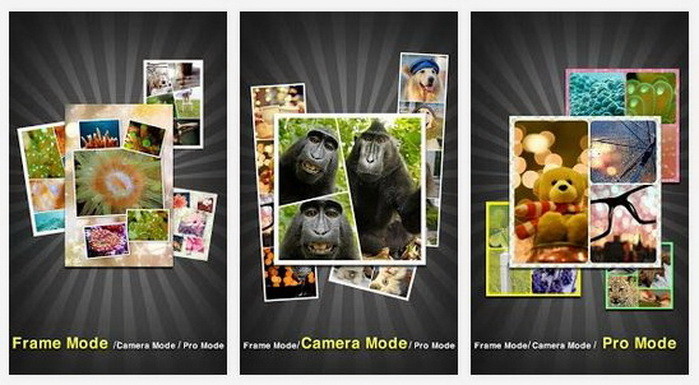 InstaPicFrame for Instagram
This app has powerful functions and it is very easy to use. You can use this app to merge lots of photos into one photo through a very simple operation and you can post the photo to instagram.
You can customize the style or use templates to merge photos.
Shake your iPhone/iPod touch to change the photo template.
Provides a lot of beautiful frames and background templates to make the result photo much more beautiful.
You could share your photos to instagram, Facebook, Twitter, Tumblr and Flickr.
Save your final result to your gallery, as wallpaper, or on your SD card.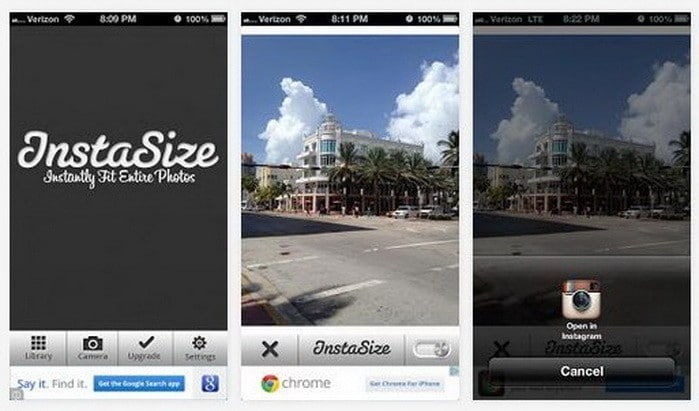 InstaSize – Instantly Fit Entire Photos
InstaSize has been revamped to create a better Instagram experience for you.
InstaSize is still the easiest and fastest way to post entire photos on Instagram without cropping.
POST ENTIRE PHOTOS ON INSTAGRAM
Easily import photos from your albums or take a photo directly on Instasize.
Click the InstaSize button and BAM! your photo is ready to share on Instagram.
HIGH RESOLUTION
We export all your photos in high resolution at 1500 x 1500 pixels.
SHARE TO INSTAGRAM
Sharing has been simplified. After you are done creating your masterpiece,
just click the Instasize button on menu and export to add Instagram filters.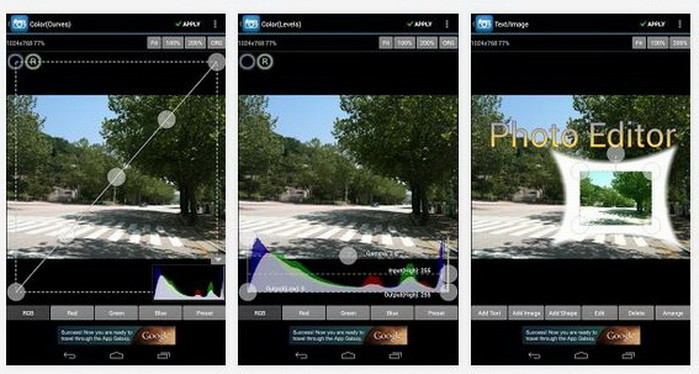 Photo Editor By Macgyver
Photo Editor is a simple and easy application for photo manipulation.
Adjust color, add effects, rotate, crop, resize, frame, and draw on your photos.
Color adjustment options include hue, saturation, contrast, and brightness.
Photo Editor offers a large variety of effects for your photos including gamma correction, auto contrast, auto tone, blur, sharpen, oil paint, sketch, black & white high contrast, sepia, and lots more.
The easy touch and pinch-to-zoom interface makes it simple to play with your photos.
Save your final result to your gallery, as wallpaper, or on your SD card.
Adjust color, add effects, rotate, crop, resize, frame, and draw on your photos.
Curves interface that allows fine-tuning of colors.
Drawing mode, adding text or images.
Easy rotation, crop or resize of photos.
Easily edit with the touch and pinch-to-zoom interface.
Use photos from your gallery and camera.
Save images in JPEG and PNG. Flexible control of JPEG quality.
View, edit, or delete EXIF data.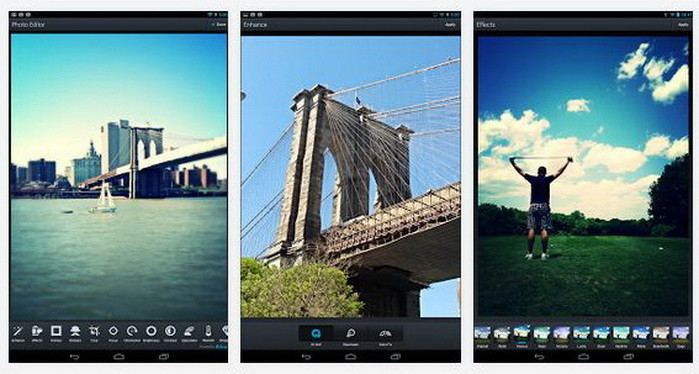 Photo Editor by Aviary
Aviary is a powerful photo editor which we created because we wanted a quick and easy way to edit our photos on the go with no fuss. We've included all the tools you need, in a super intuitive interface so you can get right to editing.
One-tap auto enhance. Gorgeous photo effects and frames. Fun stickers. Color balance. Crop, rotate, and straighten your photo. Adjust brightness, contrast, color temperature, and saturation. Sharpen and blur. Color temperature ("Warmth"). Color Splash. Focus (Tilt Shift). Draw and add text. Create your own memes. Cosmetic tools: fix redeye, remove blemishes and whiten teeth.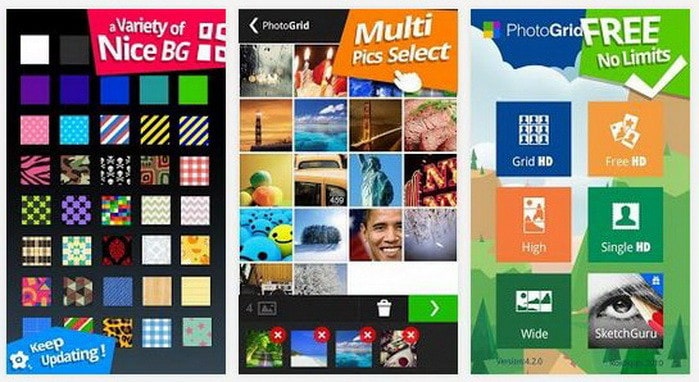 Photo Grid Collage Maker
Photo Grid is free and makes sharing pics and collages very easy.
Instantly and easily create collages, wallpaper and photo albums.
Edit pictures in our photo lab and share on Instagram and other places with Photo Grid.
Makes great an amazing instacollage for instagram. Create a professional collage instantly.
Variety of layouts for photo grids, wallpapers, photo walls, albums and collages.
Shake to conveniently swap pics or manually select for precision.
Editor allows you to move, swap, rotate, zoom, sketch, etc in the photo lab.
Add text, emoticons and clip art to your photos and collages.
Arrange your collages (for Instagram), wide rectangle, tall rectangle or just use a single photo.
Share via Facebook, Instagram, Twitter, Flickr, Picasa, Blogger, Tumblr, Google Plus, email, etc.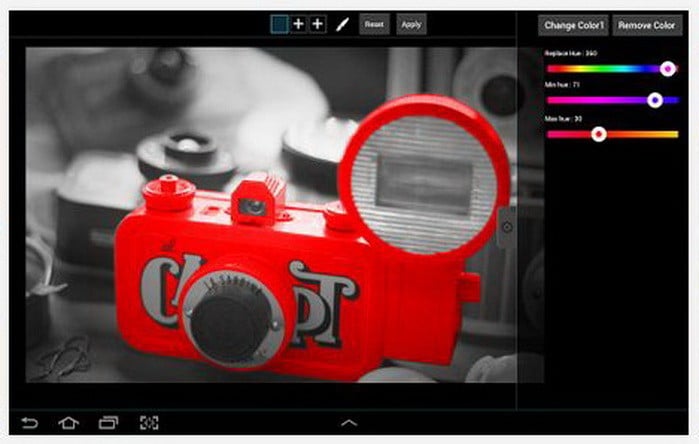 PicsArt Photo Studio
PicsArt is a free photo editor, photo grid and collage maker, drawing tool and picture art network. Collage Maker allows to create amazing collages, using photo grid, free form collage maker, or using photos on backgrounds. It is one of the most powerful photo grid and free-form collage making tools on the market. Photo Editor provides tons of photo manipulations, masks, collages, frames, borders, stickers, text effects, clipart graphics, callouts, crop, rotate, color adjust and more!
Effects are awesome artistic photo effects such as a stenciler, cartoonizer, sketcher, Orton, Lomo, vintage, cross process, HDR, fattal, pencil, Holgaart, watercolor, contours, comic, neon, gouache, old paper, pastel, red eye remover, Popart, mirror, smart blur, face fix, color splash, paper effect and more! It allows you to apply effects to picture using brush mode, when artists can control where and how much of the effect to apply to an image.
Photo Editor provides multiple image masks, text tools, cliparts, lens flare, frames and stencils to artists.
Both novice and professional graphic designers are using PicsArt for work and fun!
Photo Camera enables you to take a picture, preview and apply photo live effects by enhancing your camera.
Drawing Tool provides features including: draw, sticker mode, callouts, artistic brushes, layers & text styles!
PicsArt Draw includes layers and the ability to hide, rearrange order, or merge image layers.
The new PicsArt DrawCam feature allows you to combine live camera with drawing, photo editing and layers.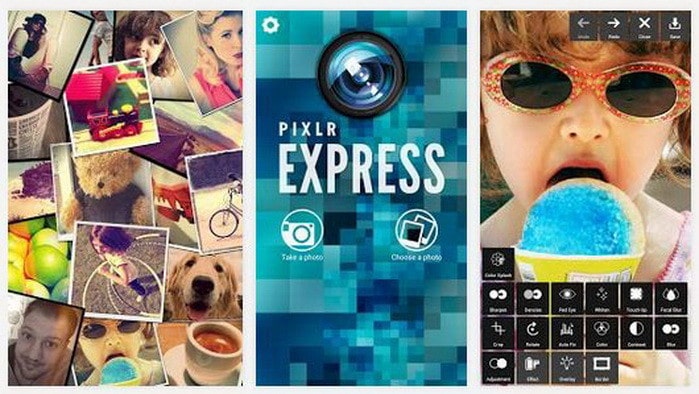 Pixlr Express
Pixlr Express is a fun and free photo editor that lets you quickly crop, re-size, and fix any picture, remove red-eye, and whiten teeth.  Then choose from more than 600 effects, overlays, and borders to personalize any image—all for free.  From the makers of Pixlr-o-matic, Pixlr Express will make you look like a pro, even if you've never edited a photo before.
Crop, resize, straighten and rotate images easily.
Auto Fix photos for a one-click fix to balance out colors, adjusting for dark photos and poor lighting conditions.
Remove red-eye and whiten teeth with simple tools.
Overlays help you adjust the mood – amplify the tone, cool it down, or add surreal shades.
Lighting effects can add drama, sparkle or a grunge look.
Easily adjust the intensity and orientation of each effect.
Finish off your photo process with the right border – pick a style that fits you.
Look like a pro with cool photo effects like focal blur, denoise and more.
Explore color tools to adjust contrast, brighten, or focus on one color with a color splash.
Keep track of your favorite effects and overlays with the favorites button.
No camera required! Select a photo from your gallery and start applying filters.
If your device has a camera, you can also snap a new picture from within the app.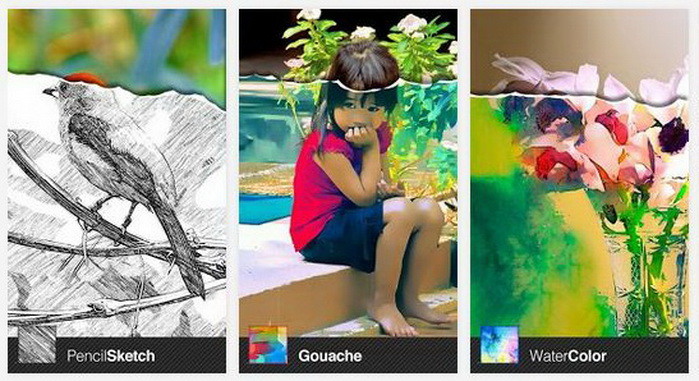 Sketch Guru
Facebook and Flickr online albums supported now!
You can import your social photos seamlessly in Sketch guru.
Sketch Guru is a professional app to make you an artist by creating pencil sketch of your photos.
Pick a picture from your gallery or capture one from your camera to generate the sketch.
Effects include: Gouache, PencilSketch, ColorPencil, WaterColor, HalfTone, SimpleSketch,
ComicB&W, BlackBoard, BlackBoardColor, Print, B&W, PencilSketch2 and No sketch.
You can also share them on Instagram, Facebook, Twitter, Flickr, E-mail, etc.
SketchGuru is the best sketch app you can find on the market.
Create wonderful photo effects and picture paintings.
Resize photo: User can adjust the size of the picture by pressing buttons in 6 different ways.
13 kinds of black-white and color sketch effects supported.