Is your garage so messy that you cant find what you are looking for? Organize it using the tips below! Having an organized garage can make your life so much easier. From simple pegboards to inexpensive plastic or wood shelving, these storage solutions can get your garage looking less cluttered and organized. We have 37 great ideas to get an organized garage in no time at all! Also see our garage organizational help checklist for some great tips to minimize the items in your garage and have a plan to keep it organized.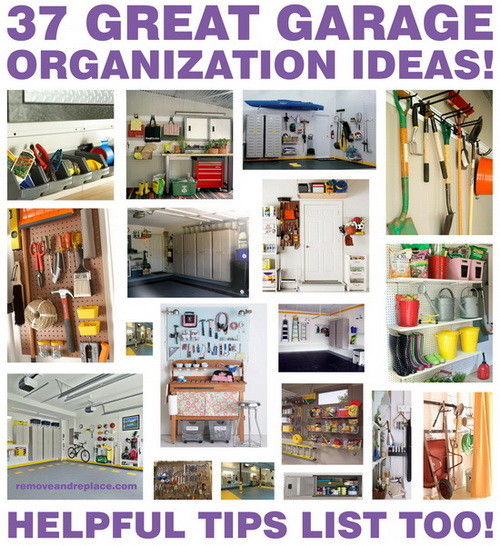 Garage Organizational Help Checklist:
Tip 1. Make a list and categorize the things you don't really use in your garage. Look at things like luggage, sporting gear, camping equipment, automotive junk, holiday decorations, garden stuff and things you hardly use. See whether you can have a garage sale, throw them away or give them away or donate them for charity.
Tip 2. Start grouping your items in the center of the garage. Large boxes will help you to group your things. Label the boxes and find an appropriate place for the boxes for storage.
Tip 3. Create Piles. Create a "Trash Pile" and a "Donation Pile". Sort the things accordingly and pitch some things and donate others.
Tip 4. Garage layout can be things like the recycling bin being near the entrance and cleaning products should be strategically placed near to the garage to house entrance door. Commonly used items close and things you don't use often further away. Common sense!
Tip 5. Install cabinets and figure out what containers to use in an efficient manner in the cabinets to maximize space. Wall mounted pegboards that hold everything from sports gear and garden items are a great idea. Also consider ceiling mounted storage bins!