Hungry for something sweet? Why not make a delicious brownie with ingredients you probably already have in your kitchen. Cooking this awesome Brownie In A Mug is done entirely in the microwave! So see below for the ingredients and the proper instructions to make a yummy brownie in a coffee cup.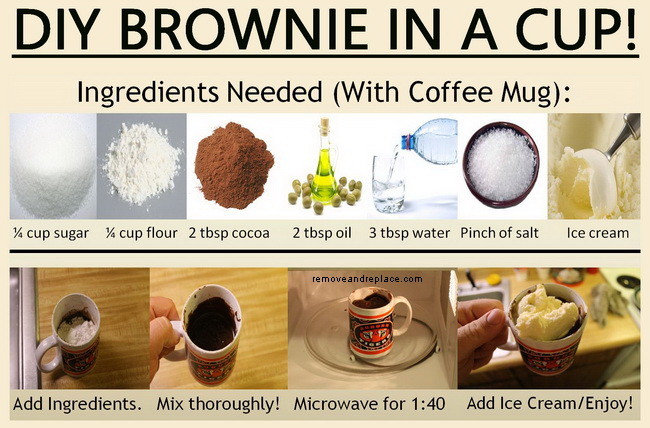 Ingredients you Need to Make A Brownie in a Cup:
Microwave safe cup or mug
1/4 cup sugar
1/4 cup flour
2 Tbsp cocoa
2 Tbsp canola or vegetable oil
1/4 cup water
Pinch of salt
1 small scoop of ice cream
How To Make, Mix, and Bake Your Brownie In A Mug:
1. Place flour, sugar, cocoa and salt in a microwave safe ceramic mug. Stir with a spoon to mix well.
2. Add the oil and water to your mug and stir until the mixture is completely smooth.
3. Place cup in microwave and heat on high until the mixture is cooked through usually about a 1 minute and 40 seconds.
4. Let cup cool for 2 minutes. Then serve with a scoop of vanilla ice cream. THEN ENJOY!