Have a small hole that needs repaired in your drywall? We will show you how to fix it yourself! There are easy ways to fill and patch a small hole in your damaged drywall. Most accidental holes in drywall occur by mistake when a doorknob, a corner of a table, or similar, gets shoved into the wall. These small holes (from 1/2 to 5 inches) can be easily be repaired by following our step by step repair method. A hole that is larger than 5 inches will need a support of some sort to repair it correctly. Any hole 5 inches or smaller can be repaired with a lightweight spackle.
We realize that you want to patch that hole as fast as possible so we have the fastest and easiest method below. It should take you about 20 minutes to fix a hole in your wall using our method.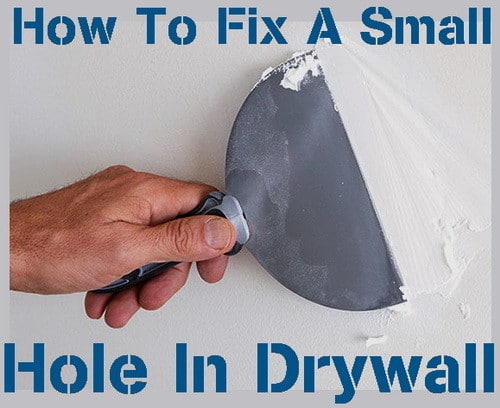 Supplies needed to repair small hole in drywall:
1 – Drywall Taping Knife (aka putty knife)
1 – Can Of Lightweight Spackle Paste
1 – Piece Of Sandpaper
1 – Can Of Paint (to paint over hole)
For Patching Holes 1/2 to 5 Inches.
Step 1: Take the Drywall taping knife and scrape away any part of the hole that is not flush with the wall. You want to make it so when you run your hand over the hole it is perfectly flush with the wall.
Step 2: Grab some of the spackle paste with your taping knife and push it into the hole in the drywall. Put more than enough into the hole. When the hole is overfilled with paste, use the taping knife to smooth over the hole until it is flush with the wall
Step 3: Let dry. Apply another layer if the hole is not filled and flush. Once the hole is filled and looks great, use sand paper to smooth it out. Then apply paint over the patched hole to blend in.