Your ceiling fan has a broken light pull chain. How do you fix this fast and easy? Ceiling fans with lights have a pull chain to turn the fan or the lights on or off. These pull chains get pulled on daily and can be broken. If you pull too hard on the pull chain the chain can break or come out of its socket. Also, the light switch itself may wear out or fail. If this happens the lights will not turn on. We will show you the easiest way to fix either of these problems below. Since you are working on your ceiling fan, find out the best ceiling fan direction for Summer or Winter.
Below are 2 different scenarios, one is a broken pull chain and one is a bad switch.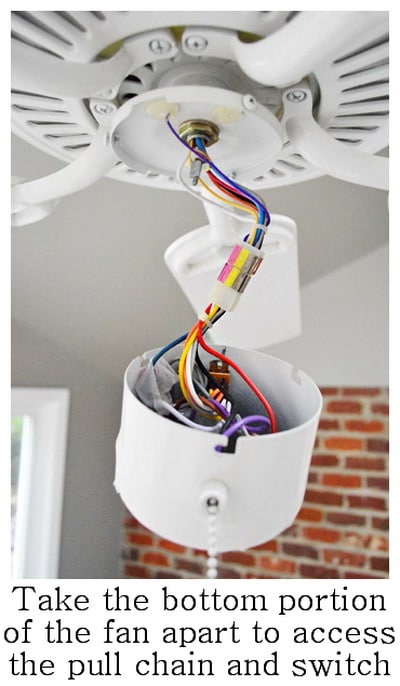 Always turn off power before taking apart a ceiling fan or light switch.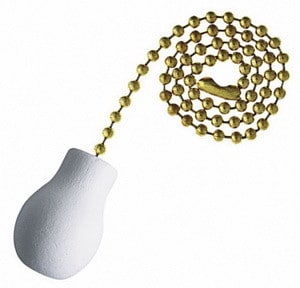 Pull chain for a ceiling fan light switch
To replace the fan light switch pull chain:
The switch housing needs to be removed.
Unscrew the screws holding the lighting assembly to the fan.
You should now see the light switch and where the pull chain has broken.
Unscrew the pull chain assembly from the switch.
If needed take the pull chain to your nearest hardware store and match it up with a new one.
The new pull chain can be installed by screwing it on as the old one was taken off.
Put everything back together and test the pull chain.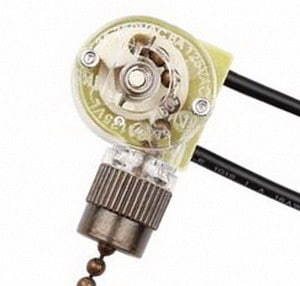 Internal on/off switch for a ceiling fan light
To fix and replace a bad on/off light switch inside the ceiling fan:
Remove the light fixture housing from the fan.
Unscrew the screws where the light fixture attaches to the fan assembly.
The small switch where the pull chain attaches should now be visible.
Remove the old switch.
If needed take it to your local hardware store and match it with a new one.
Install the new switch with the pull chain through the housing and tighten the connection.
Both of these repair methods are common solutions to fix pull chains and pull chain switches. Most people can fix this within 30 minutes with just the basic tools on hand.

EASY ceiling fan pull chain repair video