Getting free stuff on your birthday is SIMPLE! You need to prepare in advance and sign-up online with the restaurants and retail shops you want the freebies from. Many of the companies handing out the freebies (usually coupons and other deals) does so after you sign-up for their email (newsletter) list. Below we will list and link to some websites where you can sign-up and get coupons and free stuff sent to you!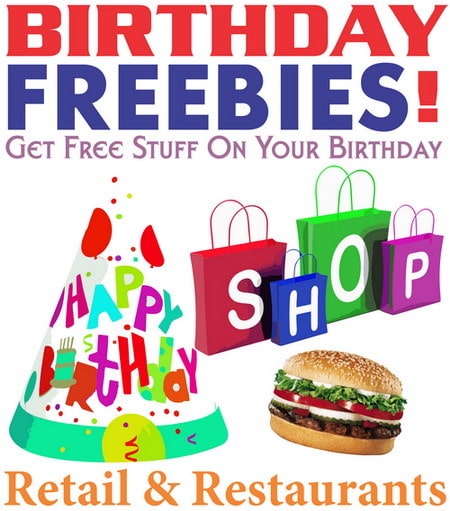 Retail Freebies for your Birthday
ACE Hardware
Sign-up for the ACE Rewards program and get a $5 off coupon on your birthday.
ACE Freebies
AEO American Eagle Outfitters
Sign-up for a nice discount coupon received on your birthday.
AEO Freebies
Aveda
Become a member of Aveda.com and get a free present every year on your birthday.
Aveda Freebies
Bare Minerals
Become a Friends and Benefits member and get a gift from your personal profile on your birthday.
Bare Minerals Freebies
Columbia Sportswear
Sign-up for a 20% off coupon on your birthday!
Columbia Sportswear Freebies
CVS
Sign-up for a CVS Extra Care Discount Card and get Extra Care Bucks every year on your birthday.
CVS Freebies
Disney
Sign-up for Disney Movie Rewards and you'll receive a credit for a free Blu ray movie on your B-day.
Disney Freebies
DSW Designer Shoe Warehouse
Join the DSW rewards program and get a $5 gift certificate for your birthday.
DSW Freebies
Famous Footwear
Simply create an account and receive a free gift for your birthday.
Famous Footwear Freebies
Old Navy
Sign-up for Old Navy newsletters and you'll get something free on your birthday.
Old Navy Freebies
Sephora
Sign-up for Beauty Insiders Email and receive a gift during the month of your birthday.
Sephora Freebies
Victoria's Secret
Sign-up on the mailing list and get a coupon for $10 on your birthday.
VS Freebies
Restaurant Freebies for your Birthday
Coming soon!
NOTE: Read the fine print on the email sign-up pages to be sure the Birthday Coupon and Give Away Freebies are still being promoted.