Garage door not opening or closing? Here are the most common reasons a garage door has stopped or won't open. You can fix your garage door with these easy troubleshooting tips. The garage door repair methods we have listed below are the most common reasons why your door has malfunctioned. Garage doors vary and not all will be easily fixed yourself. Some things that go wrong with your garage door will need to be repaired by a professional garage door repair company.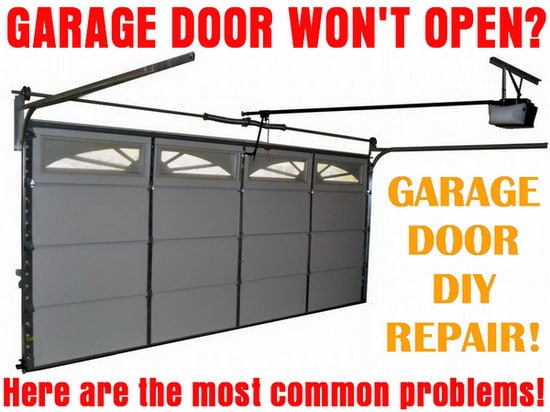 1 – Your garage door remote does not work.
First make sure it is not the battery in your remote. To find this out, simply use the button on the wall to see if the garage door opens. If the button on the wall opens the garage door, install a new battery in your remote.
2 – Your garage door motor is not plugged in or not getting power.
It may be plugged in but electricity is not being supplied to the outlet. Make sure your garage door motor is plugged into a powered outlet. Your garage door outlet may have a GFI safety reset on it. It may need to be reset if it has tripped. Press the small red button on the outlet and if you here a click you most likely just fixed the problem. If you are not sure if the opener is getting power, plug the garage door opener into an extension cord and plug the extension cord into an outlet that you know is working.
3 – The photo beam eye (sensor) connection is being disrupted.
Just about all garage door openers have a photo eye (safety beam). This eye is a safety feature that will stop the door from closing if it detects a person or anything that is in the way of the door. Make sure there is nothing in the way of the eye beam. Sometimes the photo eyes can accumulate dirt and dust. If they are dirty they may think the connection is broken leading to the door not closing properly. To fix this issue you can wipe the photo eyes with a rag or similar. Do not get the eyes wet as they may stop working. Another issue could be that the photo eyes are not properly aligned. To fix this issue you can try to align the eyes so the beam points into each eye.
4 – The cables may have snapped.
When a garage door spring snaps the cable usually breaks also. The outcome from a broken cable will usually result in the door not opening even when tried manually. The door will feel very heavy and won't stay in place. Check the garage door to find out if this is the case. If so it is recommended to have a professional install new cables.
5 – The spring may be broke.
The spring or springs that assist to lift the garage door can break or snap. This results in the door not opening or closing. The outcome from a broken spring will usually result in the door not opening even when tried manually. The door will feel very heavy and won't stay in place. If you have a garage door with a broken spring, it is best repaired by calling a professional as installing these high tension springs can be dangerous.
6 – Gears may be stripped or bad control board.
The garage door may or may not open and issues can be intermittent. The garage door motor/operator may have a bad control board or the gears in the opener can be worn or stripped and cause your garage door to have intermittent issues. If all obvious things can be ruled out, the garage door motor/operator may need replaced.
7 – Burning smell from garage door motor.
Most likely a spring or cable has snapped. The motor is trying to open the door but does not have the assistance of the spring or cable. Do not continue to try and open the door with the motor or it may burn out. The solution for this is to check and replace the broken spring or cable.
8 – Door opens and closes but is noisy and squeaks.
When your garage door is making loud scraping and squeaking noises, it usually just means that certain parts of your door need to be lubricated. To stop the garage door from squeaking, use a garage door spray lubricant and spray the hinges, rollers, tracks, and springs. (See the chart below to know where to lubricate your garage door) These are basically all the parts of your door that move and lubricating them will stop the squeaks. Lubricating these parts on your garage door is also part of preventive maintenance so doing so will prolong the life of your garage door.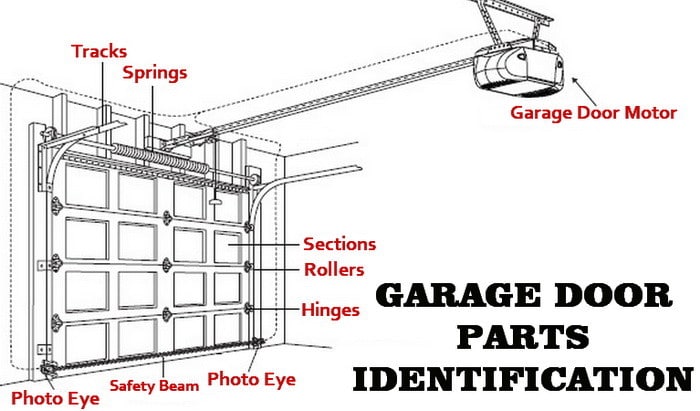 Here is a parts diagram to help you determine what is faulty on your garage door.
List of all possible issues with garage door problems:
BROKEN SPRING, ROLLER OFF CENTER, OPENER IS FAULTY, GARAGE DOOR FELL OFF TRACK, BROKEN REMOTE CONTROL, CRASHED CAR INTO GARAGE DOOR, DOOR IS BENT, DOOR IS SAGGING, NOISY GARAGE DOOR, and BROKEN CABLE. All of these issues are possible causes of why your garage door has stopped working. Going through the checklist at the top of this page will help you to rule out the most common faults. Checking power, changing batteries, and cleaning and aligning the photo eyes can all be done quite easily yourself. When your garage door has broken springs or snapped cables, we recommend hiring a professional to safely fix your door.
You can also read this garage door safety checklist to perform routine maintenance to keep your door working properly. It is a good idea to routinely check certain parts on your garage door to catch a problem before it results in a door that will not open. Preventive maintenance is always the best method for keeping your garage door safe and in working order.
Do you know of other reasons a garage door will not open? Please assist the readers of this page and leave a helpful comment below.
NEED HELP? If your garage door is broken and you need free advice, leave us a comment below explaining your problem and a professional will get back to you with the steps to take to fix it yourself!