If the stairs in your home have seen better days, why not refinish them. Sometimes an older home which had a beautiful staircase in the past have been painted over to hide chips and dings. Underneath may be a beautiful hardwood just waiting to reveal itself. Our stairs were once a nice natural hardwood but the previous owners painted an ugly color over them to hide the wear and tear. If you have painted stairs, carpeted stairs, or simply want to refinish your stairs in any way, here we will show you the simplest way to do so. If you are looking for other ways to refinish your stairs, this page will give you some stair refinishing ideas on what is possible and how much it will usually cost. If you are looking for a different type of hardwood to add to your stairs here is a good place to start.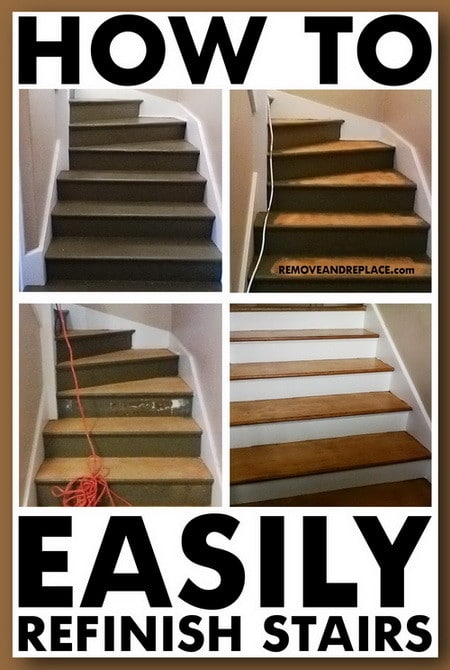 To refinish stairs safely, you will need a respirator, goggles, and earplugs. It is best to hook up a shop vac to your belt sander so it collects all the dust when sanding down the stairs. The supplies needed for refinishing wood stairs will include blue painters tape, razor blade, sandpaper with different grit types, shop-vac, belt sander, paint, paintbrush, and wood stain.

Refinishing Hardwood Stairs – How Is It Done?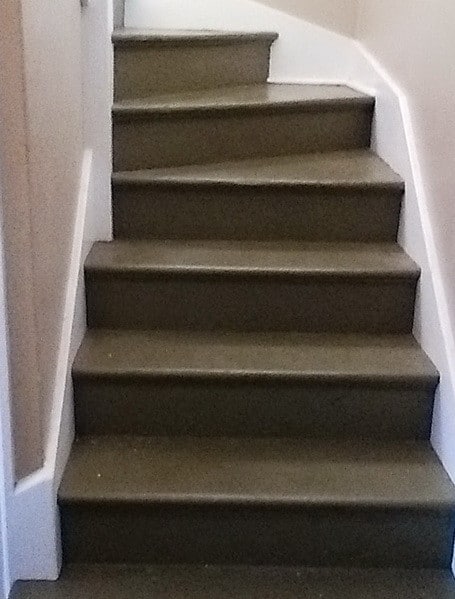 Here are the hardwood stairs painted over using an ugly dark color.
They were painted over sometime in the past to cover dents and dings.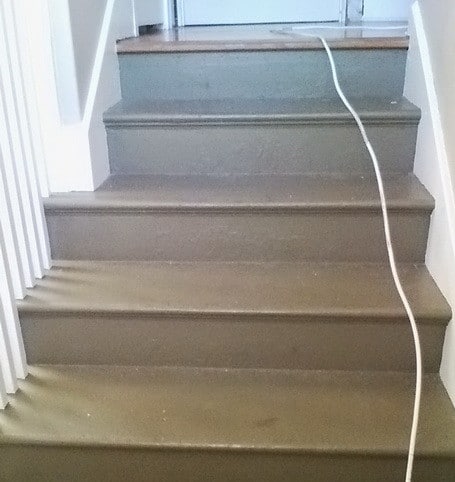 The stairs needed to be sanded down to remove all of the ugly paint.
Before removing paint, be sure there is no lead contained in it.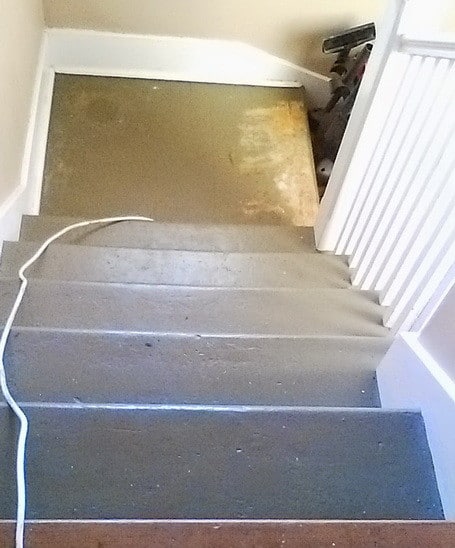 After donning all the safety equipment, we began to sand the paint off.
Start with a belt sander and 36 grit sandpaper.
Use the lowest speed setting to minimize any mistakes.
This will make it so you should not have to resort to chemical paint strippers.
If you do not have a shop-vac collecting all the dust, lay sheets out to collect dust.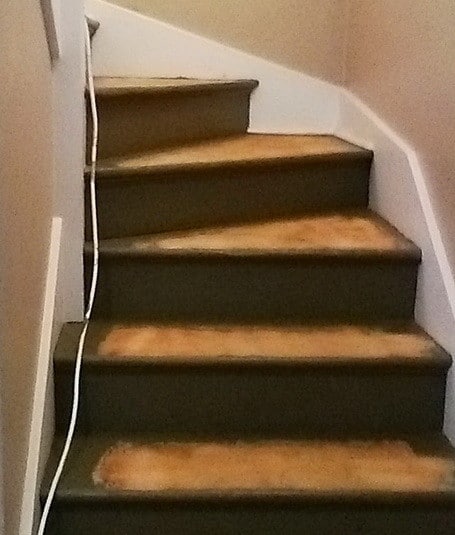 The sanding continues on each stair as the paint was very thick.
Be careful to not sand off too much as you may harm the hardwood underneath.
Using the correct sandpaper grit is critical when removing thick paint.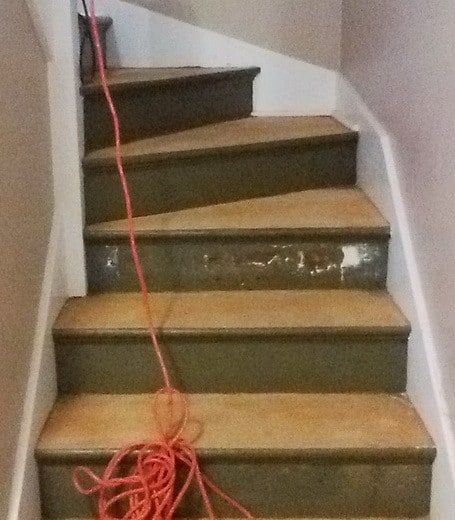 Once the ugly paint was sanded off the top stair portion, we began on the face.
The paint was not as thick here so we used a different grit sandpaper.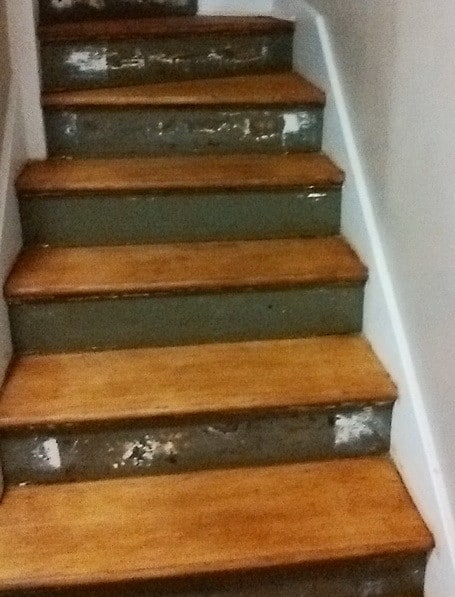 We wood stained our stairs after reaching the hardwood underneath the paint.
Make sure the stairs are vacuumed and wiped off before applying stain.
The stair face paint is not completely gone but smooth enough for us to paint it.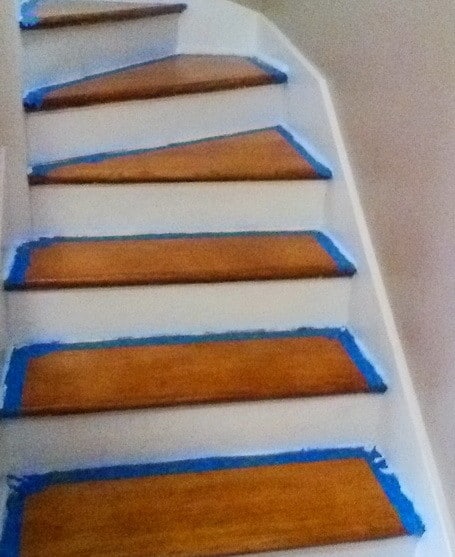 We used blue painters tape around our newly wood stained stairs and began painting.
Make absolute sure the wood stain is dry and cured before painting around them.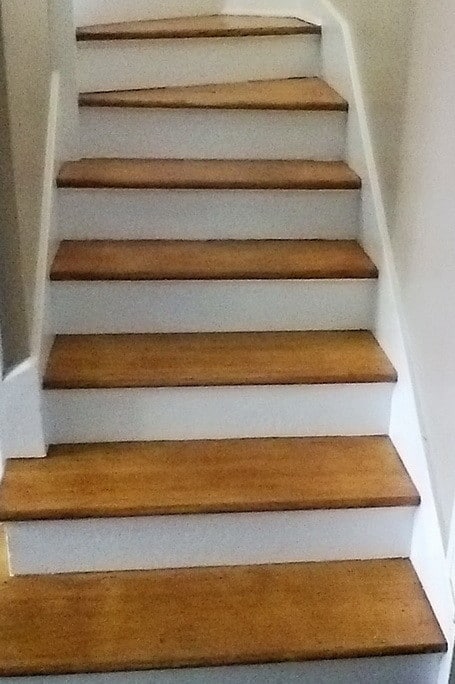 Once our white paint was dry we removed the blue tape.
A razor blade may be needed to remove parts of the blue tape.
You will need to do some touch-ups at this point for any uneven spots.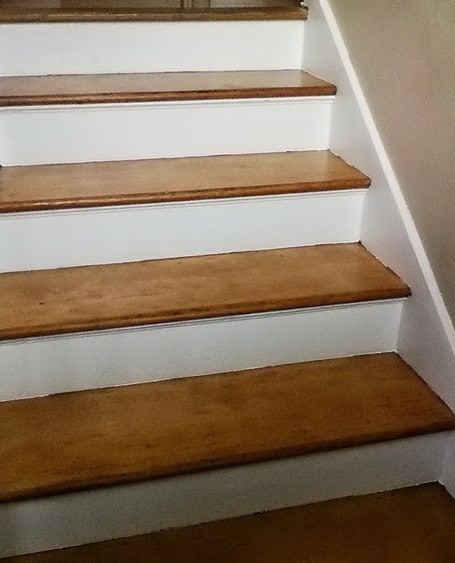 We still need to do some touch-ups but here is the end result.
Cost around $150 to refinish and looks like a million bucks!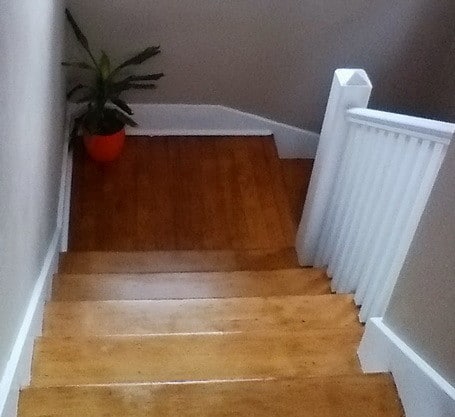 Here is a view from the top of the stairs.
As you can see the wood stain & paint came out great and we could not be happier!

Refinish hardwood stairs that were carpeted
If you know of an easier more effective method to refinish wood stairs, please leave a comment below.