Question: I just bought an 8 pack of GE 13 Watt, CFL 60 W and 2700K Warm White light bulbs. These are the types of light bulbs that have a twist to them. They are actually Compact Fluorescent Lamps in the shape of a normal light bulb. They are supposed to save energy so I thought it would be a good idea to replace all the light bulbs in my house. The bulbs work everywhere except in my living room. I tried multiple bulbs to ensure that it wasn't a bad bulb, but that wasn't the issue. What could be the issue here? Maybe a voltage or wiring problem?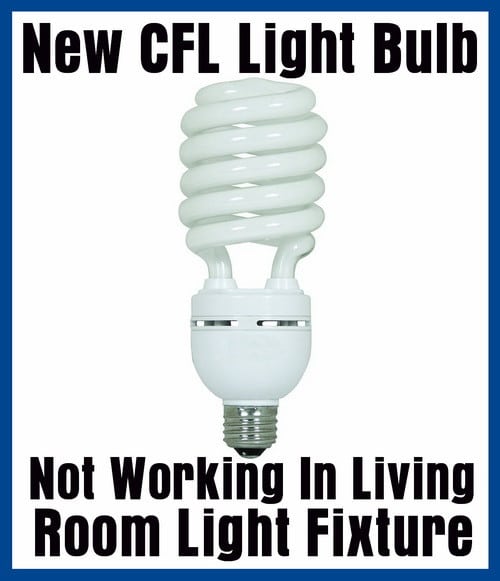 DIMMER SWITCH ISSUE?
New CFL Light Bulb Not Working In Living Room Light Fixture
Answer: Are all LEDs and CFLs dimmable? NO! Do all LED and CFL light bulbs work with all dimmers? NO! The most common reason a CFL light bulb will not work is because the switch it is connected to is a dimmer switch. Most CFL light bulbs do not work on a dimmer. Sometimes on a dimmer, the CFL bulbs will never shut off all the way. You either have to buy a different type of dimmer switch or a different type of CFL bulb that says it is dimmable on the package. This same problem also happens with some LED light bulbs.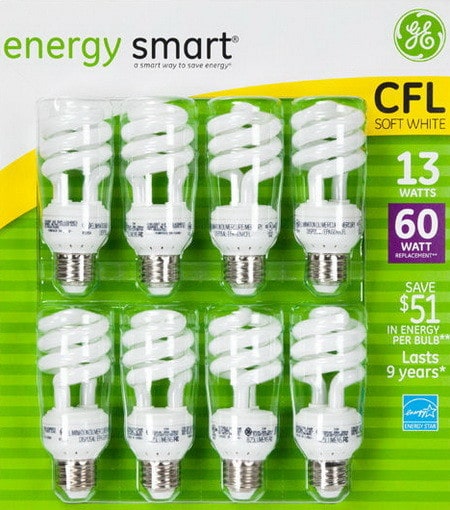 8 pack of CFL light bulbs
Make sure to buy the right kind if you are using a dimmer switch
Most dimmer switch manufacturers will have a list on their websites of what CFL or LED bulbs will work with each dimmer. Lutron Electronics inc makes the CFL dimmable bulbs along with the correct dimmable switch. See video below.

You can maximize energy savings by using C•L dimmers.
They can save up to $50 per year, per dimmer.
C•L dimmers also alleviate common problems associated with dimming CFLs and LEDs.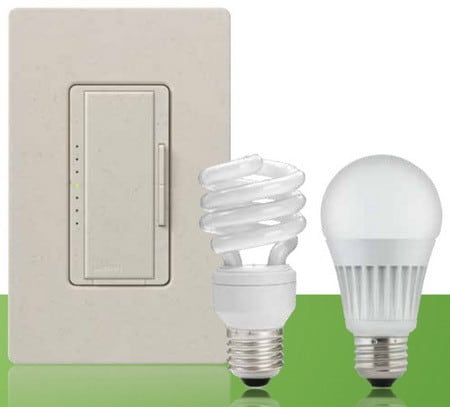 Lutron light bulbs and compatible dimmer switch
Once you have the right light bulbs for your dimmer switch, dimming these bulbs will save even more energy and money in the long run. The bulbs will dim properly when paired with the correct compatible dimmer.
Most times, people replace the old incandescent light bulbs with the CFL light bulbs. This is done to save money in the long run. This is when they run into this problem. The switch to the more energy efficient bulbs will always work unless the switch on the wall is an older style dimmer.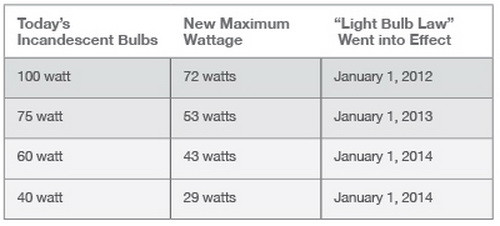 "Light bulb law" is to lower bulb wattage to save energy
If the light switch in your living room is NOT on a dimmer switch, check the voltage rating of the existing lamps. Did you happen to have a Halogen light bulb in the living room previously? Sometimes smaller halogen lamps operate from a transformer. Usually it will be 12 Volts. Possibly your living room light sockets are a different voltage to the rest of the house.
Do you have other reasons a new type of light bulb will not work in a normal light socket? Please leave a comment below.