Question: We are removing old cheap "peel and stick floor tiles" with an industrial heat gun, razor blade bars, and pry bars. It's takes a lot of time but the tiles are coming off fairly easily. My problem is that the adhesive from the old floor tiles is sticking onto the wood floor underneath. It is an enormous mess and anything that sticks to it does not want to come off. We can't walk on it without our shoes almost being pulled off. We are using a piece of plywood to sit on as we remove the floor tiles. This is an old bedroom we are renovating and we will be putting down carpet. Is there a trick to getting rid of the sticky goo from the old floor tiles?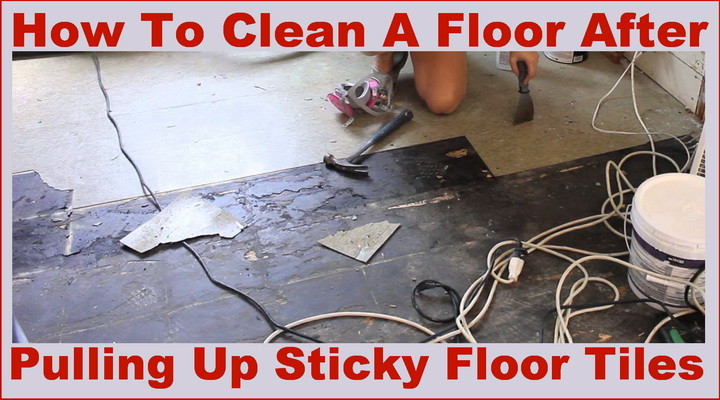 How To Clean A Sticky Floor After Pulling Up Old Cheap Peel And Stick Floor Tiles
WARNING: Do not use a sander on the tiles as they may contain asbestos. Also be careful when prying up the tile, if it is weak and brittle the cracking and breaking of the tile can release asbestos fibers.
Answer: Old peel and stick flooring tiles that have been down for many years will always cause the issue you are having. The only true solution to removing all of the sticky residue and goo is a by using a contact adhesive remover.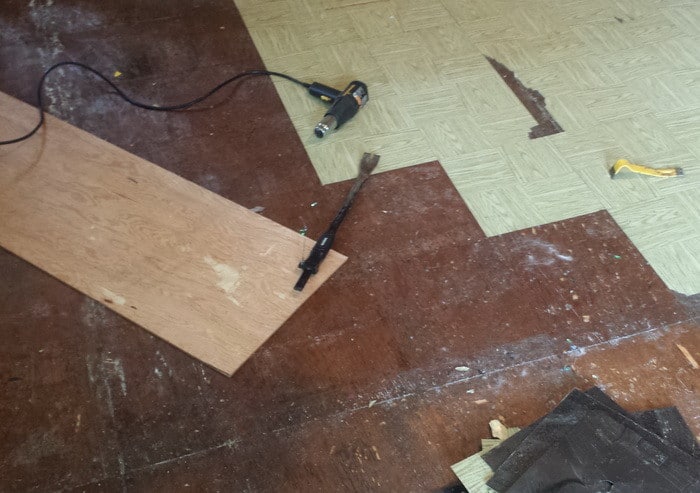 Removing old cheap peel and stick floor tiles
After you remove all of the old tiles, get a product called Citristrip Adhesive Remover For Floor. It is one of the best adhesive removers to remove old contact adhesive. Use Citristrip or any other adhesive remover, apply generously, wait an hour or 2, and then scrape away to remove it very easily. Be sure to open the windows so the fumes can escape and not overwhelm you while working. (Wear a mask, take showers afterwards, and vacuum with a HEPA vacuum)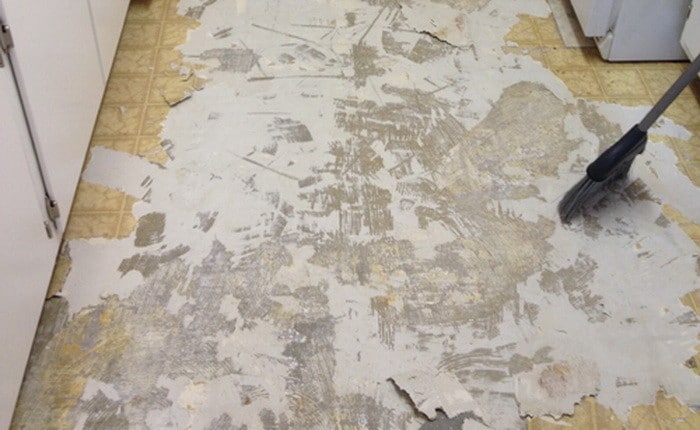 Floor after peel and stick floor tiles removed
You could also use acetone. This will work probably the best but is highly flammable and has very heavy fumes. Not recommended but if nothing else works you may need to use it. Ventilate your home and wear masks if you choose to go this route.
Maybe The Best Solution?
Another option is to screw a plywood sub-floor over the remnants of the sticky adhesive and then lay the new carpet over that.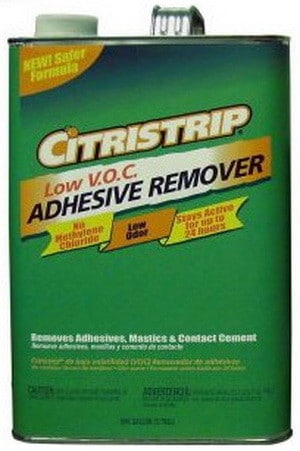 Citristrip for removing floor adhesives
If you choose to use the product called Citristrip Adhesive Remover, here are the directions for use:
1. Pull up linoleum, tiles or paneling.
2. Wear chemical resistant gloves, chemical splash goggles and appropriate work shoes. Shake well before opening can.
3. Pour remover onto the adhesive to be stripped. Spread with a long-handled paint roller to obtain a thick even layer at least 1/16" thick. Do not step on the area, as it may be slippery. Leave the area and let the remover do the work. Do not allow the remover to completely dry on the surface as the adhesive can re-adhere.
4. After 1-3 hours, scrape a small test area to see if the adhesive is softened and ready for removal. If so, use a long-handled sidewalk scraper or floor hoe to scrape the loosened adhesive. Any remover that is still liquid can be pushed onto another area and reused. If the remover and adhesive form a thick gel or solid material, use a broom and dustpan to pick up the material and take it outside to fully dry. Before the scraped area is completely dry, use a mop with soapy water to get up any residue after scraping.
Do you have a better more efficient approach to removing floor tile and the adhesive underneath it? Please leave a comment below.