My microwave oven shuts off or resets after about 2 or 3 seconds of cooking. The lights on the digital display panel ALL light up for about 10 seconds and then it resets and tells me to enter the time. After 3 seconds it resets and goes back to the enter time prompt. Have to re-enter time, am/pm and date. The clock needs to be reset every time. How do you fix this? Is something shorting out the power? Is it an electrical issue or possibly a bad control board or touch panel?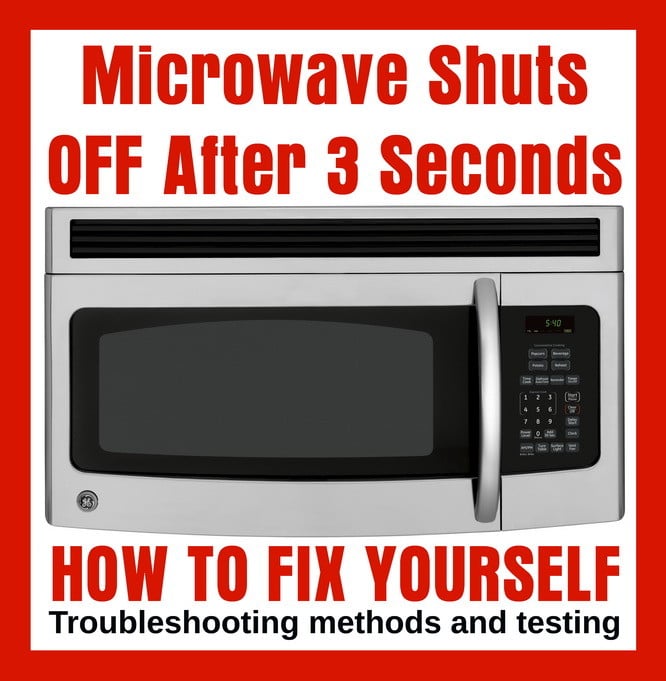 Microwave turns off after 3 seconds
It will depend on the brand of your microwave. It may be a bad or failing part on your microwave. You could have a door switch that is bad, a main control board that is faulty, and a few other parts that can be causing your microwave to shut off. We will list ALL replacement parts below.
Here is what happens frequently with a microwave oven that turns off after a few seconds:
You put a cup of water in your microwave, press ONE MINUTE, and the microwave runs for 2 or 3 seconds and shuts off or resets itself. Almost like when you first plug it in, all lights on the digital display come on and then it asks you to enter in the time. It is like the microwave is resetting itself each time. You will have to do some troubleshooting to find the exact part that is causing your microwave to keep shutting off.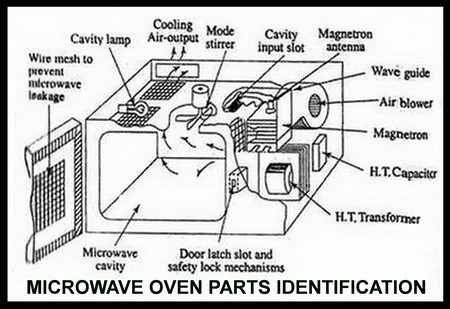 Microwave oven parts identification
Here is a list of the most likely parts that will need to be replaced if your microwave turns off after a few seconds, in order of MOST LIKELY:
1 – Microwave door switch = Check each door switch for arcing or burning. If there are no visible signs of damage then use a multimeter to test the switch for continuity. If there is no continuity or there is visible burn marks on the switch we recommend to replace the switch.
2 – Main Control Board = Check all other parts first. If the components are working as designed and you find nothing else bad then replace the main control board.
3 – Touchpad or Control Panel = Press each button on the control panel. If any buttons respond but some do not then replace the touchpad and control panel.
4 – Transformer = This component will produce a burning smell if it goes bad. DO NOT replace this yourself as it can hold large amounts of electricity even after being unplugged. If this part is bad, either throw your microwave away or hire an electrician to replace because of safety reasons.
5 – Thermoprotector = When the microwave runs for a few seconds and stops then the thermoprotector may be tripped. The thermoprotector is a safety device to make sure the microwave does not overheat. Use a multimeter and test for continuity to see if it needs to be replaced.
6 – Thermostat = Thermostat may be bad. Test it to be sure before replacing.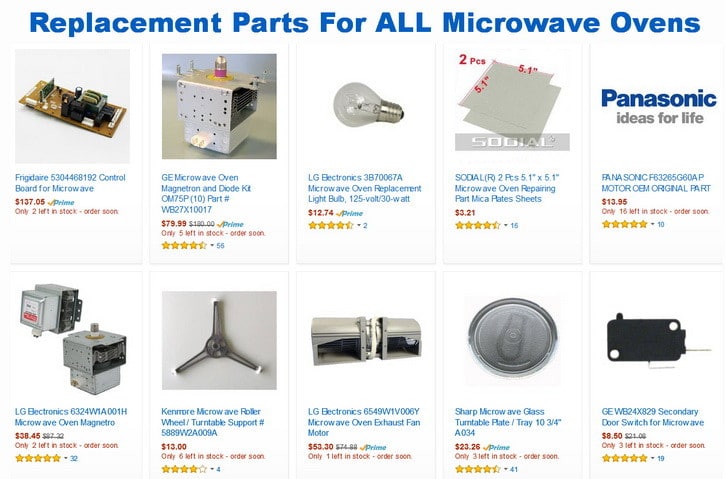 Microwave oven replacement parts

How To Take A Microwave Oven Apart – GE Microwave Disassembly – Microwave Repair

Microwave Oven Troubleshooting – STEP BY STEP
If your microwave is working properly (but sometimes it turns off on its own) and want to try a test to see what may be bad, read on below…
We had this same issue with our GE Model JVM Microwave. We replaced the turntable motor as we thought it was shorting out the microwave. This did not fix the microwave. We then unhooked the wire harness from the microwave turntable motor thinking this would help. This did not help, the microwave would shut off on its own every time after 3 seconds. We then took the microwave apart by first unplugging it from power and removing 2 screws from the grill at the very top of the microwave. After removing the top air inlet portion, we removed one screw that holds the control panel on. We removed the control panel by lifting UPWARDS on it. It then popped out and we looked at the control board and display panel. There was no sign of a damaged capacitor on the board or any burn spots whatsoever. The wiring looked fine and everything was plugged in as it should be. The control pad was in perfect condition. We then examined and tested the door switch with a multimeter and it tested good. So we then tried a few things…
We then thought that if the problem happens after 3 seconds, maybe it had something to do with when it started to actually microwave (cook). The first 2 or 3 seconds was just a short waiting period before the microwave would actually start to cook. The magnetron was possibly shorting the control board somehow? Once the magnetron was running, the microwave oven turned off.
Instead of replacing parts one by one, we tried an experiment. We wanted to make a barrier between the magnetron and the main control board. We put a piece of aluminum foil in a computer style anti-static bag. We used 4 thick pieces of aluminum foil in each bag. We put one foil filled bag near the top of the back of the main control board, and one foil filled anti-static bag near the bottom of the control board. We made sure that no aluminum was touching any electrical components. We gently put the main control panel back in place and put the screw in to hold it in place. We plugged in the microwave and tested it. The problem was fixed. Somehow RF was leaking from the magnetron and sending a frequency to the control board strong enough to reset it. By adding a barrier to the back of the main control board, the issue was fixed and we did not have to replace a single part. We hooked up the turntable motor, put all the parts back on the microwave and everything worked perfectly. We DO NOT recommend you do this as it is just meant as a test. If you try this and it fixes your microwave from shutting off, you should replace the magnetron in your microwave or buy a new microwave.
Have other reasons or parts that could be causing a microwave to stop working after a few seconds? Please leave a comment below.