The inside of my TV is cracked. You can see it's cracked from the inside because you can only see the crack when the TV is on. There is no visible damage to the outside. Nothing has come into contact with the screen. It cracked on its own from the inside. It's a VIZIO E50 50-Inch 1080p Smart LED HDTV. The screen is distorted on one side when you turn it on. It's a 50″ Class, LED E Series Smart TV. The specs are: Smart TV w/ built-in Wi-Fi, 1080p Full HD – 2 million pixels, Full-Array LED Backlight w/ 12 Active LED Zones, Clear Action 240 w/ 120Hz Effective Refresh Rate and 3 HDMI / 1 USB Ports. This TV cost $599.00! We didn't pay it off, we are paying it month to month. How much would it cost to repair this television?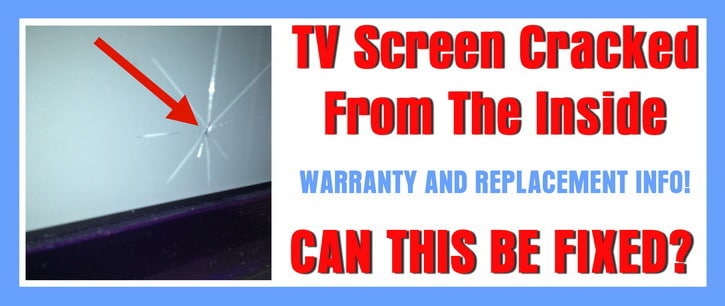 TV Screen Cracked From The Inside
What about TV warranty?
Did you buy a warranty from the store? Many times when you buy the TV the cashier (or online store) will ask if you want the 2 year replacement warranty for ANY type of issue your TV could have with no questions asked. Check to see if you bought this warranty and if so return the TV ASAP! Usually a crack on the inside of the TV screen is considered a thermal crack from heat (an internal failure) not impact damage. You should contact Vizio or whatever company makes your TV and ask about thermal screen crack replacement warranty. Especially if your TV is under 6 months old and mounted on a wall therefore not able to be easily touched or knocked over.

TV replacement screens available online… See below…
TV brand links for warranty claims listed by popularity: Samsung, Vizio, LG, Sony, Sharp, Panasonic, Insignia, Toshiba, JVC, Philips, Magnavox, Sanyo, and Emerson. If you get no help from the TV manufacturer, then you can look into fixing it yourself or getting a quote from a TV repair shop.
Can the screen be replaced?
You can replace the inside of the screen yourself. The usual problem you find here is the inside screen costs as much as the TV itself. You can take the TV to an authorized repair shop. If the crack is on the inside, they will tell you the crack is internal and not from impact damage. The TV repair company may be able to convince the TV maker to send you a new TV or they may be able to get the new replacement screen and replace it for you for free. This is not the usual outcome, only for about 25% of internal cracked TVs get fixed covered under warranty. It all depends on the make and model of your TV. Samsung, Vizio, LG, Sony, Sharp, Panasonic, Insignia, Toshiba, JVC, Philips, Magnavox, Sanyo, and Emerson. Sony, Vizio, and LG are usually a little better to deal with than Samsung or Element based on customer satisfaction ratings. If you can't get anyone to budge to fix the screen or send a new TV, read on below on how to replace a screen yourself…
Where can I buy a replacement TV screen?
There are aftermarket replacement screens for LCD, LED, and Plasma. They are usually not available next day. Most of these aftermarket replacement screens are available on websites like Alibaba, AliExpress, ShopJimmy, and eBay so it will take awhile to receive them. Check the sites mentioned to see if your screen is available in generic form. A generic screen replacement will usually be made in China and ship directly from China. Be sure to email them a few times to be sure the replacement screen will fit the TV you have before buying.
The images below are replacement TV screens from eBay. We have tried to show all TV models including Dynex, Emerson, Sylvania, LG, Samsung, Sony, Toshiba, and Vizio. Click an image below to go to eBay and find your exact replacement screen.

Dynex TV replacement screen

Emerson Sylvania replacement TV screen

LG 42inch TV replacement screen

Samsung 32 inch 4k TV replacement screen

Samsung 32inch replacement TV screen

Sony TV replacement screen

Toshiba TV replacement screen

Vizio TV replacement screen
How do I install my new replacement screen?
Once you have a replacement screen, we will explain to you how to install it yourself. These generalized "screen replacement" steps will help you to complete the replacement process. NOTE: When you received your replacement screen, included in the box, you should have received detailed info on "how to replace the screen". See instructions if included in replacement screen box.

LCD TV Repair Parts Overview – How to Fix LCD TVs
How to take TV apart and replace cracked screen:
1. Unplug TV from wall.
2. Remove all external cables.
3. Lay TV on a soft flat surface.
4. Locate the frame screws to remove the cracked TV screen.
5. Remove the screws.
6. Remove the frame around the cracked screen.
7. Remove internal cables going from the TV frame to the cracked screen. (Label internal cables if needed for putting back together)
8. Remove the cracked TV screen.
9. Put the new replacement screen into the TV and connect internal cables.
10. Turn the TV on and cross your fingers.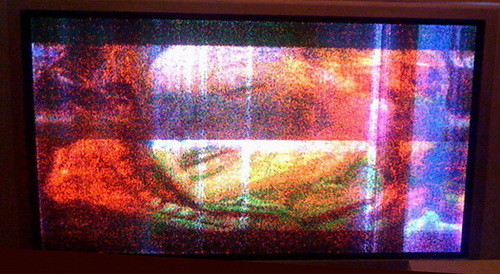 Have a Plasma TV? Plasma screen repair
Do you have tips, methods, or ways to get OEM replacement screens for internally cracked TV screens? Or do you have questions on where to get and how to replace your screen? Please leave a comment below.