Roku has "private" channels you cannot get in the channel store. Here is a list of the hidden private channels to add to your Roku. Private channels are in the Roku channel store. You just cannot find them in a "public" way. Private channels are "private" as it could be adult content or possibly the channel is in beta mode. Either way you cannot find any of these channels when you go directly to the channel store. You need a direct link to the private and hidden channels. These private channels works on ALL Roku players including Roku 2, Roku 3, and all other Roku players. We have many of the best channels listed below.
Roku private hidden channels
Roku Private Channels – How To Get Them & Install On Your Roku Player
To install hidden and private Roku channels:
1 – Go to Roku web site and sign in, then go to your account page.
2 – Click add a channel in manage account.
3 – Enter the channel's code and click add channel.
The BEST Hidden Roku channels are from The Nowhere Man.
This "Nowhere Man" supplies hidden channels to great content. Including NBC Nightly News, CBS News archives, Adult Swim shows, PBS, Universal Sports Network, Live local news, NASA TV, Hubblecast HD, C-SPAN, The Pentagon Channel, White House Press Briefings, Al Jazeera (English, American, and Arabic), BBC, CNN International, TED Talks and more.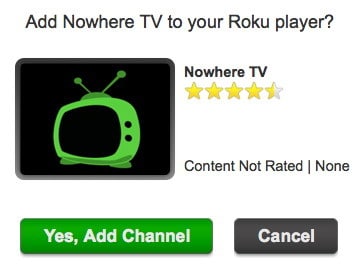 Install Nowhere Man Roku Channel
Download the Roku Nowhere TV Channel Hidden App (The private code is: H9DWC). This channel is a hub with many channels for movies, home and garden, cooking, and other cool stuff to learn and teach you interesting things. More channels are below… Click a channel below to be taken to Roku homepage, then sign in and the channel will be added to your account.
Need to remove a Roku channel? Click to learn How to Delete a Roku Channel.
Amateurlogic: A video podcast private channel that involves amateur radio, computers, raspberry pi, electronics projects. (The private code is: Alogic).
Ace TV: B-movies, action films, horror films, sci-fi stuff, and kung-fu fighting movies streamed all day and all night. Contains mature content. (The private code is: acetv).
The Internet Archive: A collection of old movies and films, cartoons, and TV shows. (The private code is: NMJS5).
Wilderness Channel: TV channel with hunting, fishing, survival training, & nature. (The private code is: fl821095).
Relax TV: Hours of tropical lagoons, rain storms, fireplaces screensavers, and relaxing waterfalls. (The private code is: vrqhq).

Roku Tricks Hack: How To Unlock Developer Apps Install Mode
IMPORTANT NOTE: When you install a private channel remember to update the Roku so it will appear on your TV screen. The easiest way to reset your Roku for the private channels to show up is to simply unplug the Roku. Pull the wire going into the back of the Roku if you don't want to unplug, same thing but easier.
Do you have comments or new hidden or private codes for Roku that are good quality channels? Please leave a comment below.