I want to hang a picture in my room. I want to know if using a screw directly into the drywall will hold a picture? The picture I want to hang is about 3 or 4 pounds. If I angle the screw into the drywall correctly will it hold? I remember hearing that it is better to put a screw into the wood studs, not just into drywall. Is that something that I have to do so the picture is secure? I simply just want to hang a picture without too much work. What is the best way?


Screw in drywall to hang picture?
Simple Answer: NO – A screw directly into drywall will not hold. You need to use some type of picture hanging hardware to hang a heavy picture securely.
The threads of a screw into only drywall, without an anchor, will NOT permanently hold in the drywall. It will just pull right back out sooner or later. Even though it may screw into the drywall and "feel" tight, when you hang a picture on it, it will pull out almost immediately. Especially if the picture is heavy.
If all you have is a screw to hang a picture into drywall, make sure you put the screw into a wood stud. Wood studs are behind your drywall. They are there as the structure of the wall and that is what the drywall is attached too. A wood stud is from 16″ to 24″ inches apart in the walls. You can knock on the wall to find where a wood stud is located. Another trick to find a wood stud is to find an outlet, as an outlet is attached to a wood stud. Find the outlet on the bottom of your wall and go straight up from it and find where you want to hang your picture. Then knock on the wall and when you hear the difference in sound, like a hard knock instead of an echo sound knock, you have found the wood stud! If you cannot find the wood stud, a stud finder may be needed.
If you want to hang a picture correctly, so it never falls off the wall, you need to use screws with metal or self drilling plastic wall anchors. If you do not use a wall anchor with the screw, when someone slams a door or something similar happens, the screw will pull out of the drywall and the picture will fall.

Use self drilling drywall anchors to hang heavy pictures on wall
You can also use some of the newer 3M brands of picture hanger strips. These types of picture hangers can hold a heavy picture and are not permanent which makes them the best for hanging pictures in an apartment. These types of best selling picture hangers are called Command strips. They hold a picture on your wall by sticking to the wall with a very strong adhesive. Perfect for apartments where you cannot damage a wall! See below for 3M Command strips that are best for hanging pictures on your wall with no damage, no nails, and no drilling.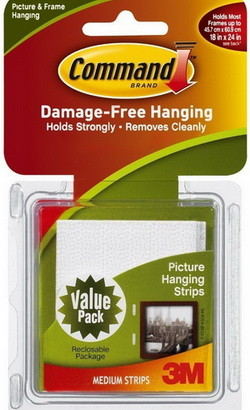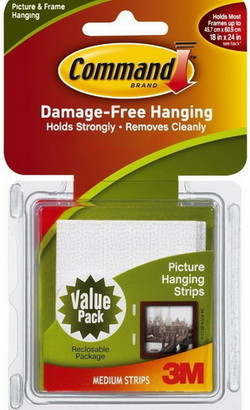 Picture hanging command strips
How to put a drywall anchor into your wall:
The best type of picture wall hanger is a metal or self drilling plastic wall anchor made for drywall. You do not need to put drywall anchors into a wood stud.
A wall anchor is installed in the wall using the following method…
1 – Make a small hole in the drywall with a either drill or a small screwdriver. (Make sure your drill bit is a smaller diameter than the wall anchor)
2 – Insert the wall anchor into the hole so it is flush with the wall. (You may need a hammer to help you to tap the anchor into the hole)
3 – Screw the screw into the anchor with about 1/4 of the screw sticking out. (The compression of the screw going into the anchor holds the screw and anchor firmly in place)
4 – Hang your picture on the screw. (You may need to move the picture left or right to get it centered, if needed, the picture may require 2 anchor screws if it is a large picture. Simply add another wall anchor a few inches from the other one and make sure they are both level to each other on the wall)
NOTE: When drilling into a wall to hang a picture, make sure there are no electrical lines or plumbing lines behind the wall. If unsure, drill somewhere else to hang your picture. Also be sure not to drill any further then needed as sometimes plumbing or electrical lines are deep in the wall.
If you know if other ways to hang pictures easily, or have questions about hanging a large picture on your wall whether you are in a house or apartment, please leave a comment below.