Do you frequently cook on your stove or range? Notice a strange grease smell from around the stove area? When you are cooking on your range and you have the vent turned on, all the smoke and grease that is pulled up through the air goes through the vent filter and up and out of your home. Over time this range hood filter will become HEAVILY caked with grease. This grease can begin to stink and the filter itself can get clogged up which can become a safety hazard. If you have not cleaned your range hood filter for years, it may be best to replace it. Here we will show you how to either clean your oven range vent filter or replace it (depending on how bad it is). Our "How-To" on cleaning a greasy oven vent filter is EASY!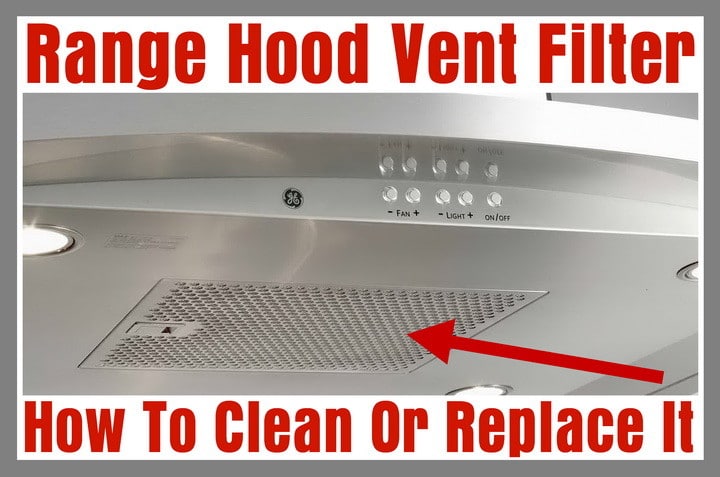 How To Clean or Replace a Range Vent Filter
NOTE: Vent filters are attached to both hoods and some microwave ovens mounted over the stove or range. Some vents are ducted and some are non-ducted. There is really no difference in the filters as most are made from aluminum and the cleaning methods are the same for all types of vent filters.

How to clean a dirty vent hood filter
How to clean your range hood filter:
1 – Remove the filter from the vent hood.
2 – Get a large pot and fill it with boiling water.
3 – Slowly add a 1/2 cup of baking soda (will begin to fizz and bubble!) or some Dawn dish soap to the boiling water.
4 – Thoroughly mix the baking soda and water cleaning solution (or Dish dawn soap instead of baking soda).
5 – Put half of the range hood filter into the boiling water for 5 minutes.
6 – Remove the filter from the water.
7 – Add the other end of the range hood filter into the boiling water for 5 minutes.
8 – Remove the range hood filter and rinse it under hot water until it is clean and free from grease.
If you notice the range hood filter is damaged or it is so clogged with grease you can't completely clean it, replace it.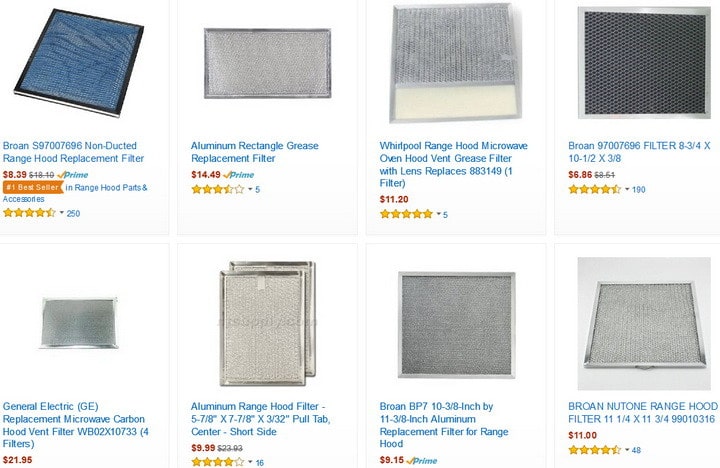 Replacement hood vent filters
How to replace your range hood filter:
1 – Remove the filter from the vent hood.
2 – Find the brand of your range hood or microwave vent either by the brand of the hood you have or the name on the filter itself.
3 – Use a tape measure and carefully measure the size of your range hood filter.
4 – Go here to find all range hood filters.
5 – Make sure to order the same exact size (and brand if possible) as your vent filter.
Range hood filters can cost as low as a few US dollars, make sure to either clean or replace your filter every 3 months to keep the air smelling clean and to not cause a fire safety hazard.
NEED HELP FINDING A REPLACEMENT VENT HOOD FILTER?:
If you are having problems finding the correct size you need to replace your range hood vent filter, be sure to measure correctly and do not round the numbers. Measure the exact size and write it down. Measure the length and width with a tape measure. You may need to measure the depth too depending on the type of vent hood filter you are replacing. If the numbers do not match up when you are trying to order a replacement vent hood filter, look on the filter itself as there may be a brand name and a part number. Once you have the info on your vent hood filter, click here to order one online for less.
If you know of better ways to clean an oven vent filter, or you are having problems finding a replacement range hood filter, please leave a comment below and we will be happy to assist.