My car remote is not working. The remote is built into the key. Is the battery in my car key clicker need replaced? I am not able to lock or unlock my car with the car key remote button. The "clicker" for my car usually unlocks the doors, pops the trunk, and also has a panic button, but now, nothing works. I cannot set the car to lock or unlock with the remote button. The only way to lock my car is by pressing the "lock doors" button in the car and then shutting the door. Can you tell me which type of battery I need to replace? The car remote is part of the security system too right? As I am unable to set the alarm on my car. I can open the car with the key, it is just the car key remote that is not working. Please help.

If your car key remote or FOB is not working. You most likely need a new battery. It is a simple easy fix. Here is how to replace the battery in your car key remote…
To open up most car key remote to change the battery:
You can either use a coin to pop the car key remote open, OR there is a small screw you need to remove, Or there is a small plastic piece you slide and the car key remote will open. The battery will then be exposed.
Replace the car key remote battery with the same exact one. Look at the numbers on the battery and do a search here to Find your EXACT car key battery…. Keyless Entry Remote Control Car Replacement Batteries.
Below are a few of the most popular car key remote batteries. Check the images to see if you find yours.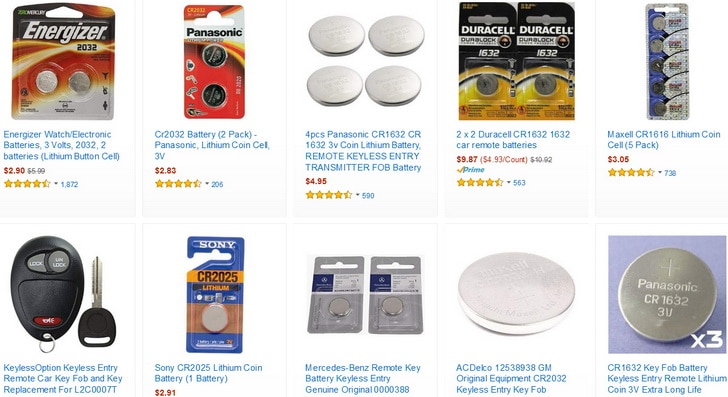 Replacement Battery For Car Key Remote
After you install the new battery, you MAY have to reset or resync it. Most of the time you will NOT have to RESYNC the car key remote with your car if you are just replacing the battery. Test it after replacing the battery and see if your car or truck responds to the remote. If so, you are done!
NOTE: Some car key remotes WILL NEED to be reset or RESYNCED by the dealer or by consulting your vehicle owner's manual and following the instructions. Some car key remotes will need to be reset after the battery is removed. Call your car dealer or read the manual to reset or resync your car key remote.
If after replacing the car key battery the car does not respond to the remote… Simply stand near the car and press and hold the LOCK BUTTON and UNLOCK BUTTON until the horn beeps. This should reset it and it is good to go.

How to change the battery on your your car key remote
(This HOW TO Video is for a VW car key remote, but it will show the basics of replacing the battery)
Here are the most popular keyless entry remote control car replacement batteries:
Duracell MN27, GP27A 12V, Alkaline Battery MN27BPK, Duracell Coppertop N Cell 1.5V Alkaline MN9100 (LR1), CR1632 Renata 3v Lithium Coin Cell, Duracell MN175 7.5v Alkaline Battery 5NR44, CR2016 Renata 3v Lithium Coin Cell, Duracell DL1616BPK 3V Lithium Coin Cell Battery CR1616, Renata Coin Cell 3v Lithium Battery CR2025CU, Duracell DL1620BPK 3V Lithium Coin Cell Battery, Renata Coin Cell 3v Lithium Battery CR2032CU, Duracell DL2025BPK 3V Lithium Coin Cell Battery, Renata CR1220 Coin Cell 3v Lithium Battery CR1220, Duracell DL2032BPK 3V Lithium Coin Cell Battery, 10A, GP10A, L1022 9V Alkaline battery ALK10A, 23A 12V 33mAh Replacement battery, Energizer A23BPZ, A23, MN21 12 volt Alkaline Battery, Duracell 12V Alkaline Battery A23, GP23A, Duracell Quantum 9 Volt Alkaline Battery.
NOTE: If you go to the car dealership to replace the battery, they will usually charge from $40 to $80 to replace it. This all depends on what type of car, SUV, or truck you have. If you have a Mercedes, AUDI, BMW, or Land Rover, then expect to spend much more if you let the dealer do it for you.
If you replace the battery yourself, you will save hours going to the dealership and money as the batteries are from $3 to $10 US dollars. It is thrifty and smart to DIY your car key battery replacement.
Note that some very expensive cars will sometimes need the car key remote to be SYNCED by the dealer. For a car such as a Toyota, VW, Honda, Jeep, Chrysler, KIA, Hyundai, Ford, Chevy, Nissan, and SCION, it should be very easy to remove and replace the car key remote battery yourself.
Have questions or problems with replacing your car key remote battery? Please leave a message below and we will assist you 100%.