LG WASHER FE ERROR CODE = WATER OVERFLOW ERROR = The drain pump is running constantly when the FE error code is displayed. Most likely solution = Replace WATER INLET VALVE.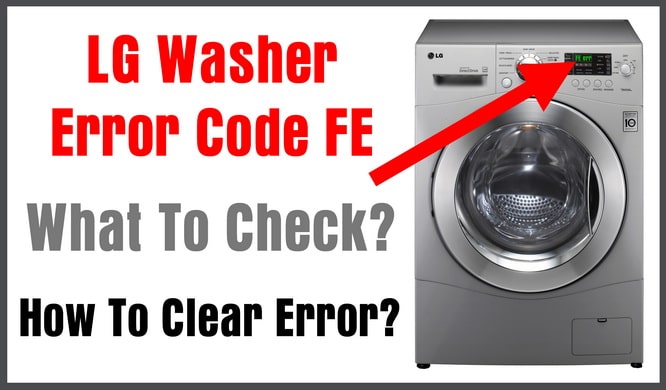 LG WASHER ERROR CODE FE
What does FE code mean on LG washer? If your LG washer is getting the FE error code, there is usually one reason why the FE fault code will display. The FE error code on the LG washer display is indicating a water overflow issue. This means the WATER INLET VALVE may not be shutting off the flow of water and therefore the DRAIN PUMP is running constantly. This may mean the WATER INLET VALVE has failed to shut off the water to the washer and needs to be cleaned, repaired, or replaced.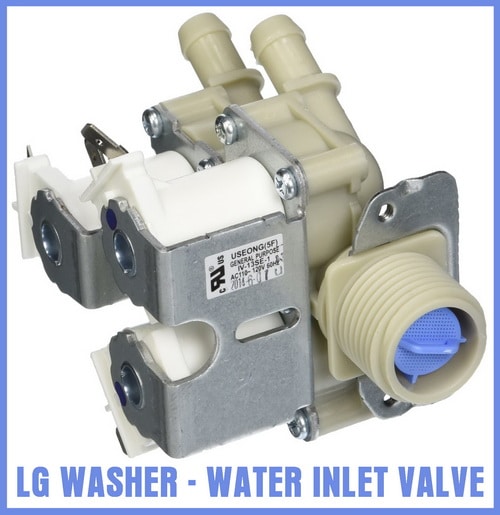 LG washing machine water inlet valve
LG Washing Machine has FE code:
FE error code on LG washer means = Water overflow error
What happens when the FE error code appears?
The washer continues to fill with water and the drain pump is constantly running when the FE error code shows.
What to check to fix FE error code?
Inspect the water inlet valves (where the water supply hoses connect into) and see if they shut off the water supply at the correct time. The water inlet valves should always turn the water off after the washer is filled to the set water level. See if the water inlet valves are clogged with debris and causing them to not CLOSE. (You may be able to clean the water inlet valves and get them to work properly again.) If the water inlet valve does not close, the water will keep filling the washer. If the washer continues to get water into the tub after it reaches maximum water capacity, the drain pump should kick on a drain the water out to avoid a water overflow.
If you find that the water inlet valves are faulty, you will need to remove and replace the water inlet valve assembly.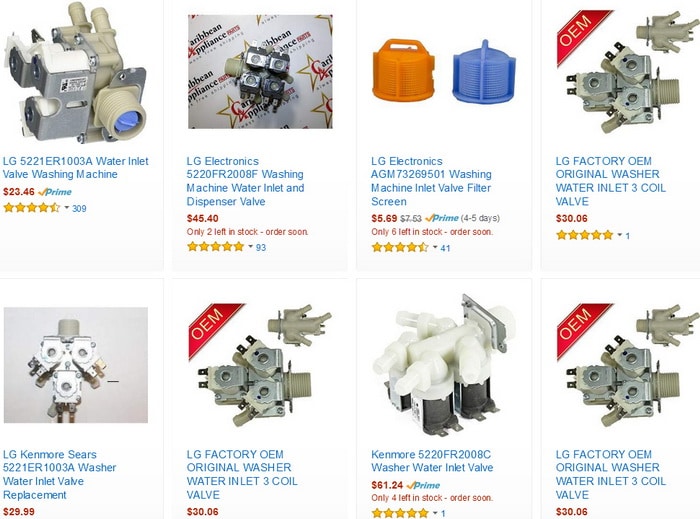 Replacement LG washer water inlet valves
Here is a step-by-step guide on how to replace a water inlet valve on a washing machine.

How TO Replace the Water Inlet Valve on a Front Load Washer?
Need help with your LG front Load Washer showing the FE error code? Please leave your question below and we will assist.