If your Samsung refrigerator is blinking with the 1E error showing on the display, here is what it means and how to reset it. The 1E error code means the refrigerator lost power. This usually occurs from a power outage. When the 1E is displayed, the display panel will lose all functionality and the refrigerator will not dispense water or ice. (NOTE: The error code may look like 1E, 1 e, IE, or lE.)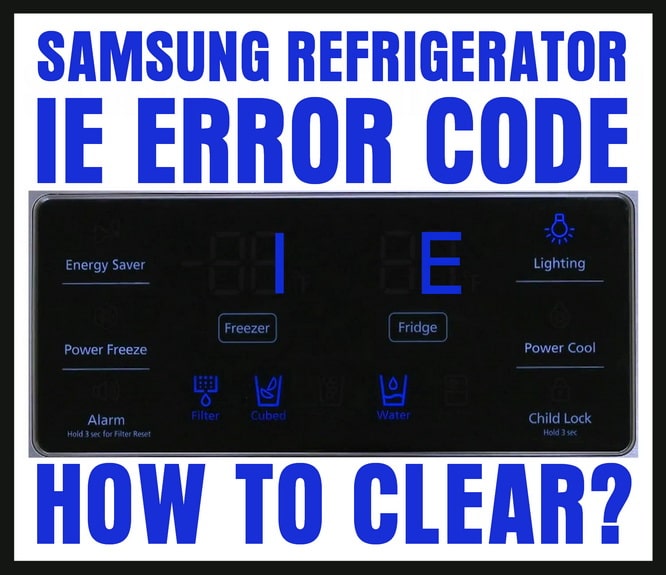 Samsung Refrigerator 1E Error Code
How To Reset Refrigerator Display Panel?
How do I reset the 1E error code on my Samsung refrigerator after a power failure?
PRESS and HOLD the ENERGY SAVER button and the LIGHTING button at the same time for 10 – 15 seconds.
After pressing the 2 buttons on the refrigerators display, your Samsung refrigerator will reset and resume normal operation. The ice maker should now dispense ice, and the water dispenser should now dispense water.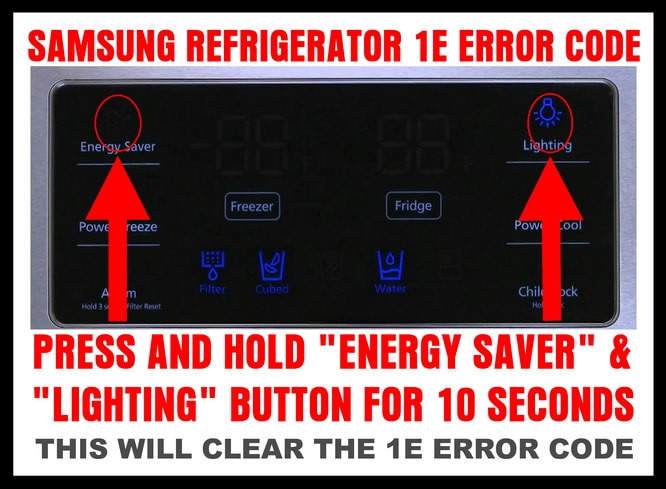 1E error code – Samsung refrigerator
PRESS and HOLD the ENERGY SAVER button and the LIGHTING button to reset.
NOTE: Even if the ENERGY SAVER button and the LIGHTING button are not illuminated, you can still press them to get the refrigerator back to normal.

Samsung Refrigerator 1E flashing error code reset

Samsung Refrigerator Troubleshooting – Display Control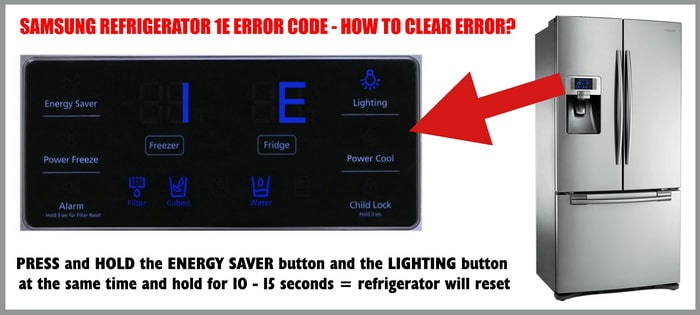 Samsung Fridge 1 e error code
Pressing the 2 top buttons will reset your refrigerator.
Some Samsung refrigerator owners have reported that after clearing the 1 E error code, the refrigerator will not cool. After clearing the error code, be sure the fridge is cooling, dispensing water, and dispensing ice. If you have problems after clearing the 1e error code, please let us know what the issue is by leaving your question below and we can assist with troubleshooting.