What does HDR mean? HDR = High Dynamic Range TV Technology. What does HDR on a Television do? A 4K UHDTV (Ultra-high-definition television) with HDR dynamically enhances the contrast and the color representation on the screen. A TV with HDR makes the content look sharp, rich and amazingly realistic.
How does HDR on a TV work?
HDR enhances the contrast and color using the existing pixels on your TV. The High Dynamic Range "HDR" creates a higher quality picture and a much better natural viewing environment. HDR creates a picture on the TV screen where colors emerge much deeper and brighter. HDR creates a highly detailed image that makes the contrast astoundingly deep and rich. HDR heightens an images dynamic range to create an ultra stunning picture.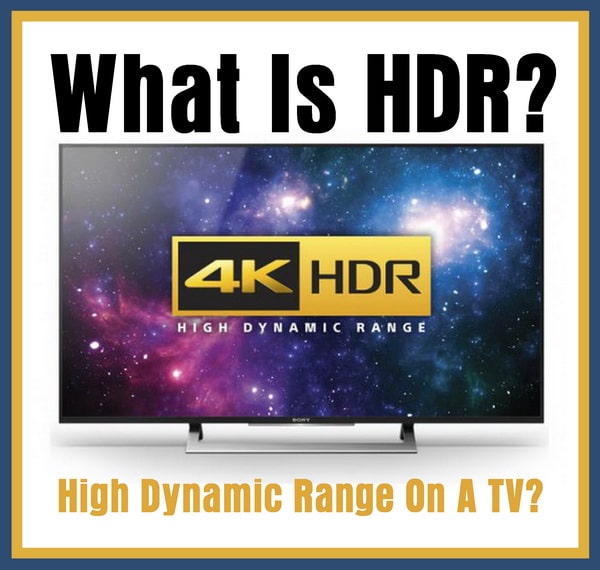 What Is HDR (High Dynamic Range) On A TV?

Comparison of a 4K TV with HDR to a 4K TV without HDR:
If you compared a 4K UHDTV (Ultra-high-definition television) with HDR (High Dynamic Range) to a traditional 4K Ultra HD TV without HDR, you would see that the HDR technology shows an exceptionally wider color gamut and range of deeper colors.
TVs with HDR technology use a larger amount of colors which create images with deeper shades of color. TVs with HDR technology provide a much more vibrant picture that is equal to what the human eye sees naturally. A 4K Ultra HD TV with HDR delivers even more pixels to the TV screen. High Dynamic Range technology enhances each and every pixel on the TV screen to produce a clear, clean, and sharper picture. HDR improves the color depth between lights and darks which makes dark colors much more darker and bright colors much more bright. The shadows and shading have more depth and a cleaner definition between bright and dark on the screen.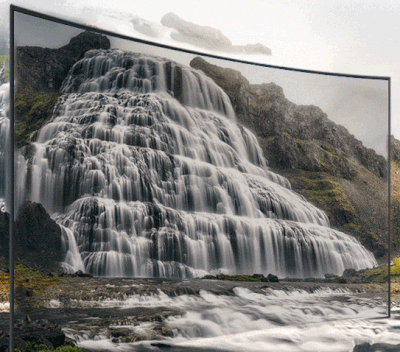 HDR TV – Better Contrast – Better Color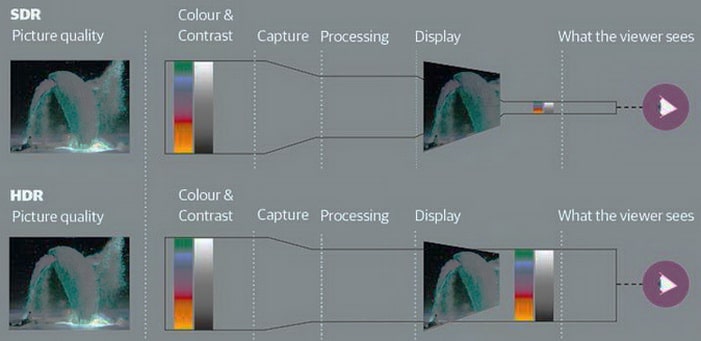 High Dynamic Range TV – HDR
Difference between HDR and SDR Picture Quality

HDR on TV – HDR vs SDR (Standard Dynamic Range)
Films and Movies are produced with content encoded with specific video levels.
This calls for very high and crisp levels of brightness, contrast, and color that exceed the capability of a normal TV.
An HDR TV shows a more precise picture the way it was meant to be seen.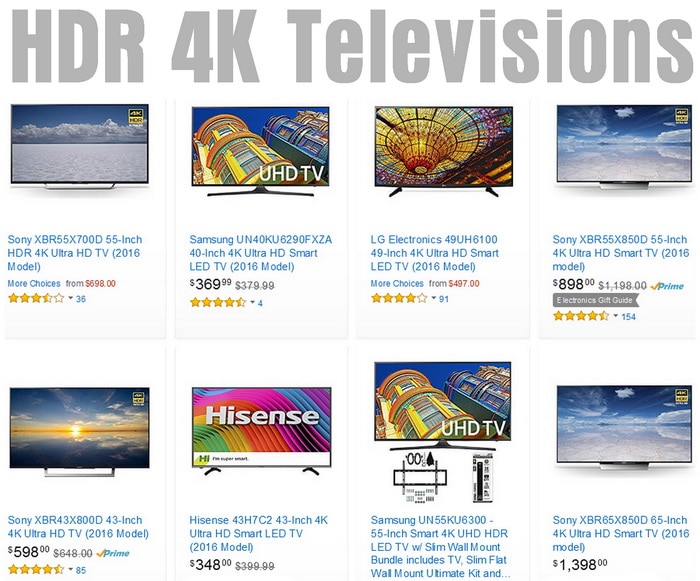 4K Ultra HD TVs with High Dynamic Range – HDR – Best Sellers
Why get a TV With HDR Technology for Gaming?
A TV with HDR (HIGH DYNAMIC RANGE) means = Enhanced Color and a Deeper Stunning Contrast. A TV with HDR is perfect for gaming with consoles that are HDR compatible. As an example, gaming with an Xbox One S with HDR using a TV with HDR will make playing all your games much more enjoyable. The image the HDR TV displays with an HDR gaming console are jaw dropping astounding.
NOTE: Just be sure you set the HDR correctly in the Xbox One S/PS4 Video Output Settings, the TV Picture Settings Menu, and the TV HDMI Output Settings to fully enable HDR gaming.
Playing Games and Streaming Video with an HDR TV:
Playing your favorite Xbox One S HDR games or PS4 games on an HDR 4K UHDTV will be much more immersive and the color and contrast will be amazing. Streaming 4K HDR video from Amazon Prime Video, HULU, NetFlix, or YouTube to an HDR 4K UHDTV Television will look extra sharp, and the picture image detail will have a much deeper contrast. You will also notice super bright vibrant colors which makes watching TV much more enjoyable.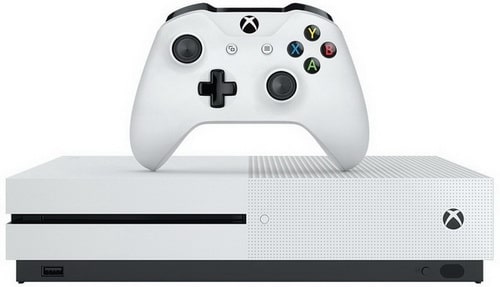 Xbox One S 500GB Console
4K Blu-ray, 4K video streaming, and HDR

PS4 Pro HDR Setup Tutorial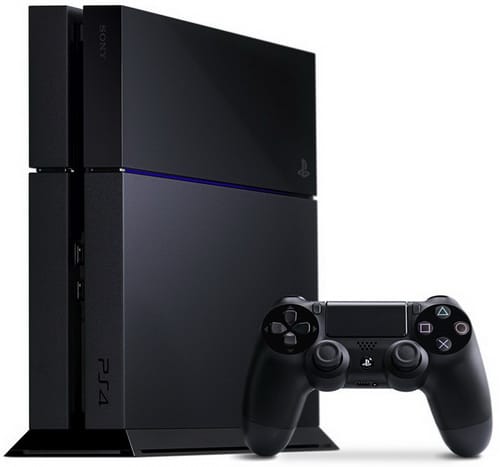 Sony PlayStation PS4 500GB HDR Gaming Console
(HDR available with system software 4.0)
Will a TV with HDR improve the image of all my current media?
An HDR TV will display your current media content exceptionally better. If you currently have Satellite, Cable, an Antenna, a Streaming Device, or Blu-Ray Disc Player, you will notice a cleaner and deeper difference. You will be able to enjoy a better TV viewing experience with HDR video using media that is available through a streaming video service like Amazon Prime Video or Netflix, or a 4K Blu-ray player that supports HDR technology.
How To Turn on HDR on my TV?
Most HDR Televisions will need to be setup correctly with what you are using to watch TV… either a Cable box, SAT box, Streaming Video from a TV app, Antenna TV, a Roku, or a Gaming Console such as the Xbox One S or the PlayStation 4 (PS4) which are both HDR compatible. Some TVs will have only one HDMI input that is for HDR, and other TVs will have HDR with all HDMI inputs, but you may have to literally "turn HDR ON" on some TVs. Go into the "Settings" of your Vizio, Samsung, LG, or Sony TV and this is where you can set the HDMI Video Output to "FULL" or "HDR ON".

How To Turn On HDR For SONY TVs

How to enable HDR (Best Picture Settings) on Samsung SUHD TVs

How To Turn On HDR For LG TVs
What is the Best HDMI Cable for HDR TVs?
Most high quality HDMI cables can carry the HDR content from the component source to your Television. The best HDMI cable to use to get the best benefits from your HDR TV is an HDMI cable with a minimum bandwidth rating of 18 Gbps. An HDMI cable with a minimum bandwidth rating of 18 Gbps is the best choice for high performance with a 4K Ultra HD TV with HDR technology. You will see a noticeable difference by using the best (minimum bandwidth rating of 18 Gbps) HDMI cables with your HDR TV.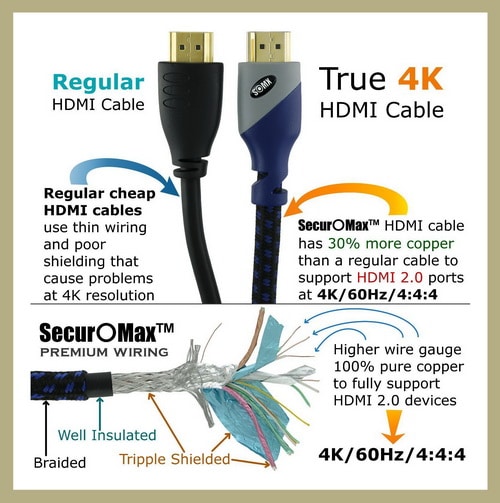 HDMI Cable 2.0 Ready – HDR UHD 4K 60Hz 18Gbps
Is My TV HDR – Does My TV Have HDR?
If you are not sure if your TV has HDR technology, go into the Settings menu and check if you see any reference to HDR video settings.
You can also type your TV model into Google and read about your TV features which will let you know if your TV is HDR.
Is PS4 HDR?
Yes. System software 4.0 for the PS4 adds HDR to your current PS4 settings so you can take advantage of HDR technology for games and video streaming.
To properly configure HDR features on the PS4 ensure you have the following:
-4K HDR capable TV that supports HDR10 format
-PS4 connected with a premium HDMI cable
-HDR enabled content
-PS4 updated to system software 4.0 or higher
NOTE: Some cheaper 4K Ultra HD TVs on the market claim to be "HDR" or "HDR compatible" but they do not offer the fullest benefit in picture quality. A TV that is "HDR compatible" just means they are able to accept and play HDR content. If you are buying a TV and you want an actual HDR TV, make sure the TV is full HDR and not just "HDR compatible".
What is the difference between HDR for a TV and HDR for a Smartphone?
HDR TV technology is different than that on your Apple or Android smartphone when taking an HDR photo. A smartphone HDR photo function takes a multitude of pictures and combines them into one shot to make a higher contrast image or picture. A true HDR TV generates the contrast within each pixel.

4K Ultra HD TVs with High Dynamic Range HDR
Have questions or comments about TVs with HDR? Please leave your comment or question below and we can help you setup your TV to utilize the HDR feature or guide you in the best direction as to which TV to buy when shopping for an HDR Television.