I have the t CL Error Code on my LG Washer. I was washing clothes and I noticed the washer was not working and the display showed the tcL Error Code. Can you tell me what this error code refers to? I am at a loss as to what to do. My LG washer is 2 years old, was around $1000 US dollars, and the model number is WM1814CW. I have tried to unplug the washer as stated on some other websites, but unplugging the washer did not reset the error code. Please advise me on how to clear or reset the LG washer to remove the t CL error code.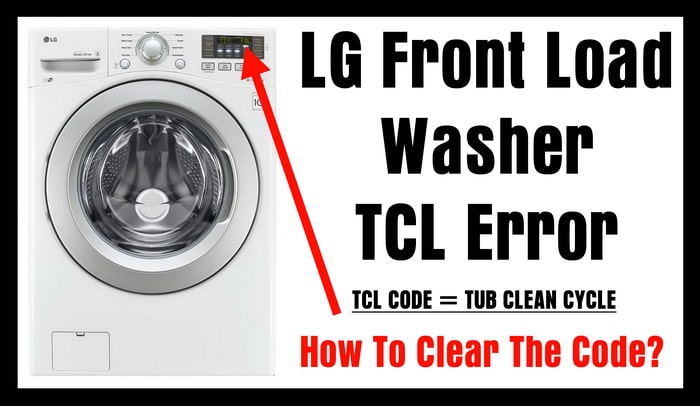 LG Front Load Washer TCL Error – How To Clear The Fault Code
LG Front Load Washer Error Code TCL = TUB CLEAN CYCLE
If your LG front load washing machine is showing the t CL error code, this is telling you to run the tub clean cycle. This means the washer is sensing that the tub is not clean and needs to be properly cleaned to function at peak performance. There is a sensor in the washer that senses the tub is dirty. This sends a signal to the display panel where it shows the error code.
This error code does not show very often but when it does, it is an easy fix. This error code clearing method simply involves cleaning the tub. See below for how to clean your LG washer and clear the TCL error code…
How to run the TUB CLEAN CYCLE to CLEAR THE ERROR CODE TCL on an LG Front Load Washer:
1 – First, completely EMPTY THE WASH TUB (No clothing inside the wash tub)
2 – Next, apply your choice of cleaner such as recommended: Liquid Bleach (Tub Clean Solution) – Powder Tub Clean – Tablet (pod) Tub Cleaner. All Washing Machine Cleaners here.
NOTE A: If you are using Liquid Bleach or Tub Clean Solution, add it into the compartment that says LIQUID BLEACH.
NOTE B: If you are using a Powdered Cleaner, put it into the MAIN WASH COMPARTMENT. (you may have to remove the liquid detergent cup if applicable)
NOTE C: If you are using a Tablet Cleaner, add the Tablet directly into the washer. Do not add Tablet Cleaner into Detergent Dispenser. Do not add anything else.
3 – Once the cleaner is in the right place, go to the LG washer control panel, Turn Power Button to ON – Select the TUB CLEAN CYCLE – Press START Button.
4 – Let the washer run and complete the TUB CLEAN CYCLE. After running the TUB CLEAN CYCLE you will be able to wash clothing without the code showing in most cases.
5 – If the error code reappears, run the TUB CLEAN CYCLE once more to fully CLEAN the tub.
6 – The t CL error may continue to show after completing multiple wash cycles but will clear with the next "scheduled" washer tub clean cycle.
Here are some recommended cleaners the will work to clean your LG washer and clear the tCL error code…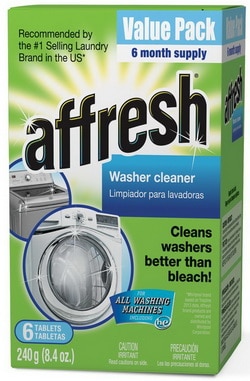 Affresh Washer Machine Cleaner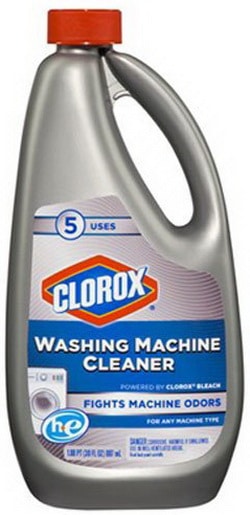 Clorox Washing Machine Cleaner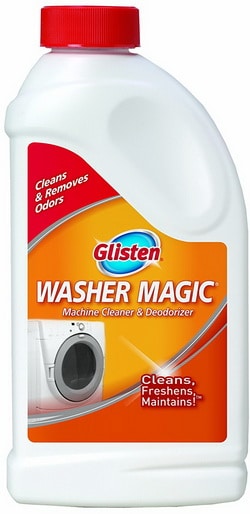 Glisten Washer Washing Machine Cleaner
For Traditional Top Loaders and High Efficiency (HE) Washing Machines

Oh Yuk Washing Machine Cleaner For All Washers
(Top Load and Front Load, HE and Non-HE)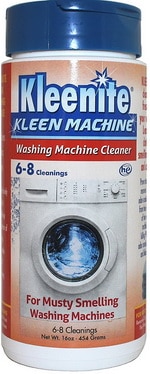 Kleenite Kleen Machine – Washing Machine Cleaner
LG Washing Machine Cleaning Tips and Hints:
TIP 1 – To keep your washer running smooth and as designed, use the TUB CLEAN CYCLE once per month to keep your LG washing machine clean and free of detergent build up.
TIP 2 – Wipe the inside of the door and the door seal to remove moisture after washing.
TIP 3 – Leave the washing machine door open to allow the tub to dry so no odors can build up.
TIP 4 – If you find your washer has odors, use the TUB CLEAN CYCLE to remove any odors that can occur with washing.
TIP 5 – Run the TUB CLEAN 3 times in a row to remove heavy odors or if error code reappears.
Here is a video below that will show you how to run a TUB CLEAN CYCLE on your LG WASHER to CLEAR THE TCL ERROR CODE.

LG Washer – Tub Cleaning and Maintenance
Cleaning the LG washer tub every month using the TUB CLEAN feature can help to minimize odors.
Running the TUB CLEAN CYCLE on your LG Washer will remove detergent residue buildup and any debris that may have accumulated.
Do you have questions or cannot clear the TCL error code on your LG washer? Please leave a comment below and we will be happy to assist you.
Allen is an Appliance/Home Maintenance expert and the author/creator of this website.
Contact him here if you have questions.
More "Do It Yourself" Tips, Tricks, Ideas, Repair: