I have an Samsung TV and the screen is black. The TV powers ON but I am unable to see a picture. The TV picture flashes for a second or two and then the screen goes completely black. It is just a black screen with nothing else. I can see the POWER light illuminate so I know the TV is turning ON and staying ON. I do hear sound even though the TV screen is black.
My TV is a 65″ 4K SMART LED HDTV and the black screen just started to appear. I am unable to watch TV as the black screen is constant. Does this mean the screen or main panel is bad? If an LED or LEDs go bad, does the picture flash and then the black screen constantly appears? What are some things I can check myself before I call for repair or warranty service?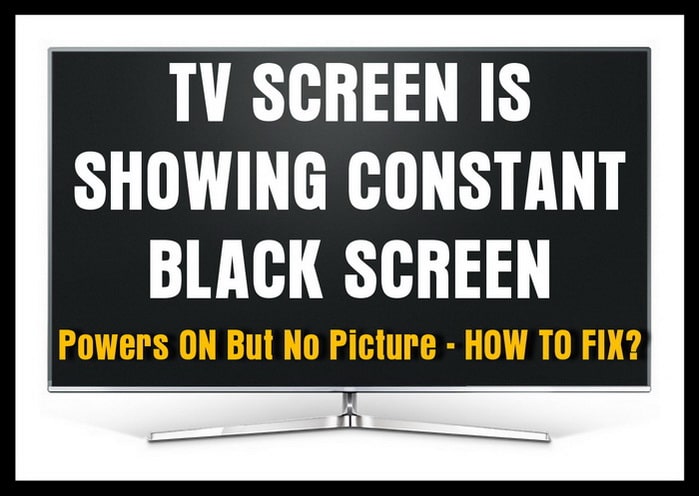 TV Screen Is Black – Powers ON But No Picture
When a TV screen is black and no picture appears, this can mean a few different problems. Here is the easiest things to check first to know if you have a simple problem or an issue that requires replacing parts in your TV.
Black TV Screen Quick Test 1:
First, attempt to get the TV MENU pulled up using the remote control or the MENU button on the TV itself.
If the TV MENU appears, then the issue is coming from one of your sources or components.
Black TV Screen Solution 1:
This would mean that either a CABLE BOX, SAT BOX, COAX CABLE, HDMI CABLE, ETC may not be working properly, something is loose, or needs reset.
-Reset ALL components by unplugging them for 5 minutes including the TV.
-Be sure all COAX CABLES and HDMI CABLES are tight and properly connected.
-If you CAN pull up the TV MENU when you have the black screen, update your TV's firmware to be sure your TV is up to date and rule out the TV as the problem.
NOTE: If the TV now works and there is no BLACK SCREEN, the issue was either a loose cable, old TV firmware, or a component that needed to be reset and the issue is now resolved.
Black TV Screen Quick Test 2:
Is the component you are using TURNED ON and the TV INPUT is set correctly?
Black TV Screen Solution 2:
For example, if you are using a Roku to watch TV…
-Be sure the ROKU or the component is TURNED ON.
-Be sure you have the TV INPUT set correctly and it is set to the component you are currently using.
-Switch to all the TV INPUTS one at a time to make sure you have the component connected to the correct input.
NOTE: Sometimes inputs are labelled incorrectly and this can cause confusion. If after turning ON the component and changing the TV INPUT, the BLACK SCREEN is gone and the TV works, the issue is now resloved.
Black TV Screen Quick Test 3:
After resetting and making sure the components are connected properly, if you still get the BLACK SCREEN, you may have a bad COAX CABLE or HDMI CABLE.
Black TV Screen Solution 3:
Try using different or new cables for the component you are currently using.
-Use a new COAX CABLE for SAT BOX and CABLE BOX.
-Use a new HDMI CABLE for ROKU, AMAZON, DVD, BLU-RAY, X-BOX, PlayStation, etc.
-Make sure there is no damage where the cables connect into.
NOTE: If after using a new CABLE the BLACK SCREEN is now gone and you can see the picture and sound, the problem is resolved and the issue was a faulty cable.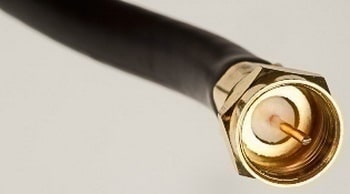 Damaged COAX Cable – Bent Pin
If the above solutions did not work to fix the BLACK TV SCREEN, see below for other reasons that may be causing the issue.
Other issues that can cause the BLACK SCREEN that will require disassembling your TV and replacing parts:
IMPORTANT NOTE FOR SAFETY – Before disassembling your TV, turn it off, unplug the TV, and wait a few hours so the power the TV holds inside discharges to avoid SHOCK.
FAULTY TV PANEL
1 – If the TV screen is black the complete TV front panel may be faulty and therefore the screen shows BLACK and no picture.
Find out if your screen is faulty or cracked and research to see if a new screen replacement is worth buying vs getting a new TV.
FAULTY CIRCUIT BOARD IN TV
2 – A circuit board in the TV (T-CON BOARD, MAIN BOARD, BACKLIGHT INVERTER, LED DRIVER BOARD) may be faulty, have popped capacitors, or a loose ribbon cable.
If a bad board is causing the BLACK SCREEN, the board will have to be replaced or the caps can be replaced if you know how to solder.
Check the ribbon connections of all boards inside the TV to be sure everything is connected and secure.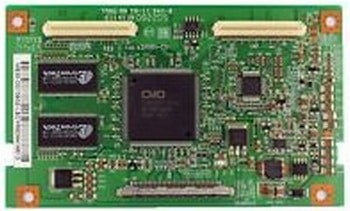 TV Repair – T-CON Board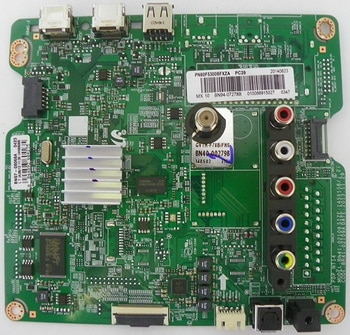 Samsung TV Repair – Main Board
FAULTY LED IN TV
3 – If the LED TV flashes on the screen when you FIRST turn it ON and then the BLACK SCREEN is shown, you may have a FAULTY LED or LEDs.
There may be a few LEDs that are not working behind the panel.
FYI – LED replacement is a total breakdown of the TV to replace the strips of LEDs that are faulty.
Check your TV model number and find the manual to see where the LEDs are located and how to replace.

TV Repair No Picture No Image Screen – Flashlight Test – Fix LCD LED TV
If you find you have a faulty circuit board (T-CON BOARD, MAIN BOARD, BACKLIGHT INVERTER, LED DRIVER BOARD), see below for the different types of boards that are available to fix your TV.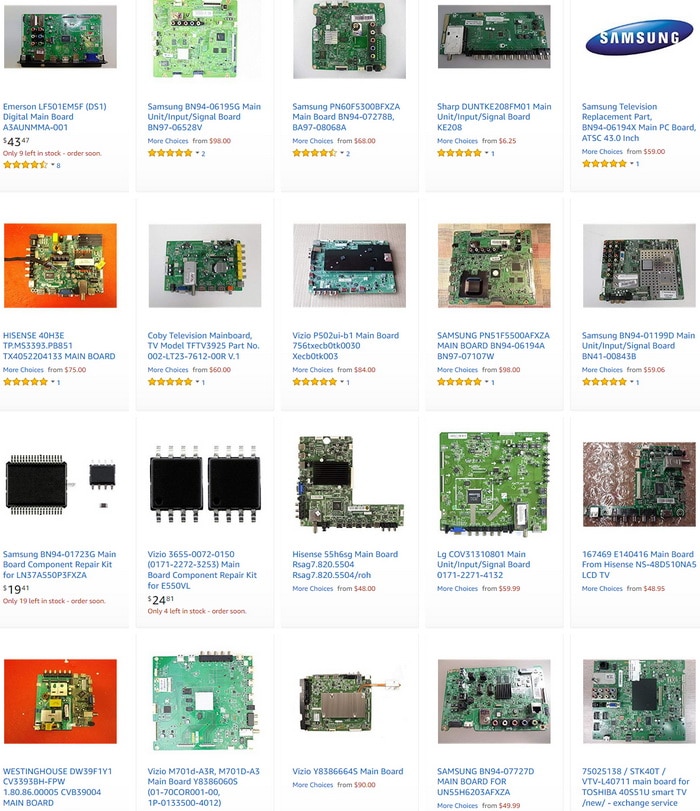 TV Repair – Main Circuit Boards
If you have suggestions on other easier ways to fix a TV with a BLACK SCREEN, please let us know by leaving a comment below. Also, if you have the BLACK SCREEN issue with your TV and the above solutions did not fix your TV, let us know by leaving your question below and we will help you get your TV working again.