Thor Kitchen Dishwasher Displays An Error Code? Thor Kitchen dishwashers have built in diagnostics to notify you when an error is present. The dishwasher will "see" the fault in the dishwasher and the computer will display an error code to let you know what the issue is.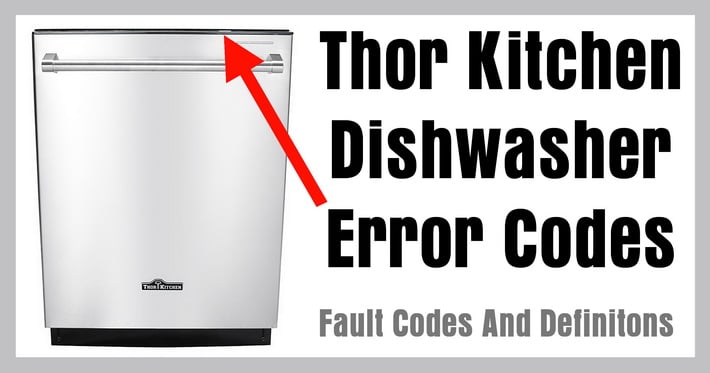 Thor Kitchen Dishwasher Error Codes
Knowing what the error or fault code is will help you to troubleshoot the dishwasher and fix it yourself. The error codes are below along with the filter system info and cleaning, a troubleshooting guide, and information about parts identification on the Thor Kitchen Dishwasher. All the error codes and info charts will help to guide you to fix your dishwasher by knowing which part or parts need to be replaced or simply cleaned.
When some malfunctions occur, the THOR dishwasher will display error codes to inform you of a problem. Below is the list of error codes for the Thor Kitchen Dishwasher Model Number HDW2401SS (Built-In Dishwasher)
THOR KITCHEN DISHWASHER ERROR CODE:

E1
ERROR CODE DEFINITION: Longer inlet time (Water)
CAUSE FOR ERROR CODE: Faucets or faucet may not be fully open or water intake is restricted or water pressure is too low
FIX: Check for open faucets and water line block and water pressure into home
THOR KITCHEN DISHWASHER ERROR CODE:

E4
ERROR CODE DEFINITION: Dishwasher Overflow (Leak?)
CAUSE FOR ERROR CODE: Some part of the dishwasher is leaking
FIX: If overflow occurs, turn off the main water supply before troubleshooting. If there is water in the base pan because of an overfill then the water needs to be removed before restarting the dishwasher.
THOR KITCHEN DISHWASHER ERROR CODE:

E8
ERROR CODE DEFINITION: Failure of distributary valve
CAUSE FOR ERROR CODE: Open circuit or faulty of distributary valve
FIX: Check with multimeter for open circuit and check valve to be sure it is in working order
THOR KITCHEN DISHWASHER ERROR CODE:

E9
ERROR CODE DEFINITION: If you touch a button for more than 30 seconds
CAUSE FOR ERROR CODE: There is water or an object on the buttons or button
FIX: Do not touch button or buttons for more than 30 seconds or remove object touching buttons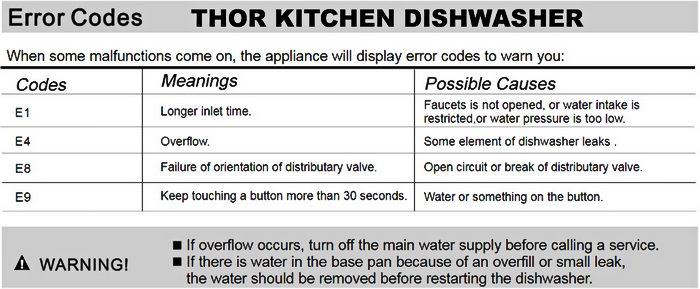 Thor Dishwasher Error Code Chart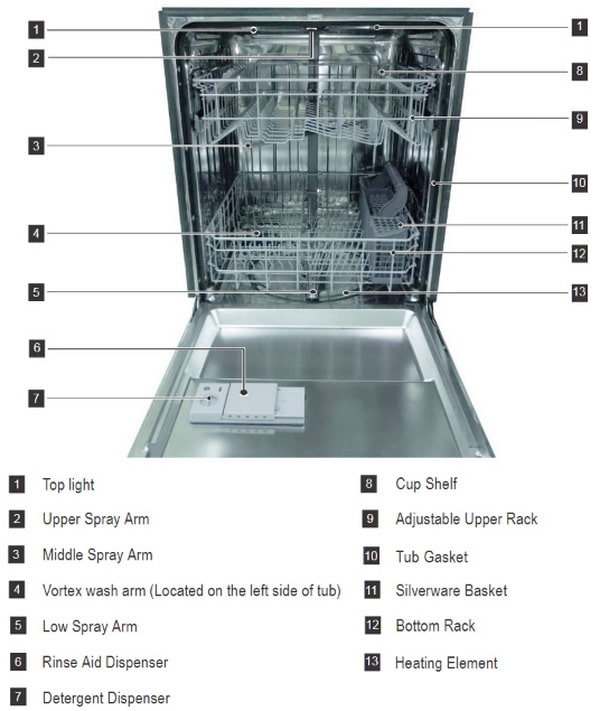 Thor Dishwasher Parts Identification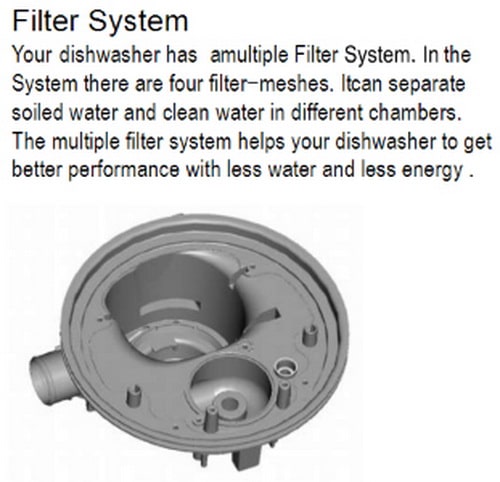 Thor Kitchen Dishwasher – Filter System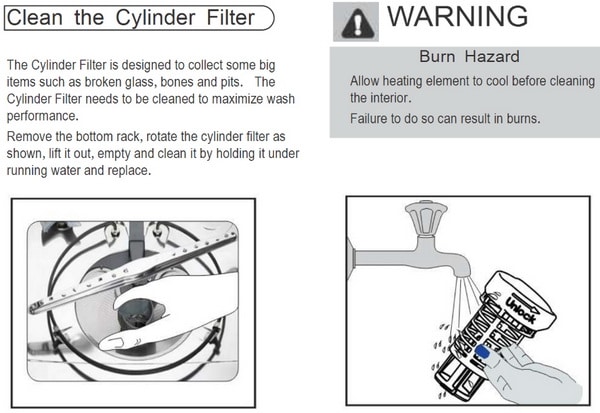 Thor Kitchen Dishwasher – Clean Cylinder Filter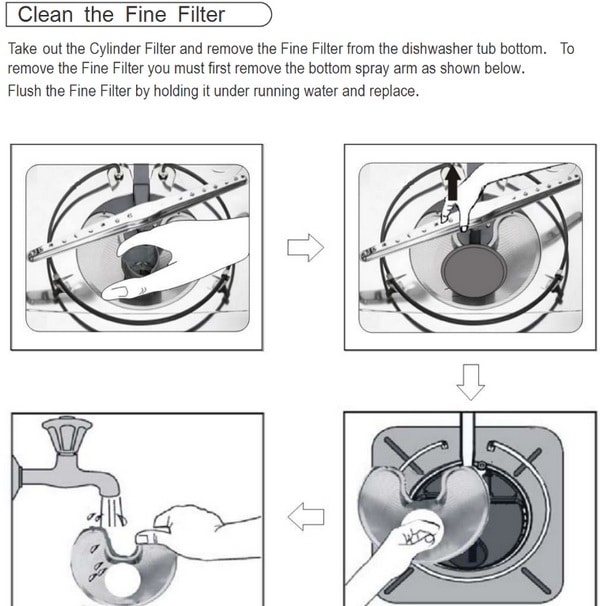 Thor Kitchen Dishwasher – Clean Fine Filter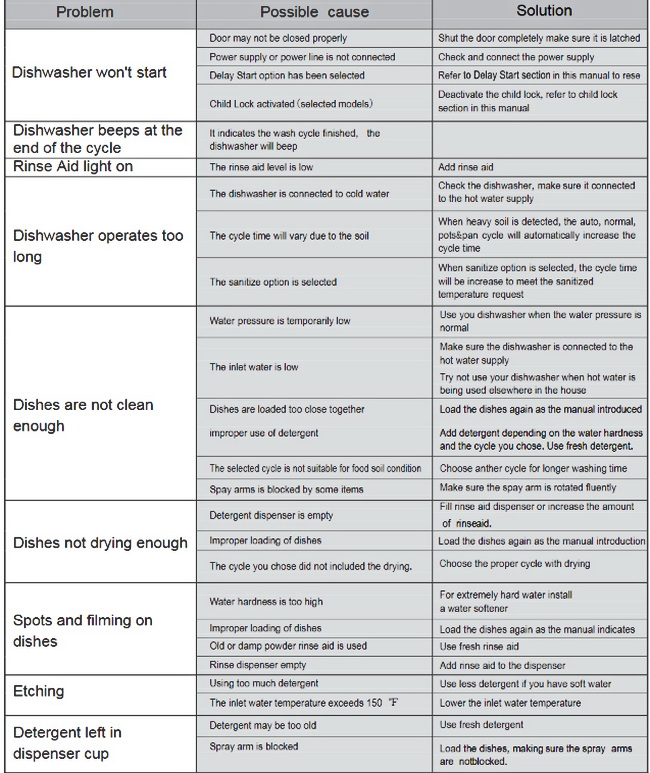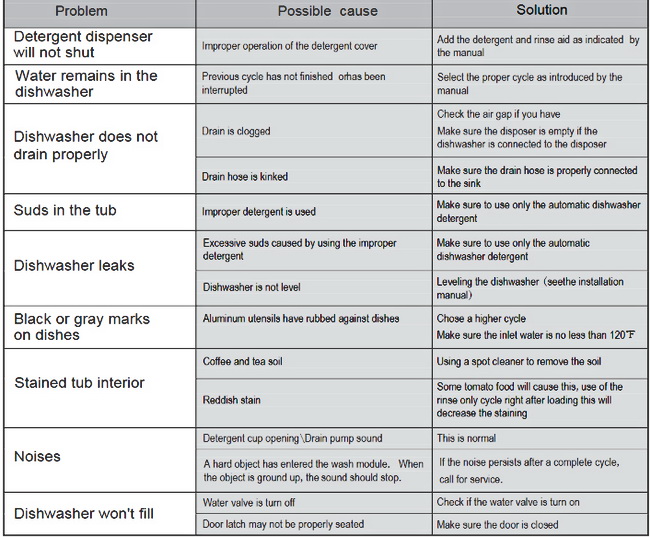 Thor Dishwasher Troubleshooting
THOR KITCHEN DISHWASHER PDF MANUAL
Thor Kitchen Dishwasher Troubleshooting PDF Manual
Thor Kitchen Customer Support
For service or support call 877-288-8099