Looking for LG Fridge Air Filters? LG french door refrigerators have a small but efficient fresh air filter in the inside top of the fridge. This air filter is recommended to be replaced every 6 months. This is to combat odors and keep your LG fridge smelling clean. Your LG refrigerator will tell you when to replace the air filter on the display panel with the words "CHANGE FILTER". Once you see this on the fridge display it is time to replace.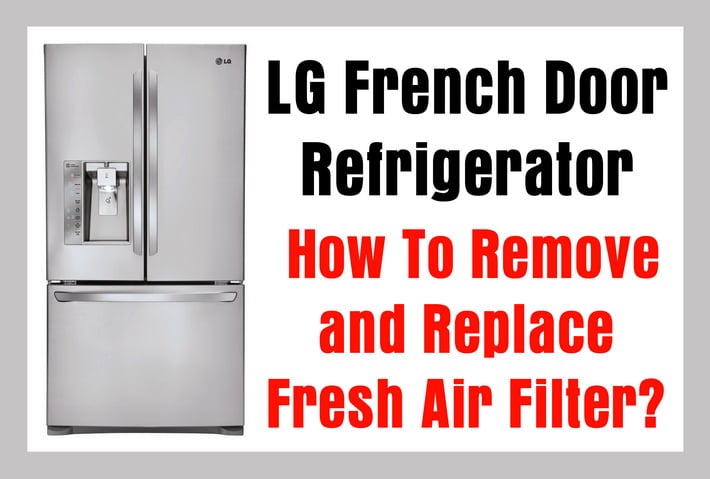 LG French Door Refrigerator
How To Remove and Replace Fresh Air Filter
HOW TO REMOVE AND REPLACE FRESH AIR FILTER ON LG REFRIGERATOR:
1 – Display panel displays to replace air filter.
2 – Remove air filter cover – turn filter cover to the left and detach.
3 – Old fresh air filter is inside air filter cover.
4 – Remove the old fresh air filter from the cover.
5 – Replace the new fresh air filter into the cover – The side that faces outward will say FRONT.
6 – To reinstall filter cover, hold in position and turn to the right to lock into place.
7 – On the LG display panel, press and hold the AIR FILTER button for 3 seconds.
8 – The air filter button will then reset and turn off.
LG refrigerator REPLACE AIR FILTER
You will see this when it is time to replace the air filter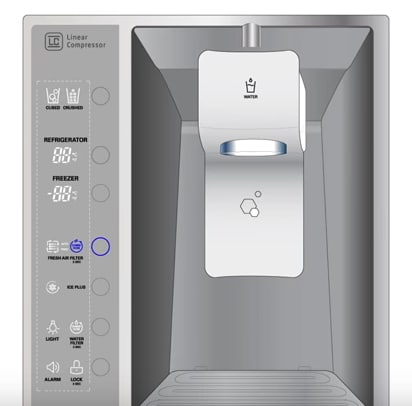 LG refrigerator REPLACE AIR FILTER ON DISPLAY
From a normal distance, this is what will illuminate to tell you it is time to change the air filter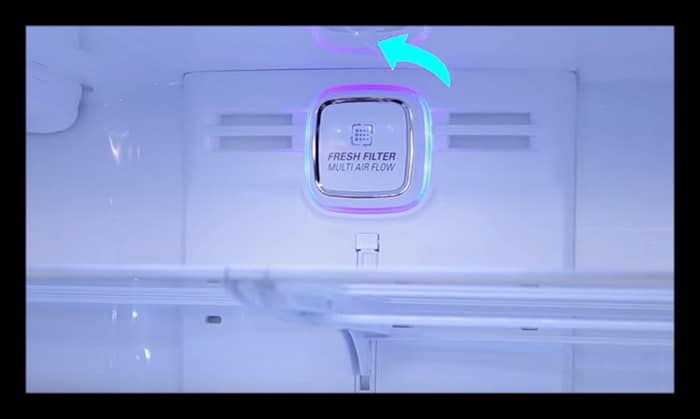 LG Refrigerator – How To Remove and Replace Air Filter – Turn Housing LEFT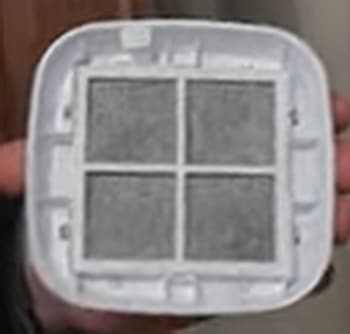 Air Filter after being removed from LG Refrigerator
Here is a video by LG to show just how easy it is to change the air filter in your LG refrigerator.

LG French Door Refrigerator – Replacing the Fresh Air Filter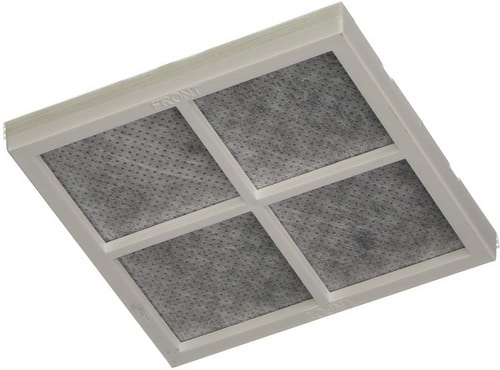 LG Replacement Refrigerator Fresh Air Filter
This LG Refrigerator Fresh Air Filter fits models LFX31925SW, LFX31925SB, LFX25991ST, LFX31945ST, LFX329345ST, LFX31925ST, LFX33975ST, LFX29927ST, LFX29927SW, LFX29927SB, LFX28968ST, LFX29945ST, LFX31935ST, LMX31985ST, LMX30995ST, LFX31995ST and LSC22991ST.
If you have any other issues with your LG fresh air filter, please leave a comment below and we will assist.
Allen is an Appliance/Home Maintenance expert and the author/creator of this website.
Contact him here if you have questions.
More "Do It Yourself" Tips, Tricks, Ideas, Repair: