Samsung freezer fan not working. I have a Samsung side by side refrigerator and the freezer side temperature rises too high. I have removed the back panel, fan panel and I have found that the ducts are frozen. If I let them thaw out will the freezer start working again? What may be the issue? Is this a DIY fix project I can do myself or do I need to call an Appliance Tech?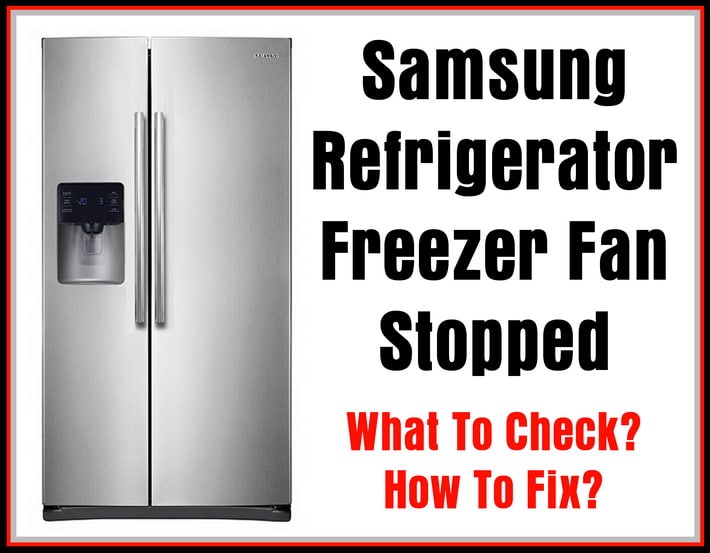 Samsung Refrigerator Freezer Fan Stopped Working – Not Spinning – Frozen – Faulty – Jammed?
The Samsung evaporator freezer fan and motor is in the freezer compartment. The freezer fan is responsible for supplying air over the evaporator coils while the compressor is running.
To inspect the evaporator fan and motor, unplug your refrigerator and remove the evaporator fan cover to check with a meter if needed. Read below for more….

FORCED (manual) DEFROST mode on a Samsung Refrigerator – Secret Setting
Once you defrost the Samsung fridge/freezer you will then reapply power to the Samsung fridge/freezer.
-Are you able to hear the evaporator freezer fan turning?
-The Samsung freezer fan ONLY turns ON when the doors are closed.
-Try to hear the freezer fan stop and start when you open and close the door.
-The sound of the compressor motor may confuse you… so be listening to the freezer fan area and not anywhere else.
-This should tell you if the freezer fan is running or not.
-If you can hear it running then maybe the defrost heater may be at fault.
-If you are unable to hear the fan running then either the freezer fan is at fault or the fan control circuit is at fault.
-If you have the back panel and fan panel off you might see the fan spinning when you open the door.
-When troubleshooting remove power to the Samsung refrigerator, if you have to test with power on USE CAUTION.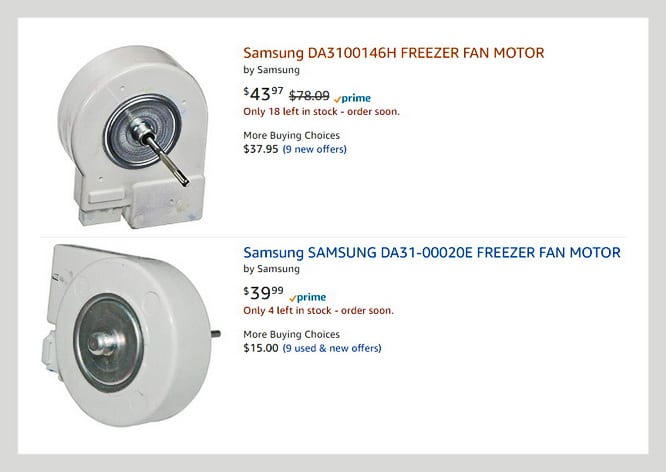 Here are Samsung Refrigerator Freezer Fans That Will Fix Your Appliance If Needed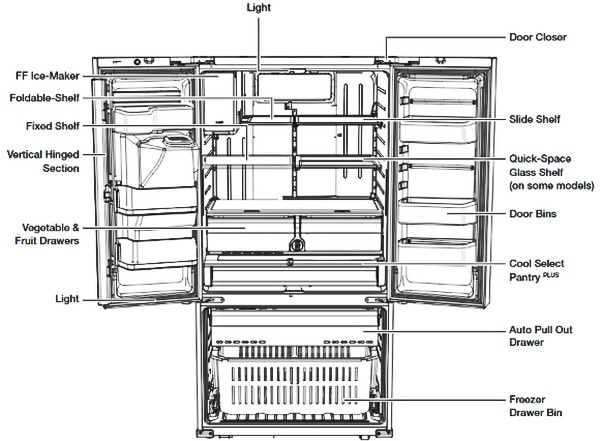 Samsung French Door Refrigerator Parts Identification For Reference
NOTE: On some Samsung Refrigerators there is an electrical diagram on the back that can help you troubleshoot.
Also, if the freezer fan does need to be replaced, it will cost around $40 US Dollars.

Samsung Fridge Fan Fix – Newer Style Refrigerator But Same Method
Unless you know exactly what you are doing, please always work on your Samsung Refrigerator with the power disconnected and still be aware as some parts still can hold power.
Need help with your Samsung Freezer Fan? Please leave your question below and we will help.