How to block out light from bedroom window? I work night shift so my job makes it so I sleep most of the day. The problem is when I have sunlight coming into my bedroom, I have a difficult time sleeping. The room also gets hot and it makes it uncomfortable to sleep. I currently have drapes on my bedroom window and need a way to block the light from the sides, top, and bottom of the drapes. Sunlight also comes through the drapes and makes the room bright. Can you tell me some easy ways to make it so I can minimize the sunlight coming in AND also reduce the heat coming into my bedroom?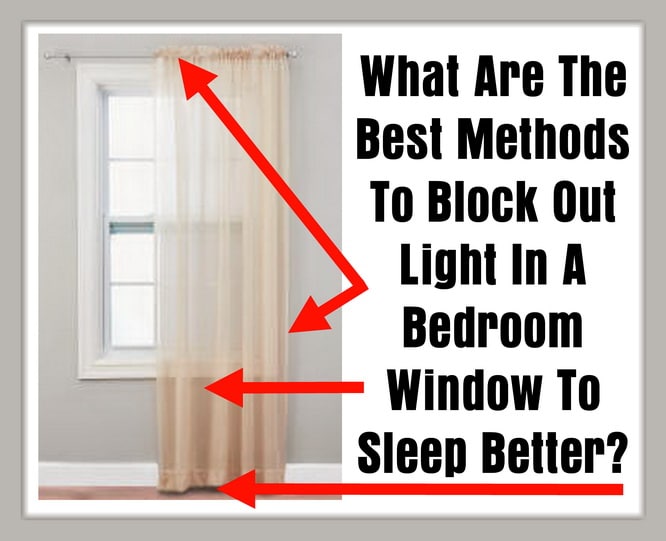 Best Methods To Block Out Light In A Bedroom Window – Sleep Better
1 – BLACKOUT DRAPES/CURTAINS – REPLACES YOUR CURRENT DRAPES
If you have drapes or blinds that let sunlight through them, you may want to replace them. Consider hanging up blackout drapes. These are extra thick drapes will prevent sunlight from coming through and into your bedroom. No light whatsoever will come through the fabric of the drapes therefore keeping your room cooler and less bright. Blackout drapes will also reduce the heat that comes in by blocking and absorbing the sunlight heat. Blackout drapes are easy to install and completely replace your existing drapes. Blackout drapes also reduce noise to help you sleep better.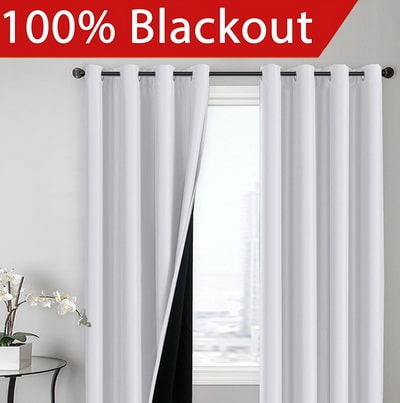 BLACKOUT Curtains – Thermal Heat and Light Insulated Energy Efficiency Window Drapes
(Click image to learn more)
2 – THERMAL INSULATED BLACKOUT CURTAIN LINERS FOR DRAPES – ADD TO YOUR EXISTING DRAPES
If you have drapes that let the sun come through them but you do not want to replace the drapes, you can add a blackout liner behind them. Thermal insulated blackout curtain liners are made to be thick enough to block sunlight and can attach onto your existing drapes in a few simple steps. Installing blackout liners is an easy process. They will come with curtain hooks that allow you to attach the liner to the back of your existing drapes. Installation takes about 10 minutes. Thermal insulated blackout curtain liners also reduce noise to help not disturb your sleep.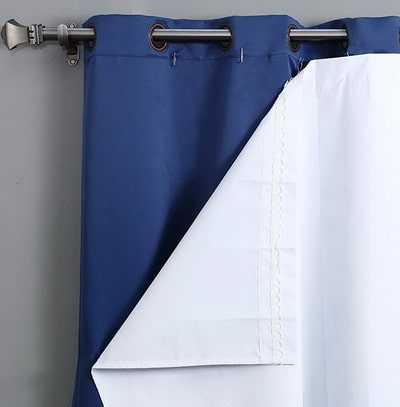 Thermal Insulated Blackout Curtain Liners To Keep Sunlight Out
(Click image to learn more)
3 – WINDOW TINT FILM – APPLIES TO INSIDE OF WINDOW DESPITE WHAT TYPE OF WINDOW COVERING
You can add even more heat and light blocking power to your windows by applying a window film window treatment. This is a great way to darken windows even without drapes or curtains. This window film is applied directly to the window on the inside. These window films can reduce the light as it is similar to the window tint on your car windows. Light can still pass through this film but will be reduced by the darkness of the film itself. This type of film also reduces heat therefore keeping your room cooler.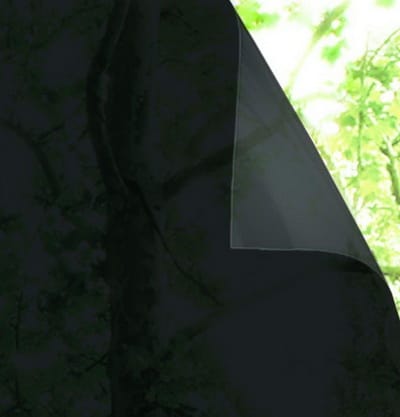 Black Privacy Residential Window Film
(Click image to learn more)
4 – VELCRO STRIPS TO PREVENT LIGHT FROM ENTERING THROUGH THE SIDES OF DRAPES
If you have blackout drapes but the sunlight still comes through on the sides of your drapes, use velcro strips. Apply 2 or 3 small velcro strips to your drape and the wall on both sides of the window. When the light comes in from the sides of your drapes, using velcro to hold the drape against the wall will prevent any light from coming through. This will make it so you are still able to open the drapes to let in light when you want.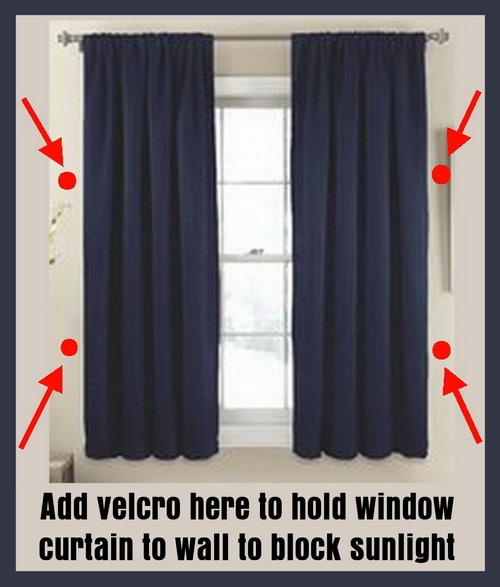 Add velcro here to hold window curtain to wall to block sunlight from sides of window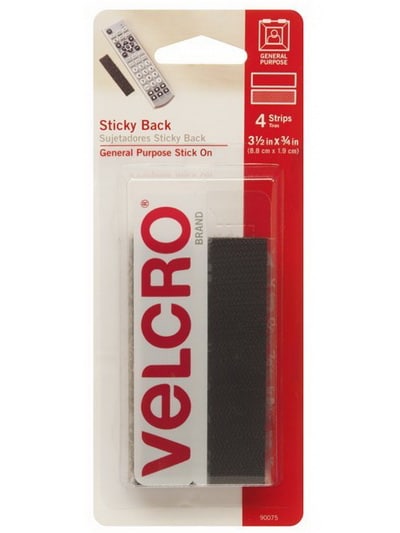 VELCRO Brand Sticky Back Strips
(Click image to learn more)
5 – USE YOUR EXTRA BED PILLOWS TO BLOCK LIGHT FROM BOTTOM OF WINDOW DRAPE
If you have extra decorative pillows on your bed, lay them against the bottom of the drape to prevent light from entering. Lay them so each pillow is touching each other and be sure the bottom of the window drape is being pressed against the wall therefore blocking the sunlight at the bottom of the window drape.
6 – USE CARDBOARD OR A LARGE VERTICAL BLIND TO BLOCK LIGHT AT TOP OF WINDOW
Cut a piece of cardboard or use an extra wide vertical blind and lay it on top of the drape rod. By laying the cardboard or blind on top of the drape rod, it will block light from coming up and out of the top of your bedroom window.

Block light from bedroom window – Do It Yourself
Looking for a way to SOUNDPROOF your windows? Here is info on how to soundproof your windows…
Have questions or better methods to block light and heat from a bedroom window? Please let us know by using the comment section below.