Broken refrigerator door bin? A refrigerator door bin can be damaged in many different ways. The bin can break on the hinges and fall off or simply crack from prolonged use. A cracked or broken bin needs to be repaired or replaced. There are multiple refrigerator door shelves and bin replacements available. Replacement refrigerator door bins are available for Admiral, Amana, Electrolux, Estate, Frigidaire, GE, Jenn-Air, Kenmore, KitchenAid, LG, Magic Chef, Maytag, Norge, Roper, Whirlpool, Samsung, and Sears refrigerators.
Cracked, broken, missing, stained refrigerator door bins can be fixed or replaced. Below are 20 refrigerator door bin replacements with instructional videos to remove and replace. Order an OEM fridge door bin replacement and DIY. The below refrigerator bins and shelves are listed in order of most purchased.
Refrigerator Door Bin Replacements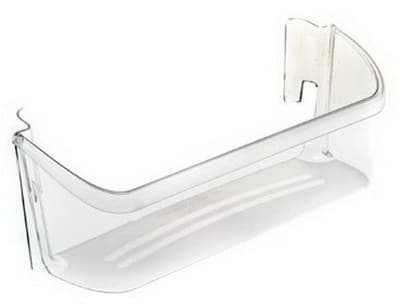 Frigidaire 240323002 Door Bin for Refrigerator
OEM authorized part
Fits various Frigidaire refrigerators
OEM part number 240323002
This is a FRIGIDAIRE replacement part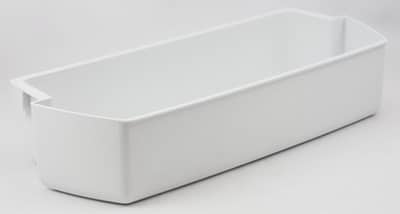 Whirlpool Amana 2187172 Refrigerator Deep Door Bin
HELPS YOU ORGANIZE AND KEEP TRACK OF FOOD
Other part numbers: 2187172, 2187194K, 2187194, AP3046299
Exact Replacement Meets or exceeds Manufacture Specs And Quality
WHITE DOOR BIN
Approximately 16.625″ W x 7″ D x 3.875″ H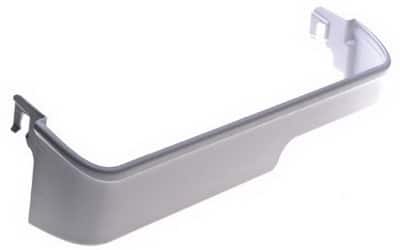 Frigidaire 240337901 Door Bin for Refrigerator
Works with the following Frigidaire models:
30-2251-00-01
57-2707-10-02
57-2707-10-01
30-2251-23-01
Genuine replacement part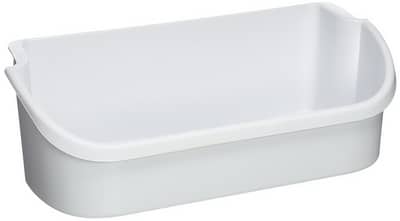 Electrolux 240356401 Refrigerator Bin
White Refrigerator Door Bin
Helps you organize and keep track of food
Replacement for Electrolux fridge – 240356401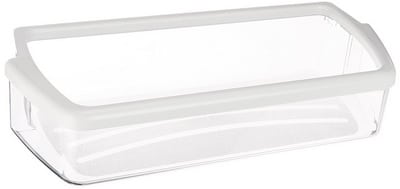 Whirlpool W10321304 Bin for Refrigerator
Works with the following model numbers:
Whirlpool 5ED2FHGXVA00, Whirlpool 5ED2FHKXVQ00
Whirlpool 5ED5FHKXVQ00, Whirlpool 6ED2FHKXVA00
Whirlpool 6ED2FHKXVA01, Whirlpool 6ED2FHKXVQ00
17 x 6 x 9 inches
Genuine Whirlpool Replacement Part

Electrolux Frigidaire ER240323001 Refrigerator Bin
White Refrigerator Bin
16.4 x 5.7 x 6.4 inches
Weight 13.63
Model Number – ER240323001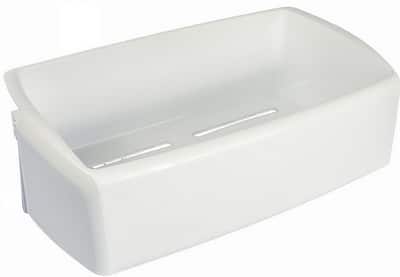 LG MAN62069201 Refrigerator Door Shelf Bin
LG Electronics part number MAN62069201
Refrigerator Door Shelf/Bin
White plastic
Approximately 15.25″ L X 8.5″ D X 5.25″ H
For use with LG Electronics refrigerator LFX25973ST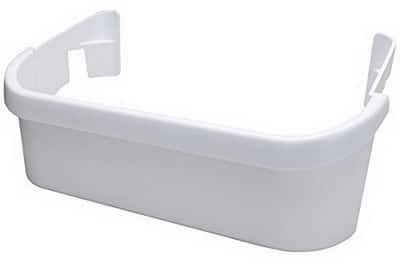 Frigidaire 240351601 Refrigerator Freezer Door Bin
5.6 ounces
7 x 4.3 x 7.5 inches
Frigidaire Number ER240351601
Color – White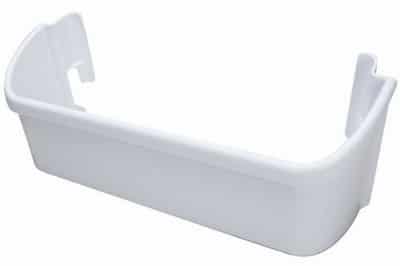 Frigidaire Electrolux 240323001 Fridge Door Bin
Manufacturer model 240323001
Genuine Frigidaire Replacement Part
Genuine Replacement Part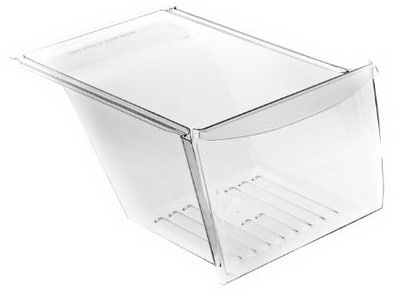 Frigidaire 240337103 Crisper Pan for Refrigerator
Works with Frigidaire BLRT86TEB9
Frigidaire BLRT86TEBA
Part Number 240337901
Genuine replacement part
MORE INFO: Refrigerator Has Water Under Drawers – What Is Causing This – How To Fix?

Frigidaire 240338001 Door Bin for Refrigerator
Works with the following models:
Frigidaire 57-2707-10-02
Frigidaire 30-2251-00-01
Frigidaire 30-2251-23-01
Frigidaire 57-2707-10-01
Genuine OEM replacement part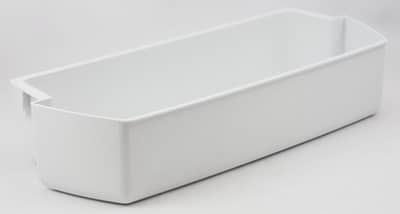 Whirlpool Kenmore Roper Amana Crosley Estate 2187172 Refrigerator Door Bin
15 inches in length
Hooks into refrigerator door
Replaces Part Numbers:
WP2187172, 2187172K, 2187194, 2187194K, AP3853103, PS328468, PS986890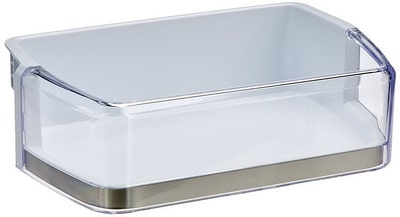 Samsung DA97-08406A Refrigerator Door Bin Assembly Guard
Part numbers: DA97-08406A, AP4578480, 2051375, PS4175803, B004XG4XAU
Replacement Door Bin Assembly Guard (Right) for Samsung Refrigerator
Fits refrigerator models:
RF4287HABP/XAA, RF4287HAPN/XAA-0000, RF4287HARS/XAA-0000, RF4287HAWP/XAA
This bin has a silver strip at the bottom.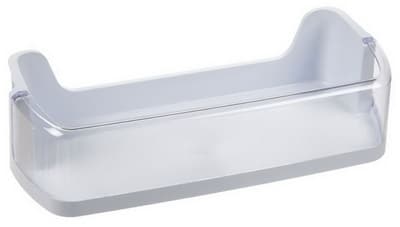 Samsung DA97-08348A Refrigerator Upper Door Bin Guard Assembly
This is an OEM authorized part
Fits with various Samsung refrigerator models
OEM part: DA97-08348A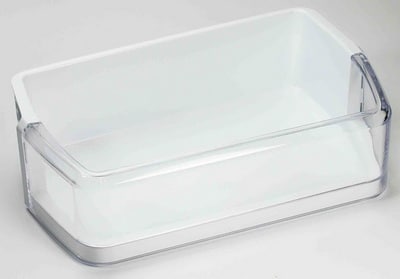 Samsung DA97-06419C Refrigerator Door Shelf Basket Bin
Part Numbers: DA97-06419C, DA63-04314, AP4567198, 1998156, PS4174247, B006E7X19A, DA63-04316
Replacement Door Shelf Basket Bin for Samsung Refrigerators.
Fits many Samsung refrigerator models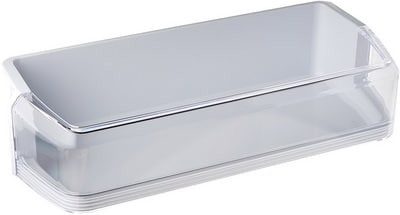 Samsung DA97-06177C Refrigerator Door Bin Guard Assembly
This is an OEM authorized part
Fits with various Samsung brand models
OEM part: DA97-06177C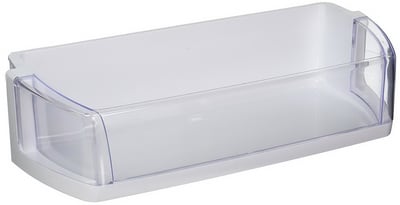 Samsung DA97-03290A REFRIGERATOR DOOR BIN
This is an OEM authorized part
Fits many Samsung brand models
OEM part# DA97-03290A
Number on bottom of the white base is (DA63-02832a)
Product dimensions: 16.75 x 7 x 4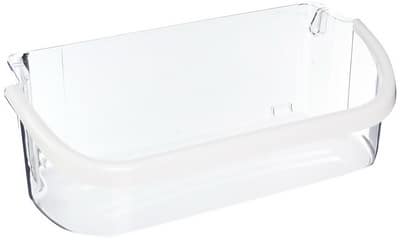 Frigidaire 241808205 Door Shelf Bin Refrigerator
Manufacturer Model Number: 241808205
Genuine Replacement Part
Frigidaire item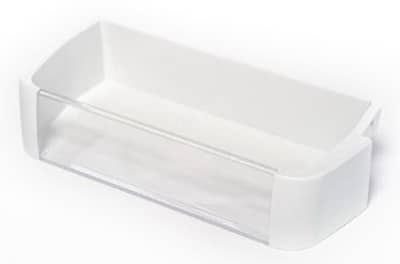 Whirlpool 2223860 Door Bin for Refrigerator
Works with the following models:
Maytag JCB2585WEP01, JCB2585WES01
Whirlpool KSBP23INSS01, KSBP23INSS00
Maytag JCD2395WES01
Genuine Whirlpool Replacement Part

GE WR71X10764 Module Shelf Insert for Refrigerator
Module Shelf Insert
OEM part# WR71X10764
1 year manufacturer warranty
Genuine GE factory part
MORE INFO: Refrigerator Water Filters – Most Popular Fridge Brands And Model Number Filters
If the refrigerator door bin is cracked or broken, attempt to repair if desired. You will need 2 part epoxy and small clamps or similar.
How to repair broken refrigerator door bin
Remove broken bin from refrigerator.
Clean the bin using warm water.
Let air dry.
Use epoxy on the broken plastic and put back together.
Use small clamp to hold together when drying.

Frigidaire Refrigerator Door Bin Replacement

Whirlpool Refrigerator Door Shelf Bin – How To Replace

GE Refrigerator Replacing the Door Bin

Whirlpool Refrigerator Replace Crisper Drawer Cover Shelf Frame

Frigidaire Refrigerator Upper Freezer Door Bin Replace

LG Refrigerator – How to Adjust & Remove Your Bins and Shelves
If you need more information on a replacement refrigerator door bin, please leave your question below and we will assist.