No power to refrigerator. The lights and fan are not working. The water and ice dispenser do not work. There is no light, no sound, and it has completely stopped running. What are some simple troubleshooting steps to find out what has caused this and fix it?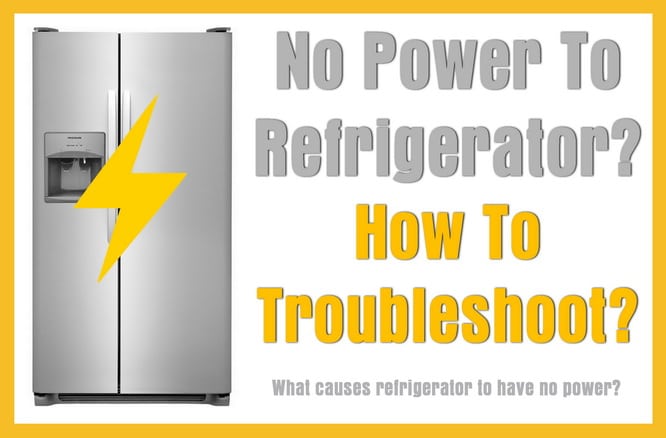 NO POWER TO REFRIGERATOR
FAST HELP – Check that the refrigerator power cord is fully plugged in. Check that the circuit breaker is not tripped. Check the GFCI outlet the refrigerator is plugged into and reset if needed. Check for damage on the power cord.
REFRIGERATOR HAS NO POWER – What can cause refrigerator to have no power?
– Refrigerator power cord is unplugged
– Circuit breaker is tripped
– Blown fuse in fuse box (Older homes)
– Electrical outlet is damaged
– Electrical outlet has reset (GFCI)
– Refrigerator power cord is damaged
– Refrigerator power cord wiring has come loose within fridge
– Refrigerator internal power parts or component fault
NOTE: It is highly recommended that a refrigerator be on a dedicated 20-amp circuit. Meaning the circuit breaker controls only the outlet the refrigerator plugs into.
SOLVING POWER ISSUES – Can be fixed by troubleshooting. Check or perform the following:
– Turn refrigerator ON (If your fridge has an ON/OFF switch)
– Check to ensure the power cord is plugged into the electrical outlet
– Make sure the circuit breaker is not tripped – Reset circuit breaker
(If the circuit breaker has reset it will not provide power to the refrigerator)
– Replace the fuse if found to be blown (Older homes)
– Reset the (GFCI) electrical outlet
– Repair the (GFCI) electrical outlet
– Replace refrigerator power cord if damaged
– Check power cord wiring within refrigerator and secure as needed
– Troubleshoot refrigerator wiring and or electrical
INSPECT THE REFRIGERATOR POWER CORD
1. Unplug your refrigerator from power
2. Check the power cord for damage
3. Plug the cord back into the outlet
4. Make sure the power cord is fully inserted
5. Flip the circuit breaker to the unit off and then on
6. If the power cord is found to be damaged it will need to be removed and replaced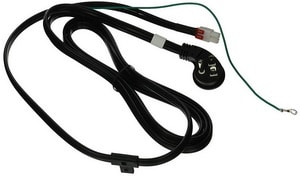 Samsung Refrigerator Power Cord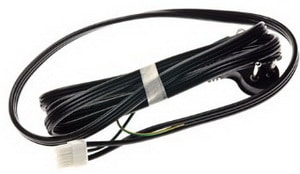 Frigidaire Service Cord for Refrigerator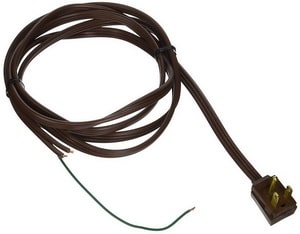 General Electric Refrigerator Power Cord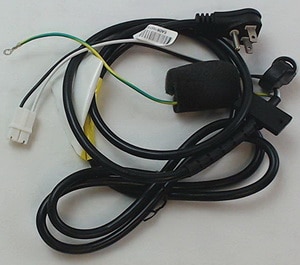 LG Refrigerator Power Cord

How To Replace Refrigerator Power Cord
CHECK THE ELECTRICAL OUTLET
1. Unplug the refrigerator from power
2. Check circuit breakers to see if tripped
3. Reset the breaker if tripped
4. Reset if the electrical outlet is GFCI protected
5. Use a non-GFCI outlet if refrigerator still trips the GFCI outlet
6. Connect another device to the outlet and see if it gets power
CHECK THE REFRIGERATOR
1. Unplug the refrigerator from power
2. Check internal refrigerator wiring for signs of a problem
3. Visually check all circuit boards for signs of popped capacitors/faulty wires
4. Use a multimeter and check various parts and components
If no obvious signs of a problem is found, service/troubleshooting will be required.
Be sure to check the refrigerator display for Refrigerator ERROR CODES if applicable.
FAULTY REFRIGERATOR PARTS
There are many parts in your refrigerator that can cause issues if they malfunction. Refrigerator parts such as overload switches, thermostats, timers, and fans. If any of these components fail, it can cause your refrigerator to stop working and malfunction.
Test the parts in your refrigerator with a multimeter. If you find that any parts are faulty you will need to replace that part or parts to get the refrigerator working properly again. Here is how to test appliance parts with a multimeter.
Frigidaire, LG, Samsung, Whirlpool, Kenmore, Estate, and Kitchenaid Refrigerator parts can be found below……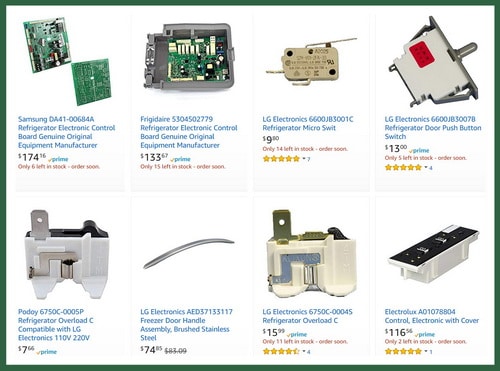 Refrigerator Parts
REFRIGERATOR IS OFF – POWER OUTAGE
If the refrigerator is not running because of a power outage, simply turn the refrigerator back ON after the power comes back ON. You may need to reset the GFCI outlet or turn the refrigerator switch back to ON to get the refrigerator running again. You may need to inspect some of the contents of the fridge to be sure it is safe to keep and consume.
What about if there is a power outage? Can I keep some of the food or throw it away? Food and Water Safety During Power Outages
Did the simple steps above not get your refrigerator running? Need assistance troubleshooting your refrigerator not getting power? Please leave a question below and we will get back to you with some helpful information to fix your refrigerator.