I want to add a second monitor to my computer. I am trying to attach a second monitor to a mount that will be held from my desk. The monitor mount for my new monitor did not include screws to attach the monitor to the 100 mm x 100 mm VESA mount. I need to know what type of screws I will need to go from the monitor to the mount. What type, size, and length of screws will I need to secure the monitor to the mount?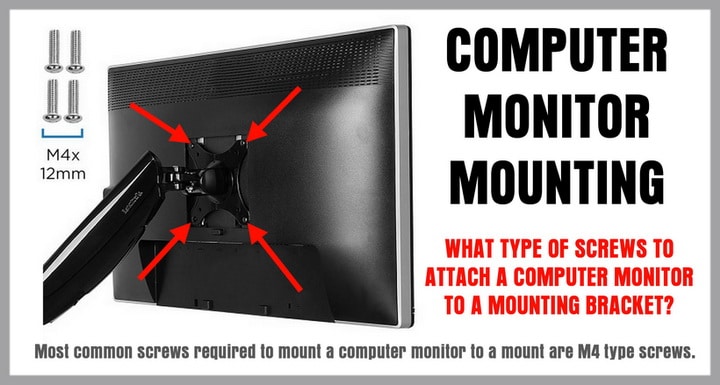 Screw Sizes For Computer Monitor Mount
Most of today's computer monitor and displays have either a 100 x 100 mm or 75 x 75 mm VESA square hole pattern. They require M4 screws for attachment of the mount to the display. This is the most common setup for monitors or displays that weigh under 30 lbs (14 kg).
What Size Screws For Computer Monitor Mount?
Most common screws required to mount a computer monitor to a mount are M4 type screws.
M4 screws are the most common for a 100 x 100 mm VESA or 75 x 75 mm VESA computer monitor square hole pattern. – VESA Size Chart
M4 monitor mounting screws are most commonly M4 x 10 mm or M4 x 12 mm.
M4 screws are sometimes used with plastic spacers of varying lengths (commonly 12 mm to 20 mm).
Other sizes for other common monitors and displays are M5, M6, M8, M10, M15 screws.
Buy Computer Monitor Mount Screws Here.
NOTE: All monitors are different. The length of a M4 screw may be too long to secure into the monitor. If a monitor mounting screw is too long, a spacer will be needed to secure the screw from the bracket to the monitor. See the kit below for spacers.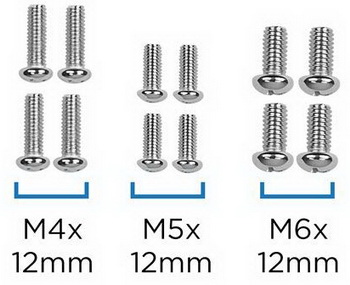 Common Computer Monitor Mounting Screws M4 M5 M6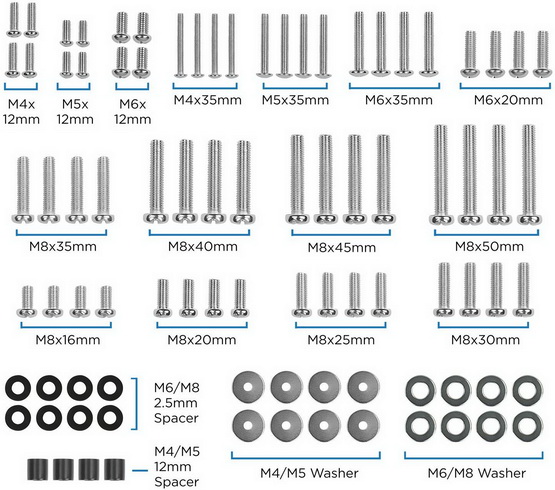 Computer Monitor Mount Hardware Kit
M4 M5 M6 M8 Screws for Monitor Mounting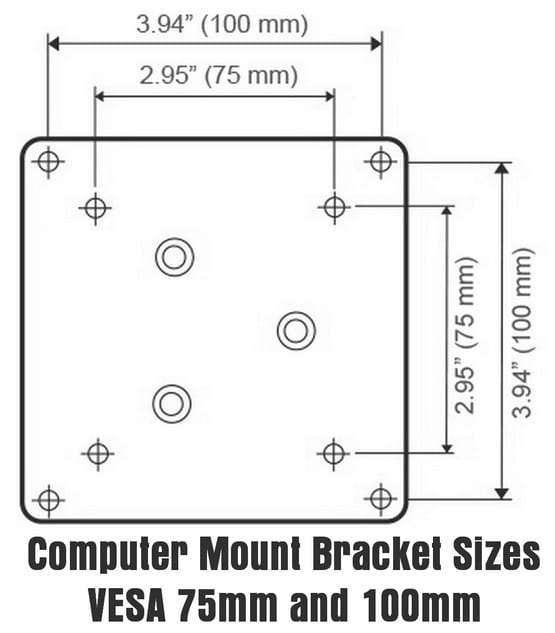 Computer Monitor Mount – VESA 75 and 100 mm
(MOST COMMON COMPUTER MONITOR MOUNT)
VESA Standard – FDMI MIS-D
Hole Pattern – 75 x 75 or 100 x 100 mm
Screw Size – M4 x 10 mm
Monitor Weight – Up to 30.8 lbs / Up to 14 kg
Screen Size – 12″ to 23.9″
Other Screw Sizes For Other Monitors
For other monitors or computer displays, the screws needed will be either M5, M6, M8, M10, M15 screws. We suggest to purchase a Computer Monitor Mount Hardware Kit. This kit will include all the screws, washers, and spacers you may need to attach a monitor to a mount.
Is The Computer Mounting Screw Too Long?
If you find that the threads on the screw are correct but the length is too long, a spacer can help you to correct this. A small spacer will help the screw fit tight and secure the monitor to the bracket. Spacers can be purchased separately or with a monitor mount hardware kit.
Computer VESA Mount
When choosing a VESA mount, use the hole pattern and monitor weight to determine compatibility. The size of the screen is a factor only when the surrounding area inhibits the installation of a monitor or display.
WHAT IS VESA?
VESA© defines the standards for mounts on monitors and TVs. The advantages of the VESA mount standard is low-cost installation of displays and a broad range of applications.
Still searching for the correct screw sizes to mount your monitor? Please leave your question below and we will get back to you with some info to assist you.