I replaced the water filter in my Maytag refrigerator and the filter light still says REPLACE. I cannot find the info to reset the control panel on my fridge anywhere. Can you please tell me which buttons I need to press on the control panel to reset my refrigerator so the REPLACE light turns OFF?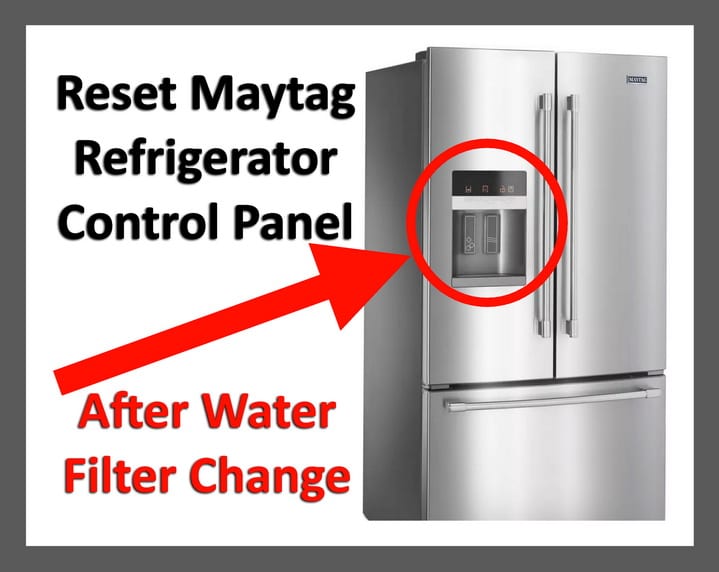 Reset Maytag Refrigerator Panel after Water Filter Replacement
When you replace a water filter on your Maytag fridge you sometimes need to reset the fridge control panel so you will no longer see the REPLACE WATER FILTER indicator. Sometimes the REPLACE light will turn off after replacing the water filter. If not, here are the easy steps to take to get the REPLACE light to turn OFF.
Reset Control Panel On Maytag Refrigerator After Filter Install
1. Be sure the WATER FILTER you just installed in your refrigerator is installed correctly.
2. Check that the FILTER is flush with the filter housing and no seals are incorrectly configured.
3. If the FILTER is installed properly, proceed to the next step.
4. Locate the WATER FILTER key/button on the control panel of your Maytag refrigerator.
5. Press the FILTER button on the display panel.
6. Continue depressing the FILTER button for 3 to 5 seconds.
7. Release the FILTER button and check the control panel.
8. The light on the control panel will go from REPLACE to GOOD if done correctly.
9. Test to see if the water and ice are dispensing properly.
10. If all checks are done properly, the problem is fixed.
NOTE: This procedure for resetting the FILTER LIGHT on Maytag refrigerators should also work on Whirlpool refrigerators as well.
MORE FRIDGE HELP: How to reset maytag refrigerator after power outage – Maytag refrigerator display panel blank
Still have an issue with your Maytag Refrigerator? Simply ask your question using the comments form below (It is free and you do not have to register!) and we can troubleshoot your appliance problem for you. PLEASE GIVE US THE TYPE OF APPLIANCE, BRAND OF APPLIANCE, AND THE MODEL NUMBER.