Dryer takes a long time to dry. I have a Kenmore dryer that is taking too long to dry my clothes. I have also noticed that the lint filter is empty. So my dryer does not catch any lint. Even after drying the clothes many times, the clothes are not dry and there is no lint in the lint filter. I have cleaned out the air vents on the back of the dryer so that is all cleaned out and no blockages. What else can cause this to happen besides an air vent blockage?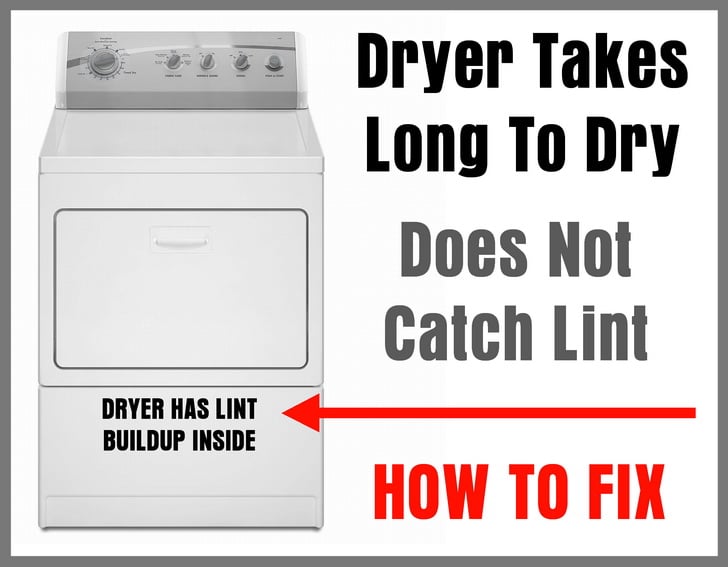 Dryer Takes Long To Dry – Not Catching Lint
Dryer has lint buildup inside the dryer. Dryer does not dry clothes and no lint is in the lint filter. If the vents behind the dryer have been cleaned out, then the issue is most likely in the dryer itself.
A large lint blockage is blocking the dryer inside. At times, a dryer can get clogged internally and the lint builds up inside and cause this exact issue. You will need to take the back panel off and have a look.

How To Clean A Clothes Dryer Internally
How To Remove Lint From Inside Dryer:
Remove the power to the dryer
Remove back or front panel (depending on model of dryer) with screwdriver or nut driver
Check inside the dryer for lint buildup
Use a shop vac and vacuum out all lint blockage
Clean out the dryer of any foreign objects
Recheck the dryer vent hose for any lint buildup
Vacuum out any lint that is present in the dryer air vent hose
Reinstall back or front panel (depending on model of dryer) to dryer
Plug the dryer back into power
Test run the dryer with some wet clothing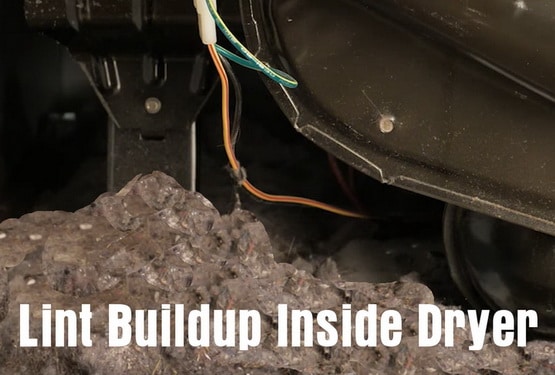 Dryer has lint buildup inside
If the dryer runs and drys your clothing, then you have fixed the dryer not drying issue.
If not, there are a few other things that may be wrong.
What Else Can Cause a Dryer To Not Dry Clothes?
There may be an issue with the blower fan or the drum may not be turning. A broken belt will cause this. This would mean the motor runs but the drum is not turning.
If this is the case, the clothes will never get dry and the lint filter would not catch any lint. Check the Dryer Drum Belt.
Another issue could be that if you use heavy fabric softener and or dryer sheets. These products use wax that can cause a build up on the lint filter. This can block airflow through the lint filter and cause issues.
Always use caution when working with electrical appliances, unplug the appliance when troubleshooting any issues.
Do you have dryer problems? Need answers with a dryer not drying clothes? Please leave your comment below and we can help. Please leave the model number of your dryer and full list of problems you are having.