Is your Xbox giving you error codes? Follow a few simple methods to fix common Xbox error codes. This common error code list will help you understand what each error code means and how to fix them. Try a hard reset to attempt to clear the error code first.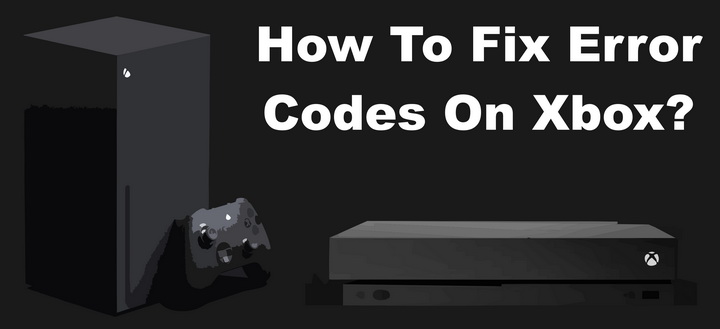 Xbox Error Codes List
What is the procedure for hard resetting an Xbox One?
Switch off your Xbox by pressing and holding the power button for 10 seconds. Unplug the system, wait at least 60 seconds, and then reconnect it. Turn on your Xbox by pressing the button on your console. The Xbox should now be reset and able to use.
Why does my Xbox keep telling me there's an error?
The application was most likely corrupted through a routine app update. Clearing your Xbox cache may fix the problem. To turn off your Xbox One, unplug it and wait one minute before reconnecting it to the outlet. This empties the cache and fixes any problems that might be displayed.

Factory Reset Xbox One and Clear Error Codes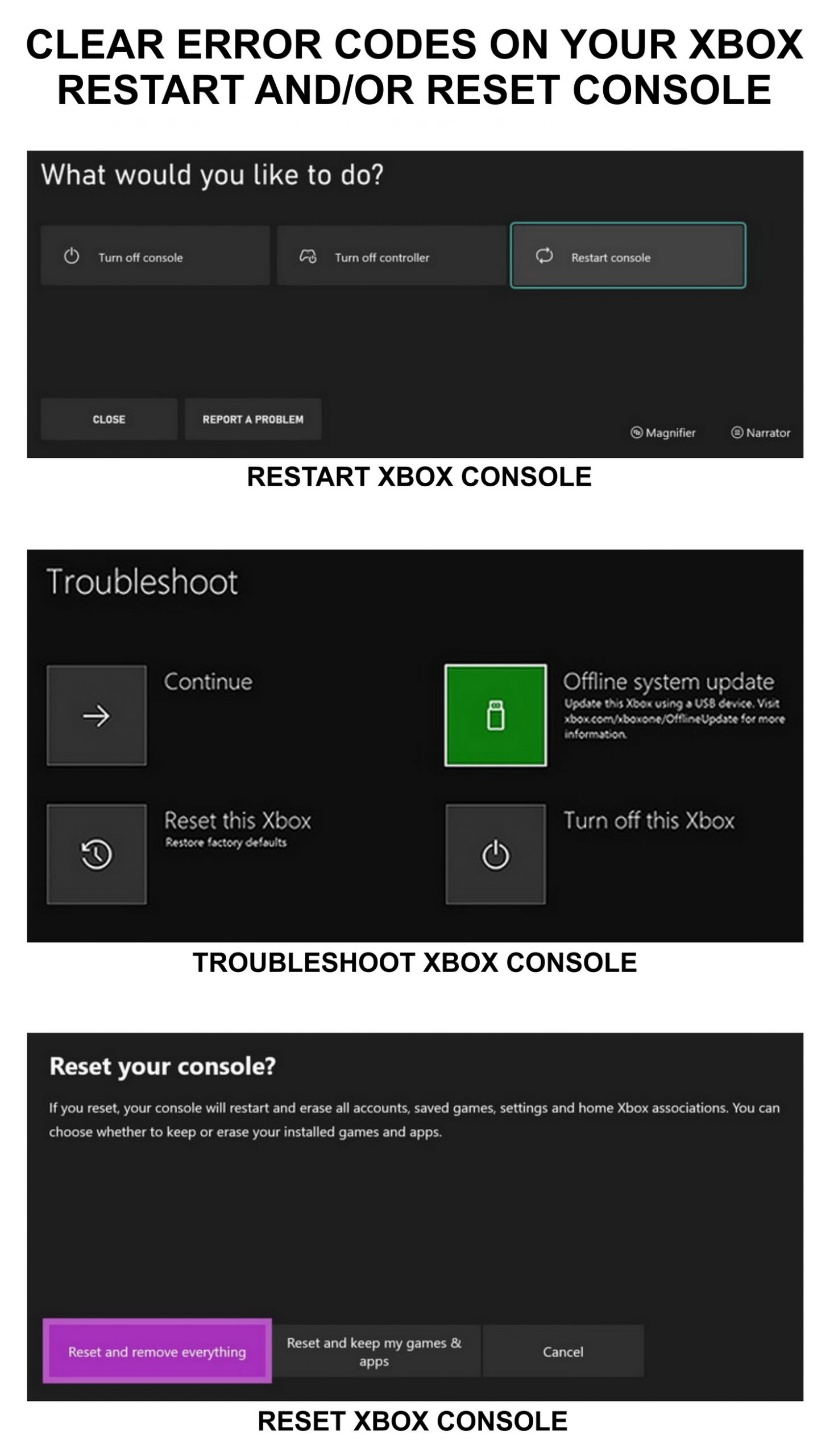 Restart/Reset Xbox To Clear Error Codes
Most common error codes for Xbox
Xbox error codes that are common include these errors: E102, E200, 80151103, 0x80070bfe, 0x87e50007, 0x87e11838, 0x87e10024, 0x87e50001…
Xbox error code E102
The E102 error appears at startup or during operating system upgrades. This message implies that there is a problem with your Xbox One system update process. To repair the E102 problem, you must manually upgrade your console.
Xbox error code E200
By utilizing a USB flash drive to perform an offline update, you can avoid the system error E200. One of the most typical situations that will result in the System Error E200 is when the onboard console flash has an OS version greater than the one currently installed on your HDD / SSD and recovery flash drive.

Xbox One Start Up Error Codes Fix E102 E200
Xbox error code 0x87e50007
You'll get the following error code if you try to launch a game or application on your Xbox. This might indicate that there is an outstanding update preventing the game or app from launching. Make sure all game and app updates are completed and then try again to access your content.
Xbox error code 0x87e50001
When you open YouTube, the game's virtual machine has terminated before you can terminate it yourself. This necessitates some of the same resources as the game does.
Xbox error code 0x80832003
If you try to play a game on your Windows 10 device or Xbox One console and receive the following error code: 0x80832003, that might indicate a temporary problem with the Xbox Live service.
Xbox error code 0x80070bfe
According to Microsoft, one of the most prevalent reasons for the emergence of the 0X80070BFA error code is a data inconsistency caused by faulty temporary data linked with the Xbox Store.
Xbox error code 80151103
Go to Settings and choose System Settings. Select Storage or Memory from the drop-down menu. Highlight any storage device and then hit Y on your controller. Select Clear System Cache when prompted to confirm storage device maintenance. Select Yes when prompted to execute system cache maintenance.
Xbox error code 0x87e5000a
Try relaunching the game. Highlight the game you wish to start and press the Menu button. Select Quit if this is not an available option. If "Quit" is not an option, then the game has already been closed. Allow at least 10 seconds to pass before attempting to launch it again.
Xbox error code 0x838601e7
When you attempt to play a game on your Xbox console, the following error code displays 0x8386601e7. This might indicate that the Xbox service is having difficulties synchronizing your game data.
Xbox error code 0x82d40003
When the game's ownership is being validated, an error code of 0x82d40003 occurs. Occasionally, the companion error 0x803f8001 appears; it too indicates a problem with the Xbox Service in trying to validate game rights. These issues are generally resolved by performing certain troubleshooting steps. Check also if the game disc you are using is authentic.
Xbox error code 0x87e11838
When you try to launch a game on your Xbox console, the 0x87e11838 error code appears. When you attempt to start a game on your Xbox device, you receive the following error code: 0x87e11838. This is most likely due to a licensing issue, a connectivity or configuration problem, or both.
Xbox error code 0x87e10024
The game disc you've inserted into your Xbox is compatible, but it's having trouble being verified for play because of a network or service problem. Try putting the disc in again later if this happens.
Xbox error code 0x82d40004
Remove the game disc. Even though the game may be installed on the Xbox, they need a physical disc to verify the license before the game can start. If the disc is dirty or scratched, try again. Remove and reinsert it until you get it to work properly.
Xbox error code 0xa3ea00ca
If you get an error code when uninstalling or installing software, it means there was a problem with the installation or uninstall.
Xbox error code 0x82d40007
This indicates that there are issues verifying usage rights since the subscription was shared across multiple consoles at home. Select Help for detailed instructions. If the game or app was purchased from the Microsoft Store with your Microsoft account, sign in using that account. If it's a free trial version that has run out of time, buy the game or app from the Microsoft Store.
Xbox error code 0x87e0000f
When you get this error code, look for a software update. If you're having difficulties downloading an Xbox One game or app, you may need to update your console. If you want to use your console's online capabilities, it will be necessary for you to download the most recent system software. New games might need an update before they can be played on your device.
Xbox error code 0x8b050033
If you get an Xbox error code, follow these steps to resolve it: Hold down the Xbox button for 10 seconds. Remove the power cable after the console has been shut off. Wait for approximately 30 seconds before proceeding. After that, reconnect the device and turn it on again. Check if the problem has been fixed after it restarts.
Xbox error code 0x8027025a
If this error appears, there's a problem with your Xbox Live Core service that will prevent you from signing in. It's possible that while launching an Xbox One app, you're having trouble signing in to your profile.
Xbox error code 0x87e00005
A glitched default DNS address, for example, might be another possible source of the 0x87e00005 error code. By forcing their Xbox One system to utilize Google's Public DNS (Domain Name Servers) rather than the default settings, several afflicted users have been able to cure the problem permanently.
Xbox error code 0x80830003
If you still encounter the same error, try freeing up some hard drive space on your Xbox. If you've cleared up enough room and the problem persists, perform a full reset.
Xbox error code 0x800704cf
The error 0x800704cf is a network entry denial problem, which means you can't access the network. This issue generally occurs whenever you try to connect to a network PC or when a Workgroup is created.
Xbox error code 0x80a4001a
Delete your account from the console. Then, after signing in again, add your account once more. Choose one of two options: No barriers or Request my passkey. If you pick Lock it down, there's a good chance you'll run into the problem again.
Xbox error code 0x82D40004
When attempting to start a game on your Xbox console, the error code 0x82D40004 appears. If the disc you're using is dusty or damaged, this might be the case. It's also possible if you've selected a power-saving energy mode. Clean the disc or stop using power saving mode.
Xbox error code 0xa3ea00ca
Reactivate your EA Account. A problem with your EA account might be the source of the 0xa3ea00ca error code, and as a result, your system will be unable to query the EA servers. Relinking the EA account in this situation may resolve the issue with the EA games.
Xbox error code 0x87e50007
When attempting to start a game or an app on your Xbox console, you get an 0x87e50007 error. This might indicate that the game or program is unable to open because of an incomplete update. Check to see if any game or app updates are still pending after making sure all content is up and running; then try again.
Conclusion: If you encounter any of the above Xbox One error codes, try the method explained to resolve the errors. You can also look for a system update. If there is an update ready, install it and see if that helps. If not, try performing a hard reset on your console instead. We hope this article helped you fix your Xbox One error code issue.