When it comes to optimizing the performance of your window air conditioning unit, proper insulation is crucial. A well insulated window AC unit ensures that the cool air stays inside your home and the hot air remains outside.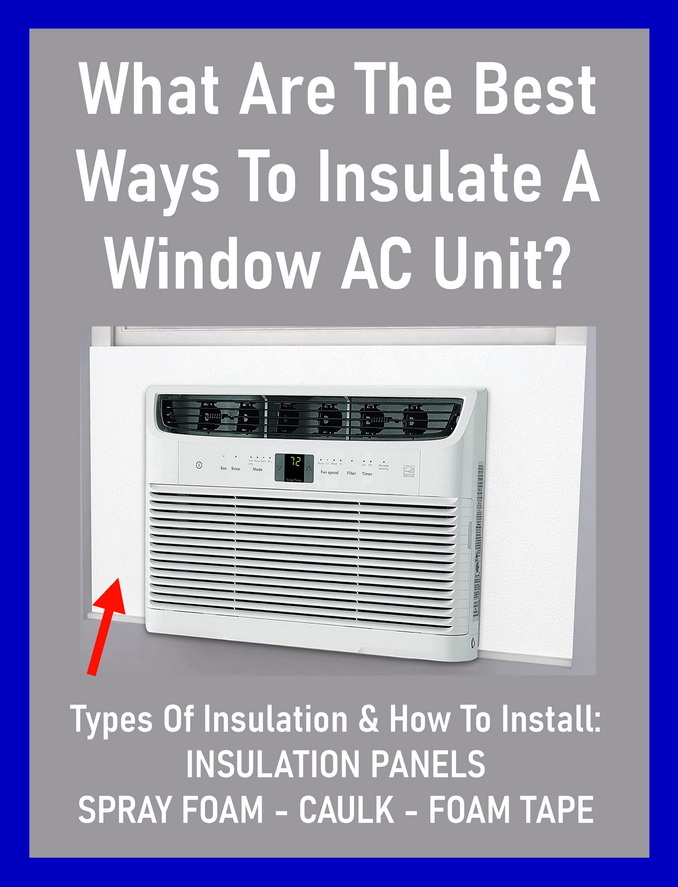 In addition to increasing the efficiency of your AC unit, a proper insulated window air conditioner can maintain a comfortable temperature in your home. Here you will find various methods of adding insulation to a window AC, including insulation panels, spray foam, caulk, and more.
Why Insulate Your Window AC Unit?
Insulating your window AC unit is essential for several reasons.
Improved efficiency: A well insulated AC will cool your home more effectively, reducing the amount of time your AC needs to run and saving energy.
Reduced utility bills: By increasing the efficiency of your AC unit, you can reduce your energy consumption and lower your monthly utility bills.
Enhanced comfort: Proper insulation ensures that your home stays cool and comfortable during the hot summer months.
Noise reduction: Insulating your AC unit can also help to reduce noise levels, making your home a more peaceful and quiet space.
Types Of Insulation For Window AC Units
There are several types of insulation materials that can be used to insulate your window AC unit.
Insulation Panels
Insulation panels, also known as rigid foam panels, are an ideal choice for insulating window AC units. These panels are lightweight, easy to install, and provide excellent insulation. They are available in various thicknesses, allowing you to choose the right level of insulation for your specific needs.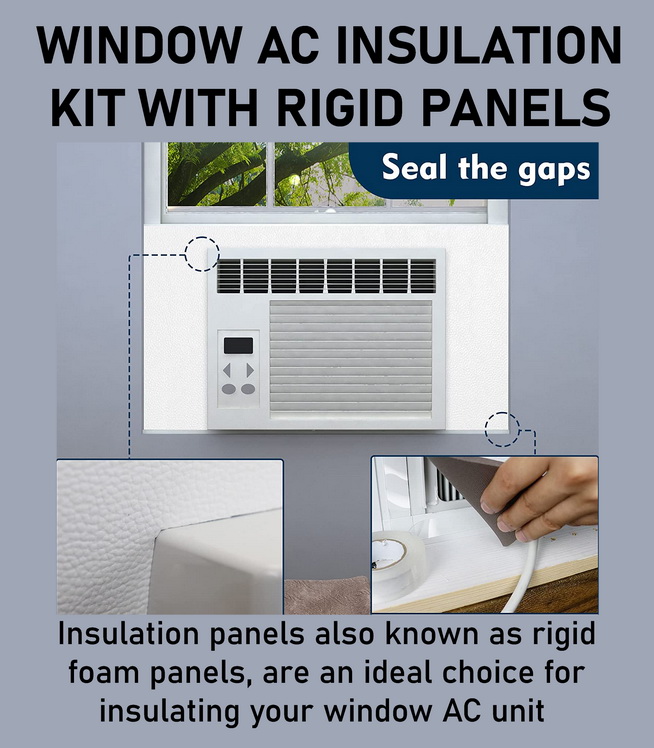 Spray Foam
Spray foam insulation is a versatile option that can be used to seal gaps and cracks around your window AC unit. This type of insulation expands upon application, ensuring a tight fit and excellent insulation. Spray foam is a popular choice due to its ease of use and effectiveness in sealing hard-to-reach areas.
Caulk
Caulk is another useful material for insulating your AC unit. It can be used to seal gaps and cracks, preventing air leakage and improving the overall efficiency of your AC system. Caulk is available in various types, including silicone and acrylic, making it suitable for a range of applications.
Foam Tape
Foam tape is a simple and cost effective solution for insulating your window AC unit. This adhesive backed tape can be easily applied to the edges of your AC, sealing gaps and providing additional insulation. Foam tape is available in various widths and thicknesses to suit your specific needs.

Window AC Install With Insulation
How To Insulate Your Window AC Unit
Follow these steps to effectively insulate your window AC unit.
Measure the dimensions of your AC unit, including the width, height, and depth. This will help you determine the amount of insulation material needed.
Choose the appropriate insulation material based on your preferences and the specific requirements of your AC unit. Remember to consider factors such as ease of installation, insulation value, and cost.
Clean the area around your window AC to ensure proper adhesion of the insulation material. This may involve removing dirt, dust, and debris from the window frame and AC unit.
Apply the insulation material to your window AC unit, following the manufacturers instructions. This may involve cutting insulation panels to size, applying caulk or spray foam to gaps and cracks, or attaching foam tape to the edges of the unit.
Ensure that all gaps and cracks are completely sealed to maximize the efficiency of your window AC unit. This may involve using a combination of insulation materials, such as caulk and insulation panels, to achieve a tight seal.
Regularly inspect your window AC to ensure that the insulation remains in good condition. Replace any damaged or worn insulation materials as needed.
FAQs
Do I need to add insulation to my window AC to make it more effective?
Yes, adding insulation to your window AC can make it more effective by preventing cold air from entering and warm air from escaping the room during winter or cold weather. Foam insulation panels, spray foam, and caulk are suitable materials for insulating the unit. By insulating your window air conditioner, you improve its energy efficiency and help cut down on energy consumption.
Can I use an insulation kit for my window AC?
Yes, insulation kits are available for window AC units and can be an easy way to ensure proper insulation. These kits typically include pre cut insulation panels, foam tape, and other materials needed to effectively insulate your AC unit.
How often should I inspect the insulation on my window AC unit?
It's a good idea to inspect the insulation on your window AC unit at least once a year, preferably before the start of the cooling season. This will allow you to identify any issues and make necessary repairs or replacements before your AC unit is in heavy use.
Can I insulate my window air conditioner myself, or should I hire a professional?
Insulating a window AC unit can be a straightforward DIY project for most homeowners. However, if you're unsure about the process or the type of insulation to use, it's always a good idea to consult with a professional.
Window AC Insulation
Adding insulation to your window AC is an effective way to optimize its performance. Using insulation panels, spray foam, caulk, and foam tape, you can easily find the right solution. You can successfully insulate your window AC and enjoy a more energy efficient home.