The blue plug light that you see on the Samsung fridge display panel is an energy saver. This is called Vacation Mode and or Energy Saver. The exact name of this symbol will depend on the Samsung refrigerator model number.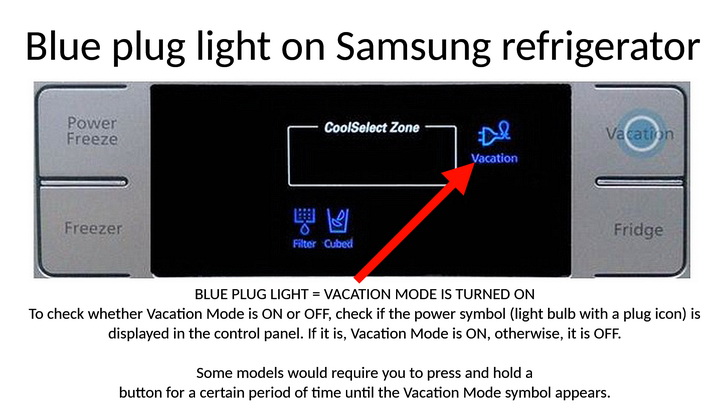 What Is The Blue Plug Light?
The blue plug light on your Samsung fridge will look like a two-prong plug, like that of an 110 volt plug attached to a light bulb on the power cord. By pressing the Vacation Mode or Energy Saver button on the Samsung refrigerator control, the symbol lights up. This mode puts the fridge into an efficient energy saving mode that keeps the food fresh and cold but uses less energy.
What Does The Blue Plug Light Do?
Activating this Vacation Mode or Energy Saver keeps your refrigerator running but uses less power. This mode is supposed to be used if you leave for a few weeks or will not be using the refrigerator for a prolonged time. It uses less energy in the fresh food section of the fridge but will leave the freezer on.
Check If Blue Light Plug Is On?
To see whether Vacation Mode or Energy Saver is ON or OFF: Check if the Blue Light Plug icon is displayed in the control panel. If you see the icon illuminated then Vacation Mode or Energy Saver mode is ON. If the icon is not displayed, then it is OFF. Press and hold for a few moments to turn it ON or OFF.
Turn Vacation Mode On or Off?
Activating or deactivating Vacation Mode or Energy Saver is done differently with some refrigerator models. Some Samsung refrigerator model numbers require you to PRESS and HOLD the button for a few seconds until the Vacation Mode or Energy Saver icon appears. Is is a good idea to turn this ON when going on a vacation or leaving for a few weeks. This will keep everything fresh and cold but use much less energy.
The energy saving mode on Samsung refrigerators advises that you do not use it if you start to notice extra condensation on the refrigerator or freezer doors. When you notice too much condensation on the inside or outside of the refrigerator doors, then you should turn the Vacation or Energy mode OFF.
If you turn the mode on by accident, simply turn it OFF. Since the button is on the display panel and easy to press, at times it can be activated inadvertently. If so simply press and hold the button for a few seconds to turn it OFF.
Have other issues with your Samsung refrigerator? Let us know what types of issues you are having and we can help. Leave a comment below and we will get back to you with helpful DIY solutions.