We found a great product by Minwax called Polyshades. The exact product is called PolyShades Polyfinish one step stain and gloss and is available at most any home improvement stores. The product is an easy way to change the color of your currently stained or polyurethane finished wood. There's no stripping or heavy sanding necessary to remove the old finish. Simply give it a light sanding with fine grit sandpaper, remove sanding dust, and brush on a coat of PolyShades. Two coats on our old cabinets only used half a can.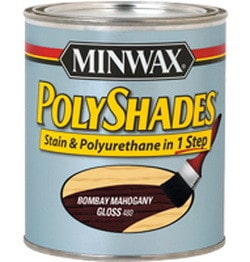 In the below picture we used the stain color Bombay Mahogany.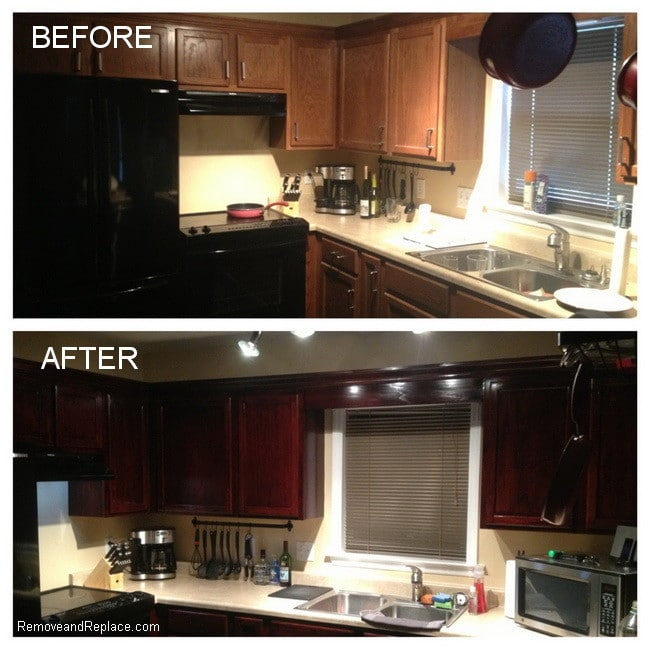 All we did was remove the doors and handles and washed everything once with soap and water. We then used a sponge and some fine grit sand paper to remove the layer of old finish on the cabinets. We then used a stainless steel window sticker scrape tool (razor blade with a handle) to remove any rough surface. After the cabinets were fully cleaned and prepared for the stain, we applied two coats of the Polyshades to everything. We then let it dry overnight and hung the doors back up. We spent a total of 10 hours on this project. All you need to apply the Polyshades is a foam brush or a similar fine paint brush to apply this to the cabinets. Brushes are about $4.00 each for the good ones at Home Depot and the can of stain is about $12.50. The rest is good old fashioned hard labor.