Everyone knows Facebook chat and instant messaging has absolutely no way to edit or format the font or text you are writing to someone. Now there is a way to make your Facebook fonts big and also choose your font in FB CHAT with "Facebook Chat Codes!".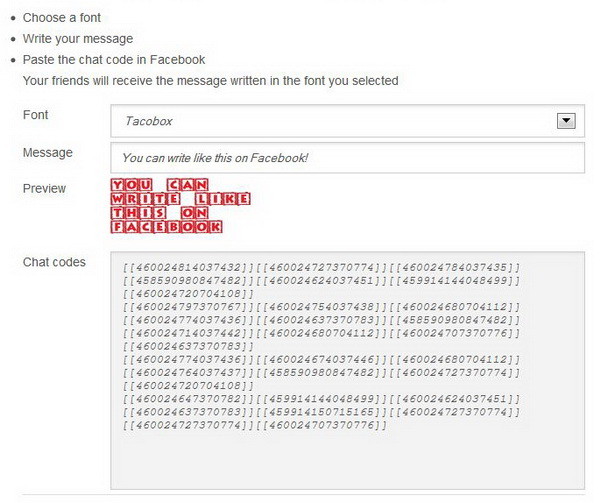 Facebook Chat Text Generator Screenshot
With this cool Facebook Chat Text Generator you get some awesome text styles in different colors such as barbie pink, sky blue, blood red, grass green and purple purple. You can change your text so it looks like you are drunk, make the text look like it is inside of blocks, make the words look like the Yahoo! font, or even create text with cats and smileys (emoticons). This text generator creates a code that you simply copy and then paste into Facebook chat, messaging or on your wall. It lets you have the coolest text that people will wonder where you got it or how you did it. You can send a personal message and also chat or post on pages with your customized cool FB text. Check it out here!
You can also add emoticons to Facebook chat, your wall, and instant messaging using the unique codes below. For instance if you type [[f9.kiss]] it will create a kissing emoticon. See below for many more codes on how to easily add different little yellow faces to your Facebook.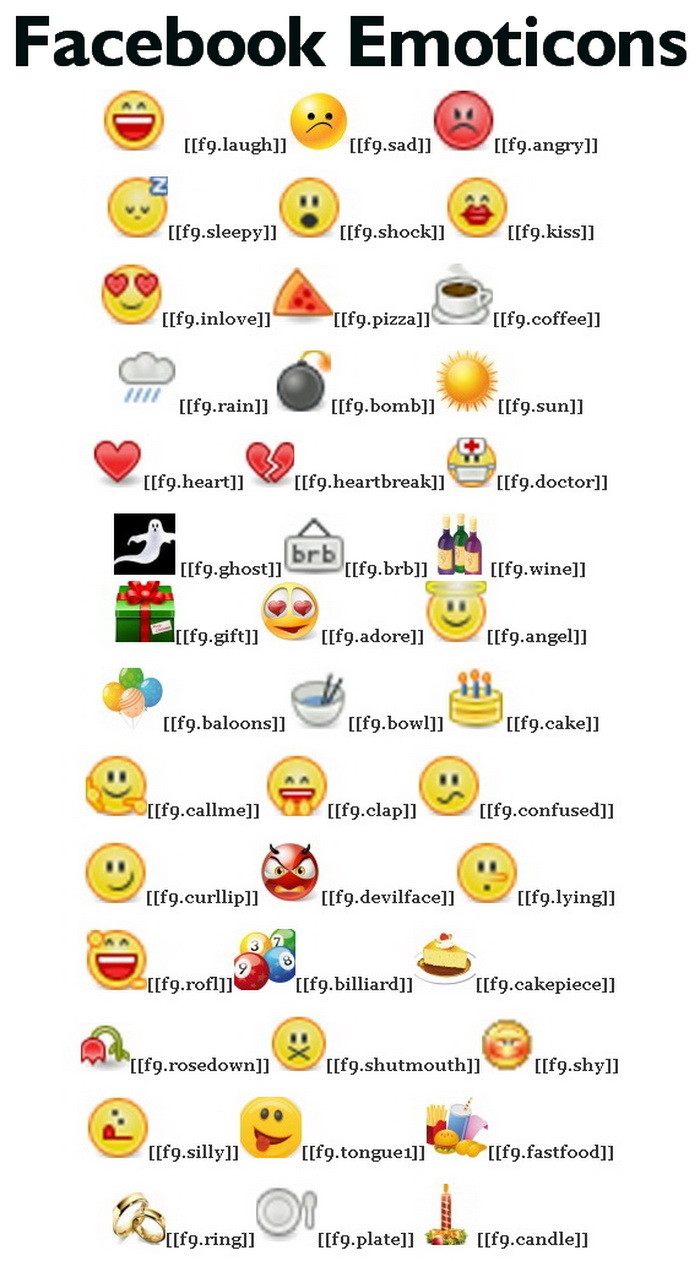 Facebook Emoticons Code Sheet
Here is a list of symbols you can also use with Facebook, they are called utf codes:
¢ – cent
£ – pound
¤ – currency
¥ – yen
€ – euro sign
§ – section
© – copyright
® – registered trademark
™ – trademark
✖ – heavy multiplication sign
✗ – ballot
✘ – heavy ballot
✝ – Latin Roman Cross
✞ – Latin Cross 3D shadow
✟ – Latin Cross outline
✠ – Maltese Cross
✡ – Star of David
℃ – Celsius
℅ – care of
℗ – Sound Recording Copyright
℞ – Prescription pharmaceutical symbol
Ω – Ohm
℧ – Inverted Ohm
☀ – sunshine
☁ – cloudy
☂ – raining
☃ – snow – snowman
☄ – shooting star
★ – star solid
☆ – star outline
☇ – lightning
☈ – thunderstorm
☉ – sun
☊ – ascending node
☋ – descending node
☎ – phone
☏ – phone symbol outline
☐ – check box
☑ – check box check mark
☒ – ballot box with X
☓ – St. Andrew's Cross
♔ – White King
♕ – White Queen
♖ – White Rook
♗ – White Bishop
♘ – White Knight
♙ – White Pawn
♚ – Black King
♛ – Black Queen
♜ – Black Rook
♝ – Black Bishop
♞ – Black Knight
♟ – Black Pawn
☚ – left-pointing index finger
☛ – right-pointing index finger
☜ – left-pointing index finger
☝ – upwards pointing index finger
☞ – right pointing index finger
☟ – downwards pointing index finger
☠ – skull & crossbones
☡ – caution sign
☢ – radioactive sign
☣ – hazard sign
☮ – peace sign
☯ – yin & yang
☹ – frowning face
☺ – smiley face
☻ – black smiley face
☽ – waxing crescent moon
☾ – waning crescent moon
♈ – Aries
♉ – Taurus
♊ – Gemini
♋ – Cancer
♌ – Leo
♍ – Virgo
♎ – Libra
♏ – Scorpio
♐ – Sagittarius
♑ – Capricorn
♒ – Aquarius
♓ – Pisces
♠ – black spade suit
♢ – red diamond suit
♣ – black club suit
♤ – red spade suit
♥ – black heart suit
♦ – black diamond suit
♧ – red club suit
♨ – hot springs
♩ – musical quarter note
♪ – musical eighth note
♫ – musical single bar note
♬ – musical double bar note
♭ – flat note
♮ – natural note
♯ – sharp note
✁ – cut above
✂ – cut here
✃ – cut below
✄ – scissors
✆ – public pay phone
✇ – film reel
✈ – airport jet airplane
✉ – envelope mail email
✌ – victory sign
✍ – signature – sign here
✎ – pencil diagonal down
✏ – pencil
✐ – pencil diagonal up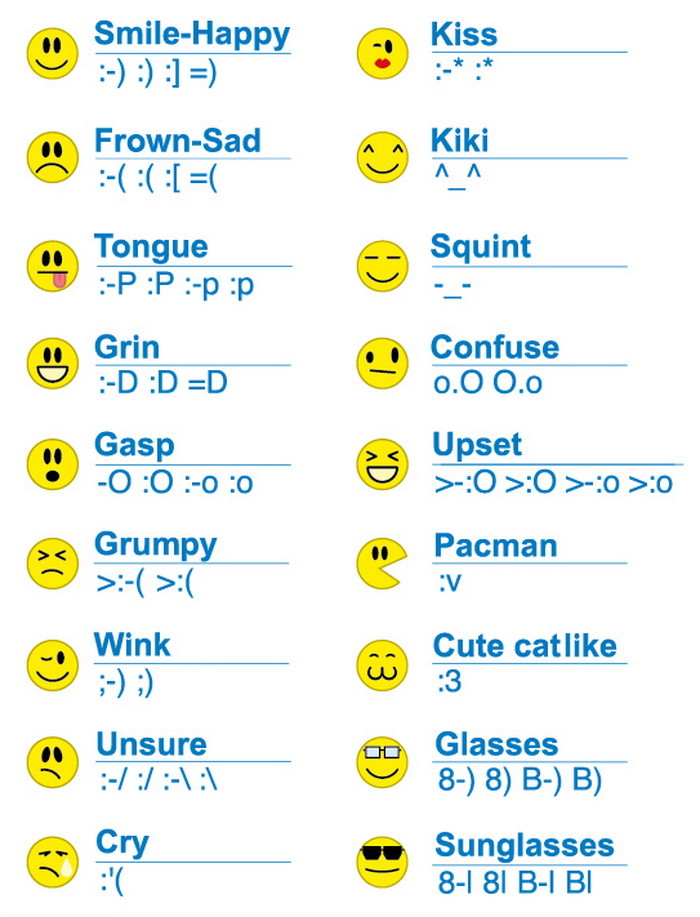 Facebook Codes For Emoticons