If you are searching for the best way to monitor the cell phone of your child, wife, husband, employee, cheating girlfriend, boyfriend or spouse, we have tested and reviewed some top free phone monitoring services.

Some of these phone tracking apps or programs are free and some cost a monthly fee. The most wanted features of cell phone tracking are to be able to read a persons SMS text messages without the other person knowing. If your child has been getting into trouble or you are suspicious of your spouse of cheating, then these cell phone activity trackers can really help you understand the situation. These different types of cell phone location logging programs are usually secretly installed on a persons iPhone or Android phone. Then you will usually login to a website on a desktop computer. Once logged in you will type the required info to connect to the phone you installed the app on. You will then be able to see that persons location in real time, read all of their SMS text messages without their knowledge (inbound and outbound) and see the phones complete call history log (inbound and outbound).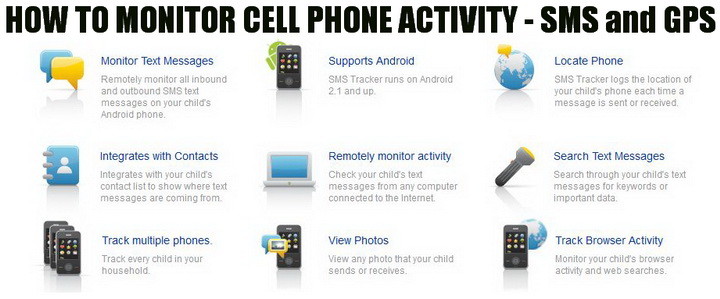 The best app to remotely track and read another persons text messages:
SMS Tracker for Android is the winner here but it does way more than just SMS tracking.…
This FREE and BEST Android app will let you remotely track and monitor SMS, MMS, text messages, calls, and GPS phone location. This text monitoring app is the most in depth remote tracking and monitoring system for Android phone users. You just install the SMS Tracker on the target phone you want to monitor. You can then remotely read all SMS Text messages (inbound and outbound), MMS multimedia messages, all photos sent and received, view the persons phone call logs (including the persons name, phone number, and how long they talked to that person) and view complete web browsing history remotely. You can also view the target persons GPS location information on a map to see exactly where they are and at what time. The person or target you are tracking will not be aware you are watching there every move, every call and every text. All of this information can be viewed remotely on any web browser including your phone, tablet or PC. Parents can now have a powerful free tool to help keep your kids safe even when you are not with them.
After installing the app you can instantly remotely view the persons private phone information by going to smstracker.com in your web browser.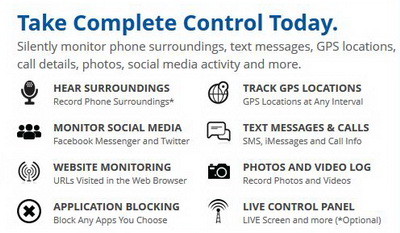 Here is a list of all the things this phone spying app can do.
Cell Phone Tracking Feature 1 – SMS Tracking – Intercepts all text and SMS messages. You can read all inbound and outbound text messages of the target phone you are spying on. Details include time, date, the other persons phone number, contact name and location of the target phone when the text was sent. You will have complete text message tracking and everything will be stored and logged for future viewing.
Cell Phone Tracking Feature 2 – MMS Tracking – Read all MMS multimedia messages. Read and view all inbound and outbound MMS messages. See what type of photos are sent to and from the persons phone. Details will include the actual photo, time and date, phone number, contact name and location of the target phone at time of picture received or sent.
Cell Phone Tracking Feature 3 – Browser Tracking – Watch over and monitor web browser activity on the target phone. Know which web sites are being visited, which pages were viewed and when. Also identifies the location of the phone every time the browser is used by sending you the GPS map.
Cell Phone Tracking Feature 4 – GPS Tracking – View exact GPS location information on the map at anytime. Using the GPS you will know where the phone is located at any time. Parents can locate children at multiple intervals. You will be able to see the complete location history of the device at any moment. The GPS logs a record at a user chosen rate and normally is every 5 minutes. Remote GPS tracking gives you the ability to see the location of your child at any moment.
Cell Phone Tracking Feature 5 – Complete Call Logging – Track and record all inbound, outbound and missed calls. Identify the phone number, contact name, call duration, and location of the phone for every single phone call.
If you want to know where your kid or significant other are currently located then simply send them a text message. The location of the phone is then recorded whenever it sends or receives an SMS text message.
Bonus Cell Phone Tracking Feature – Tracking of all Phone Events – Includes Device Powered On or Off – Device Attached – Removed To or From Charger – Apps Installed Removed or Updated.
There is now a new type of tracking app that is disguised as a different type of app called System Health 3.121. So if your child or spouse is good at spotting things out of the ordinary, it is best to install the disguised version. Note: This app is not in the PLAY store because it will be noticed. You can search for it online and install the APK file.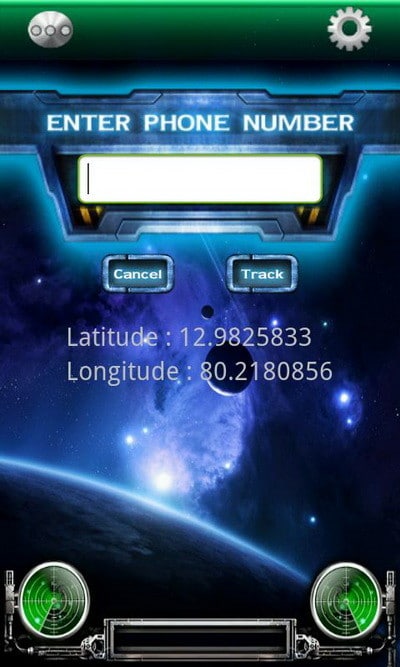 This is a screenshot of the SMS Tracking App.
Here is a list of more apps and services that can be used to monitor a persons cell phone.
TextGuard – This is an application you install on your spouse or child's cell phone. Once the program is running, you can log into the Web site and watch all incoming and outgoing calls, text messages, emails and Web browsing history.
Bosspy – You will can spy on SMS texts messages, WhatsApp, Facebook, Calls, GPS locations of your lover, children, girlfriend, boyfriend, husband or wife, and everything is free.
My Mobile Watchdog – This is also an application that you install on a cell phone. On its Web site, It gives you a listing of all activity on a given phone. It also alerts you if calls or messages come in from a certain number.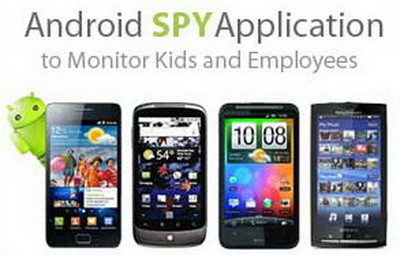 Voted Best Cell Phone Tracking App For Android Phones