Your front or top loading washing machine can at times become unbalanced and vibrate. We are going to show you some common easy solutions to fix this problem. There are different factors that can make your washing machine wobble, shake, dance, and cause it to make a very loud vibrating sound. It does not matter if your washing machine is a top load or front load washer, the principals are the same. We recently received this question from one of our members… See below.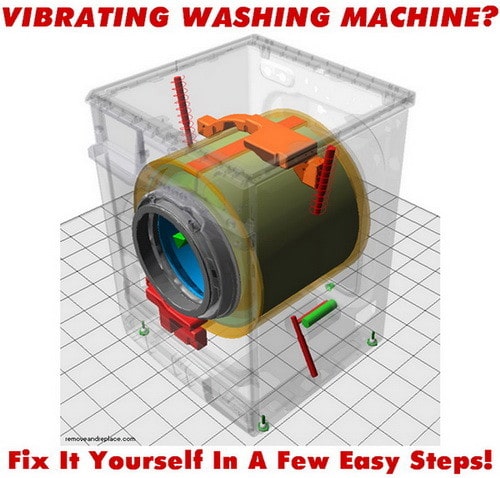 Question: My washing machine started vibrating VERY LOUD today and dancing and rocking until things were falling off of the top. It actually moved around the laundry room I would say nearly 6 inches to the left. For some reason it is not stabilized correctly. I checked the floor to make sure it is on a level surface and also the "leveling feet" and they are perfectly level. So do you have any ideas how to fix it or am I better off just getting another newer washing machine?
Answer #1: If the washing machine "feet" are level, the floor is level, and you have not just recently installed the washing machine, then we would bet that this is from an "imbalanced" or "overloaded" washing machine load. The first step is to check that you don't have all the clothes on one side. If the "clothing" load is not overloaded or to one side, then it is possible that something fell off inside and the drum is no longer balanced. You may be able to open the front panel of the washing machine up and find out why just by doing a quick visual sweep. However, check that you did not overload the washing machine drum with clothes as this is the most common reason for a dancing and vibrating washer.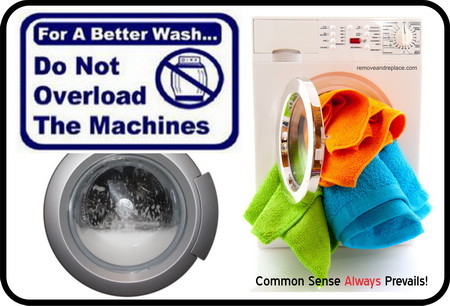 Answer #2: Check the washing machines "feet" and level them to make firm contact with the ground. If you have tiled floors then this is most likely the cause of the vibration. You can usually just turn the legs with your hand. Turn them to "loosen" and they will come downward and make contact with the floor. If all 4 legs make contact with the ground in the washing machines current location, the unbalanced and vibrating should cease. See Illustration below…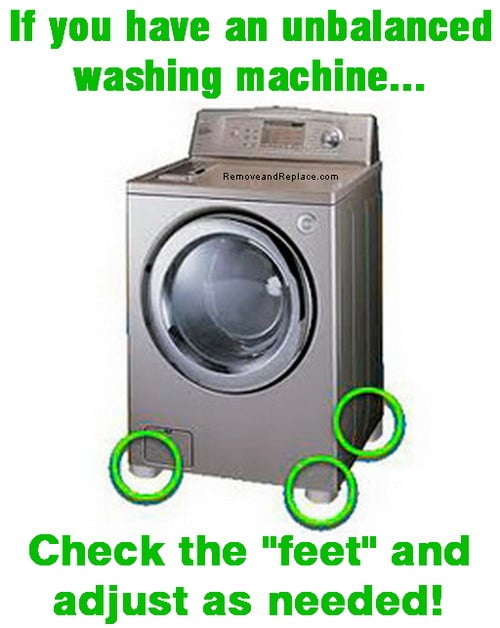 Answer #3: We had this same issue and we were not overloading it. The problem was because our washer drum had a slight defect that caused it to not be centered or properly balanced. When we washed clothes it would vibrate slightly and was not too much of a problem. However the noise was annoying and needed to be stopped somehow. We did some research and found anti-vibration pads that slid under the feet of your washing machine. These small rubber discs actually absorb the vibration defect on our washer and has completely stopped the noise. So maybe check those out and buy a set as they are not expensive and completely fixed our problem.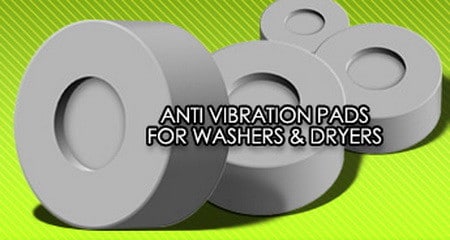 Answer #4: Overfilling a washing machine adds stress and shortens the life span not only of your washer but also your clothes. When you overload the washer and after washing you pull out a twisted pile of clothes, it is because the clothes could not properly move within the washer during the cleaning cycle. Not only does this not clean your clothes properly, but it can actually vibrate parts loose and make the washer stop working altogether.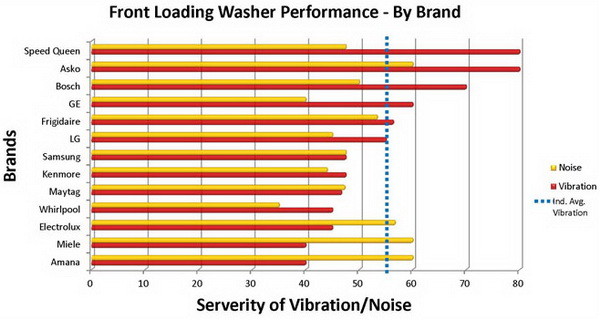 Washing Machine Vibration Ratings Chart by Manufacturer – Which Brand Is Best?