We could all use a little more money so below we are going to show 5 ways to save cash when it comes to expensive cleaning supplies.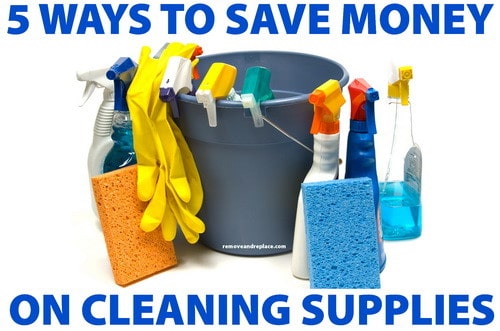 1. Use a generic or store brand – We trust the brands we know but there is a store brand with the exact same chemical makeup for less. The store brand of the household glass cleaner was 55 percent less expensive than the name brand of Windex, and they are 100 percent identical. Always compare ingredients and you will be surprised at how exact the products are. Generic and store brands clean equally well as expensive name brand cleaners.
2. Make your own cleaners – Check here for a few DIY recipes with instructions for creating homemade weed killer, fabric softener, multi-purpose cleaner, and air freshener. A very common ingredient is Lemon and Borax for many DIY cleaning products. Using your own do it yourself cleaners costs you pennies on the dollar.
3. Dish soap for common cleaning – Using a small drop of dish soap (Dawn works the best!) on carpet stains works miracles. We used to work for a carpet cleaning company and this was our "secret weapon". You can also use a teaspoon of liquid dish soap in your top load washing machine to clean your clothes even better. This method is way more inexpensive than using laundry detergent and has way less harmful chemicals too.
4. Alternative stain removing methods – Mix a drop of dish soap with one cup of hot water and apply to stain (works best on carpets). Let sit for 10 minutes and then scrub away with soft brush. Specialized stain removers cost a premium so instead of purchasing them you can apply your own spot cleaning method. Spray a mixture of 2/3 hot water and 1/3 of ammonia on the stain you need to remove. Put a blanket or used towel over the stain and thoroughly steam over the top with an iron. The warm iron will pull the stain from the carpet and into the blanket.
5. Use reusable mops and cleaning cloths – Disposable cleaning supplies are great but the cost can add up. From now on choose items that are reusable. Most micro fiber cloth cleaning pads are a great alternative for cleaning your home. Do not use the current popular disposable mopping and wiping pads. The sole purpose of the companies inventing these throw away products is to keep selling you disposable pads which is horrible for the environment. So choose a mop that is reusable and keep it in good condition. Purchasing items that can be reused WILL save you cash in the long run and will help the environment. So do your part!