Someone spills a sticky drink or your pet does its business on your couch. Your sofa has cushions that are not removable, how do you properly clean this? There are many different ways to clean this. Here we will show you the many different solutions to remove the stains, accidents and spills from that stubborn couch.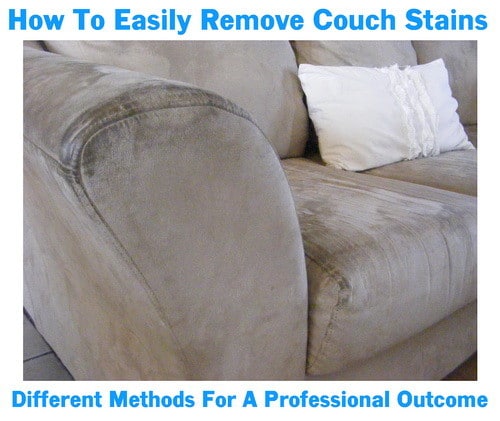 Method #1 = Take the couch cushions outside in the sun, spray the stained and soiled areas with a good quality proven enzyme cleaner. Scrub lightly with a gentle brush. Use a water hose with a gentle nozzle sprayer and spray the areas with water. Clean again with enzyme cleaner and repeat the complete process. Lay the cushions in direct sunlight until dry. Use an air compressor to blow off any excess water if you have one.
Method #2 = If you have a sofa with fabric that is delicate or a super high quality that cannot get wet, you can rent or purchase a simple shampoo cleaner. There are many places that rent cleaning machines but for the price and hassle you may be better off just purchasing a little cleaner called the Bissell Little Green Deep Cleaner (if you purchase at the official Bissell website, use promo code: 10percent for 10% off!) or the Bissell SpotClean. These products are under $100 dollars and are actually made for this kind of cleaning. They are simple to use. Most of these cleaners have a handheld attachment that sprays the special cleaner fluid. A small brush is attached to it that allows you to thoroughly scrub the stain away. You then use it to vacuum up the messy stain or spill. These handy machines work great on furniture such as couch cushions and car upholstery. Also, these cleaning machines have extra long hoses that help you clean items and areas that you wouldn't otherwise be able to get to.
Method #3 = If you happen to have an air compressor, you can apply and saturate your specialized cleaner on the stain. Let the cleaner sit on the stain for about 10 minutes. Then blow it off at an angle using the air compressor on a low setting. You can try using a foaming window cleaner when using this method. This is actually a trick that upholstery shops frequently use so give it a shot.