You suddenly find yourself in an extreme survival situation. Which type of knife is best to have at your side? Well, finding the perfect survival knife just got easier. Our top 10 favorite survival knives review took a lot of time to put together. There are so many different knives that we had to take into consideration. There are many brands, many manufacturers, many styles, different prices and different extreme purposed knives.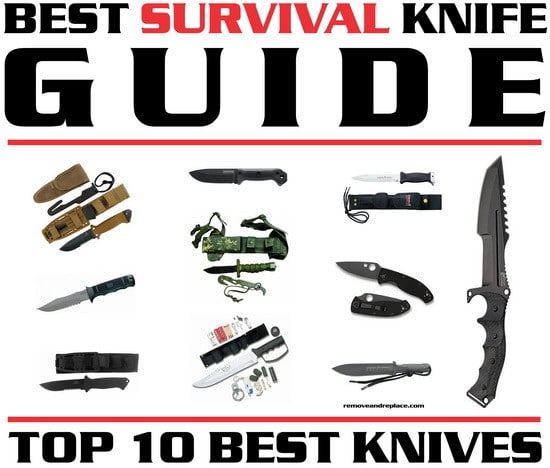 We narrowed it down and found the 10 best that would suit you best in a catastrophe, prolonged violent storm, disaster or wilderness survival type of scenario. We do prefer a knife (fixed blade) that does not close as moving parts tend to cease up or fail in extreme conditions. When creating this survival knife guide, we thought of it like this… If someone had to rely on one survival knife for the next 10 years and their life depended on it, which would be the most reliable and trustworthy for that time frame? So, based on this question, we present to you our top ten best survival knives below.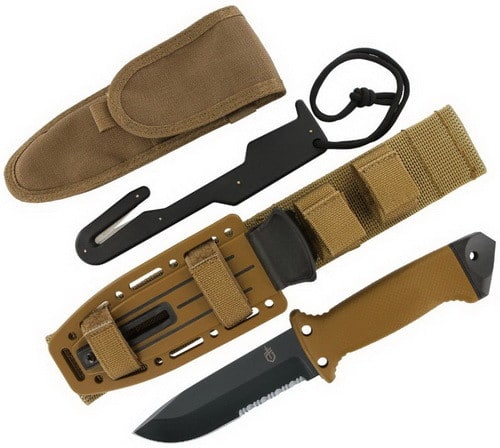 #1 – Gerber 22-01400 LMF II Survival Knife – More Details & Reviews
The Gerber survival knife is an extremely tough military survival knife with a 4.84″ 420 HC stainless steel blade.
The design features a plexiglass punch on the end of the handle and rope holes for converting it into a spear.
It comes with a safety knife and a low-profile sheath with an integrated sharpener.
Rugged, versatile survival tool – Safety knife included – Low-profile sheath with built-in sharpener.
Sheath: Ballistic nylon with fire retardant coating – Handle: Glass-filled nylon with TPV overmold.
Item Weight: 1.8 pounds – Product Dimensions: 12.3 x 4.7 x 2.9 inches – Size: Straight Edge
—————————————————————————————————————————————–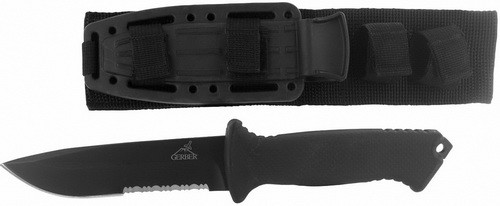 #2 – Gerber 22-41121 Prodigy Survival Knife – More Details & Reviews
The Gerber 22-41121 Prodigy is a knife that's among the world's toughest and most useful.
It's tactical fixed blade, with textured soft-grip overmolded handle provides a secure grip in any weather.
Drop Point full-tang blade is premium Sandvik 12C27 stainless steel, partially serrated for quick cutting.
Non-reflective black oxide finish. The end has a lanyard attachment point and an emergency window-punch.
Comes with a Molle compatible hard sheath with ballistic nylon belt loop and straps.
Blade: 420HC stainless steel with black oxide finish – Includes leg strap and two additional attachment straps.
Texture: Over-molded soft-grip ensures a secure grip – Sheath: friction-release thumb lock for security.
Molle compatible hard sheath with ballistic nylon belt loop and straps.
Item Weight: 10.4 ounces – Product Dimensions: 16 x 5.8 x 3.4 inches
—————————————————————————————————————————————–

#3 – Ka-Bar Becker BK2 Companion Fixed Blade Knife – More Details & Reviews
Bring the KA-BAR Becker Companion Knife and Tool along on your next hunting or camping trip.
This lightweight knife features a durable, 1095 cro-van steel blade.
Perfect for splitting kindling, skinning game, or chopping onions for the campfire grill.
This knife features the drop point blade shape and a versatile 20-degree blade angle.
The comfortable handle is made from Grivory, providing a balanced grip for any outdoor chore.
The flat blade is five and a half inches long and the overall length is ten and a half inches.
The knife includes a glass-filled nylon sheath to keep the blade safe and sharp.
Made in the USA, the Companion knife and tool is tough enough to handle all your outdoor adventures.
Fixed blade knife with drop point shape and 20-degree edge angle.
Blade made of 1095 cro-van steel blade for strength.
Handle made of Grivory material – Blade measures 5.5 inches long; Knife measures 10.5 inches long.
Product Dimensions: 13.7 x 3.4 x 2.6 inches – Shipping Weight: 1.5 pounds
—————————————————————————————————————————————–

#4 – MTECH USA XTREME MX-8054 Tactical Fixed Blade Knife – More Details & Reviews
MTECH Tactical Fighter Fixed Blade Knife with Finger Grooved Black G-10 Handles.
Model: MTX8054. 11″ overall. 6″ black finish 440 stainless fighter blade with sawback.
Full tang. Extended tang with lanyard slot and lanyard hole.
Grooved black G-10 finger groove handles.
Black nylon belt sheath with front utility pocket, leg strap and black cord lanyard.
Product Specs: 11" Overall – Weight: 1.1 pounds – Black Stainless Steel Blade – Includes Black Nylon Sheath
—————————————————————————————————————————————–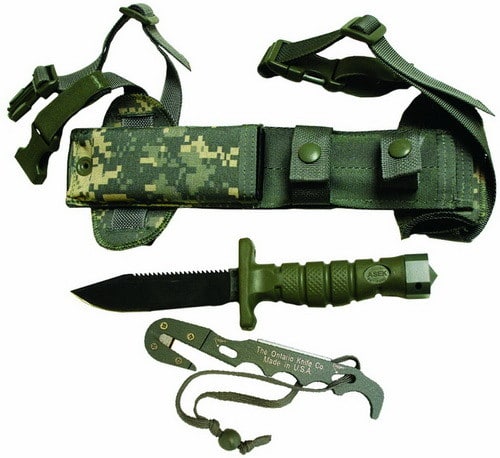 #5 – Ontario ASEK Aircrew Survival Egress Knife – More Details & Reviews
Ontario survival egress knife chosen by the U.S. Army for its Air Warrior Equipment System.
The knife is 10.25 inches overall and features a sturdy 5-inch carbon-steel blade with a zinc phosphate finish.
The blade sports a serrated edge with saw teeth on the spine, along with a hardness rating of Rockwell C 50-54.
Insulated handle that's molded over the blade guard, with a lanyard hole and glass breaker on the butt cap.
The high-strength, machined-aluminum handle will not melt or shatter.
Survival/egress knife with sturdy 5-inch carbon-steel blade – Serrated edge with saw teeth on spine.
High-strength, machined-aluminum, insulated handle – Flame-retardant nylon sheath and strap-cutter tool.
Item Weight: 1.2 pounds – Origin: Made in USA or Imported
—————————————————————————————————————————————–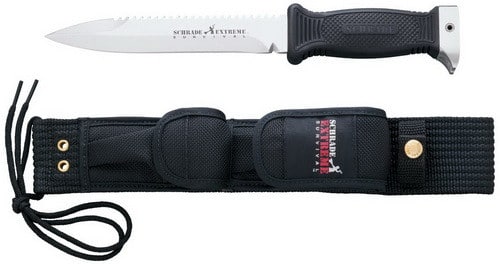 #6 – Schrade Extreme Survival Knife Fixed Blade – More Details & Reviews
Schrade Extreme Survival knife with survival sheath. 12 1/4″ overall length. Limited Lifetime Warranty
Includes survival sheath – Multi-purpose survival blade
Survival Sheath – 12 1/4″ overall length – Limited Lifetime
Product Dimensions: 2.8 x 4 x 6.7 inches – Weight: 1.1 pounds
—————————————————————————————————————————————–

#7 – Schrade SCHF1SM Extreme Survival Special Forces Fixed Blade Knife – More Details & Reviews
The Extreme Survival knife is a tool like no other. It stands alone as a finely crafted fixed-blade survival style knife.
Has a multi-bit screwdriver that threads into the butt end of the handle.
Specs: 5.6″ blade, 4.7″ handle – SAE 1070 High Carbon Steel blade and handle
Includes screw driver multi-tool in handle – Includes ballistic nylon sheath
Item Weight: 12.8 ounces – Product Dimensions: 7.5 x 5.2 x 12.7 inches
—————————————————————————————————————————————–

#8 – SOG Specialty SEAL Pup Knife – More Details & Reviews
SOG pup surpassed the most extensive testing and evaluation programs ever undertaken by the US Government.
This stowable blade is an excellent field companion for outdoor and underwater adventures.
Durable general purpose knife – Ideal size for hiking backpacking.
4.75-inch partially serrated powder coated AUS8 stainless steel blade.
Rugged and durable Zytel handle – MOLLE compatible Nylon carry sheath with accessory pouch.
Item Weight: 5.4 ounces – Product Dimensions: 14.7 x 3 x 2.2 inches – Origin: Japan
—————————————————————————————————————————————-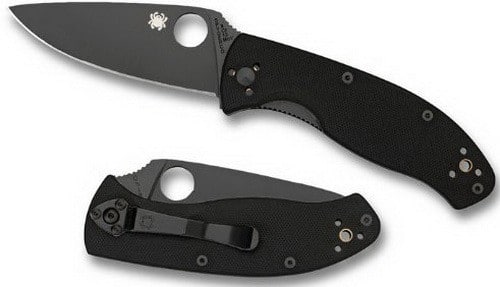 #9 – Spyderco Tenacious Black G-10 Handle Black Blade Knife – More Details & Reviews
The blade's shape, coupled with the Spyderco Round Hole, position the hand for instant blade opening.
Sharp from tip to hilt, the Tenacious offers the most cutting edge possible for the blade's length.
A black 4-way pocket clip lets the folder be set in a variety of carry and draw positions.
Specs: length overall: 7.76″ (197 mm) blade length: 3.39″ (86 mm) length closed: 4.45″ (113 mm)
Cutting edge: 3.39″ (86 mm) hole diameter: .51″ (13 mm) blade thickness: .118″ (3 mm) handle material: G-10
—————————————————————————————————————————————-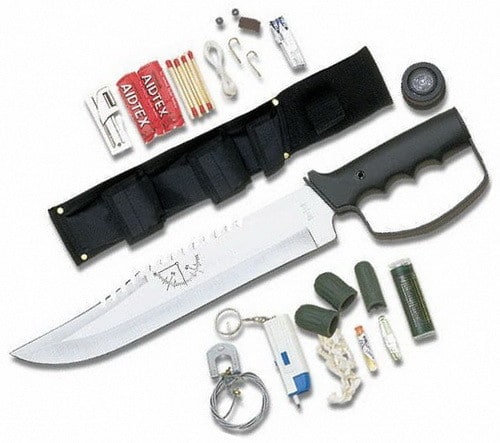 #10 – United Cutlery Bush Master Survival Knife – More Details & Reviews
 The United Cutlery Bush Master Survival Knife is more than just a hunting survival blade.
The 15.25-inch fixed blade knife carries an entire survival kit contained within its handle, hand guard, and sheath.
Built to last with quality and usability in mind, the knife features a 10-inch 420 stainless steel.
The knife has a durable cast metal handle that has a precision compass built into the butt cap.
Fixed blade knife with survival kit and emergency materials stowed in the handle and sheath.
Knife measures 15.25 inches overall with a 10-inch 420 stainless steel mixed edge, clip-point blade.
Nylon sheath stores a G.I. can opener, flashlight, animal snare, fishing equipment, and matches.
Additional survival equipment includes sewing needles, band-aides, matches, surgical blade, and magnifier.
Black cast metal handle with compass built into butt cap; detachable hand guard.
Knife Specifications:
Total Length: 15.25 inches
Blade Length: 10 inches
Blade Material: 420 Stainless Steel
Blade: Clip point, straight edge, and saw back edge
Handle Material: Black cast aluminum
Push tang construction
Compass built into the butt cap
Detachable hand guard
Nylon sheath
Survival Kit Components:
Precision compass
G.I. can opener
Sharpening stone
Animal snare
Snake bite kit
Flashlight
Sewing needles
Band-aides
Matches
Surgical blade
Magnifier
Fishing hooks
Line and sinkers