Humming garbage disposal? This guide will help you diagnose the problem and offer the best solutions to fix a humming disposal.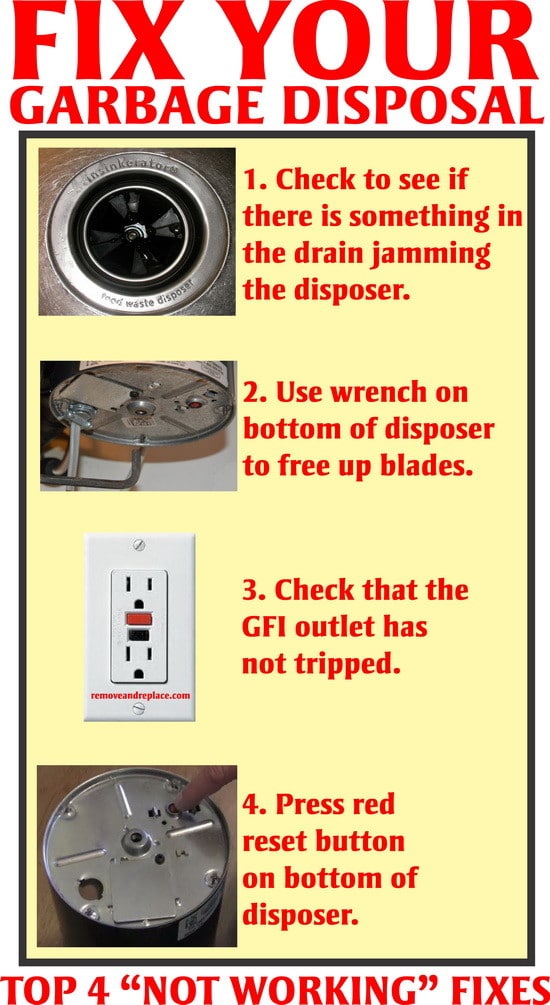 Fix garbage disposal humming
Why Does My Garbage Disposal Hum?
Jammed or Stuck Objects: Foreign objects such as utensils, bones, or fibrous food waste can become lodged in the disposal, causing it to hum.
Overheating: If the disposal has been running for too long, it may overheat and stop working, producing a humming sound.
Worn or Damaged Motor: If the motor is damaged or worn out, it may struggle to operate and create a humming noise.
Fixing A Humming Disposal
Safety First: Unplug the garbage disposal or turn off the circuit breaker before attempting any repairs.
Inspect the Disposal: Check for any visible foreign objects lodged in the disposal.
Use a Plunger: If you suspect a clog, try using a plunger to dislodge the blockage.
Allen Wrench Method: Use the provided Allen wrench to manually turn the disposal and free any jammed objects.

Garbage Disposal Wrench is 1/4″
Reset Button: After dislodging any obstructions, press the garbage disposal reset button located at the bottom of the disposal.
Test the Disposal: Plug the unit back in or turn the circuit breaker back on and test the disposal for proper function.
Prevention And Maintenance Tips
Run Cold Water: Always run cold water while using the garbage disposal to help flush waste down the drain.
Avoid Fibrous Foods: Keep fibrous foods like celery, corn husks, and onion skins out of the disposal, as they can cause jams.
No Grease or Oil: Never pour grease or oil down the disposal as it can solidify and cause clogs.
Dispose of Bones Properly: Do not put bones in the garbage disposal, as they can break the blades or cause jams.
Clean Regularly: Clean your garbage disposal regularly by grinding ice cubes and lemon peels to keep it fresh and free of debris.
If you've tried the DIY methods and your garbage disposal is still humming, it might be time to call a professional plumber. They can diagnose and fix garbage disposal issues, such as a damaged motor, that may be causing the problem.
Garbage Disposal FAQs
1. What causes a garbage disposal to hum but not grind?
A humming garbage disposal usually indicates a jam or a stuck impeller. The motor is still running, but the grinding mechanism is unable to move due to a foreign object or built-up food debris. The humming sound is a result of the motor trying to turn the impeller but being unable to do so.
2. Is it safe to use a garbage disposal that's humming?
No, it is not safe to use a humming garbage disposal. The humming indicates that the disposal is jammed, and continued use may lead to motor burnout, which can cause irreversible damage. Turn off the power to the disposal immediately and address the issue before attempting to use it again.
3. How can I fix a garbage disposal that's humming but not working?
To fix a humming garbage disposal, follow these steps:
Turn off the power and unplug the disposal.
Inspect the grinding chamber for visible obstructions.
Use a plunger or Allen wrench to free the impeller.
Press the reset button on the bottom of the unit.
Test the disposal to ensure it's working properly.
If these steps don't resolve the problem, consult a professional plumber.
4. Can a humming garbage disposal be a sign of a bigger problem?
While a humming garbage disposal is often a sign of a jam or stuck impeller, it may also indicate a more serious issue, such as a failing motor or damaged internal components. If you have tried the steps mentioned above and the disposal is still humming, it's best to call a professional plumber to diagnose and fix the issue.
5. How can I prevent my garbage disposal from humming in the future?
To prevent your garbage disposal from humming, follow these tips:
Run cold water before, during, and after using the disposal.
Avoid putting fibrous or hard materials into the disposal.
Cut large food items into smaller pieces before disposing of them.
Regularly clean your garbage disposal with a mixture of baking soda and vinegar.
Perform periodic maintenance checks to ensure the disposal is functioning correctly.
Need more help with your garbage disposal? Please leave a comment below with your problem and we will get back to you with an answer.