Looking to make a unique and custom wooden beer carrying tote? We have it here. Carry your beers with class! This beer caddy consists of wood and a wall mounted metal bottle opener. It should take a half day to build this whether you are a beginner or a pro. If you have woodworking skills, then this project should be easy for you. Go here for a FULL STEP BY STEP build of a similar DIY Wooden Beer Tote.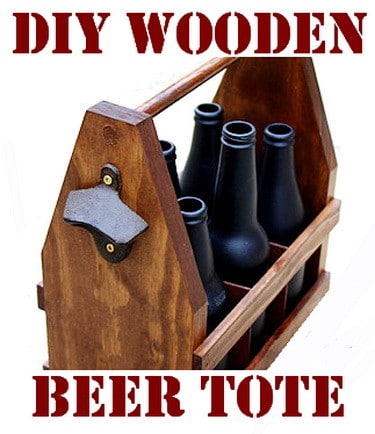 DIY Wooden Beer Tote Materials List:
1 – 34″ of 1″ X 6″ Wood Board (your choice of wood type = 34″ length)
1 – Rod of 1/2″ Wood Dowel (10″ length)
1 – 1/4″ Plywood (3ft X 3ft)
1 – Can of Wood Stain (Any Color)
1 – Metal Bottle Opener (Wall Mounted)
If you are interested in these very unique beer tote's, but do not want to build one yourself, here is an Etsy link to choose from 8 to 10 different amazing designs. They are priced from $35 to $50 dollars and they are made one at a time, not mass produced.

How To Build A Wooden Beer Bottle Carrier
Below we have the build plans showing the measurements of the wood if you choose to make this yourself.
(Thanks to Markus in Sweden for sending us the build plans below)
Below are a few videos showing similar beer totes that may give you some other ideas