Are you looking for organization and storage ideas for a big or small space closet? If you are planning to reorganize your closet and put everything in its place, we have 43 great ideas for you. From hundreds of pairs of shoes to multiple expensive suits, we have ideas to organize everything neatly. Many of these closet ideas have special storage solutions from adding closet storage systems and shelving bins. You too can add these special storage units that can be customized to your closet with this online design tool. If you don't have a huge budget to spend on reorganizing your closets, your local home improvement stores have inexpensive shelving and drawer kits that can be added to just about any closet big or small.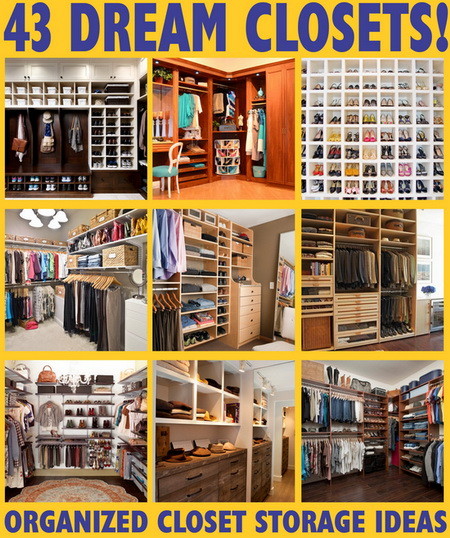 43 Organized Closet and Storage Ideas!
Another great place for DIY closet storage systems is the container store. You can do this yourself easily by measuring your closet area and then finding plastic containers that will fit perfectly in your closet. This is a great way to store things that you don't wear that often but still want them in plain view in case you need them. The container store actually specializes in closet organization systems as they have some great all-in-one organizing systems for your closet.