Your homes exterior door is shrinking and swelling due to outside temperature and weather. How do you permanently fix the door so it is not affected by extreme outside temperatures? A shrinking or swelling door most likely will be difficult to open when it swells, and when shrunk will let the cold exterior air into your home. When it is hot outside, the door gets slightly larger and is difficult to open and close. When it is cold outside, the door gets slightly smaller and has small gaps around the door seal.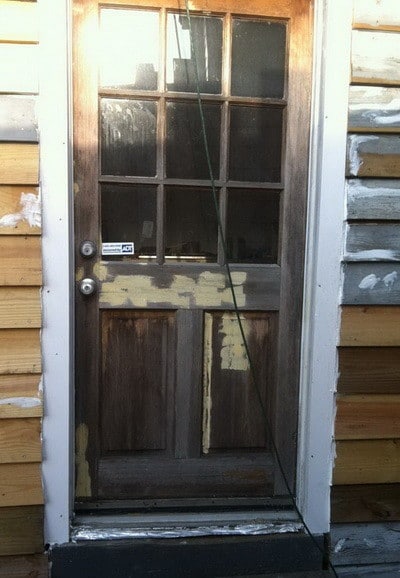 How to fix a shrinking or swelling exterior door
Depending on the type of door you have (usually wood) the steps will vary for fixing and repairing your exterior door. Assuming your door is made from wood, the best plan of action is to remove the door from the hinges and sand it down to bare wood. If possible give the door some time to dry out possibly in the sun or in your garage with a fan moving air across it to remove any moisture that is inside the door. The moisture that is trapped in the door (from not being properly sealed) is what is making it shrink and swell during different times of the year due to temperatures.
Once your door is sanded down to bare wood and fully dried out, the next step is to seal the door with and high quality exterior paint. Use an exterior primer first and prime the front, back, top, sides, and bottom. Then paint with an exterior paint and apply 2 heavy coats. While the door is drying, get some extreme temperature weather stripping and apply it to the door frame. This will be as a precaution for any tiny gaps that may let in hot or cold air. Reattach the door back into the door opening and test to make sure it shuts correctly and that there are no gaps around the door to allow hot or cold air in or out of your house.
Another option is to replace the door with a brand new door. This is not an easy task as if you replace your old door with a wooden or fiberglass door, you will need to make the holes for the door handle and may need to cut the door to size. This is only recommended if you are familiar with this procedure. You can always call a door specialist company and have a professional install a new door on your home if it fits in your budget.