Oven not working properly? Here are many different common problems and possible solutions you can solve yourself and then order the parts online to save money.
There are different types of oven/ranges that are in use today Determine which type of Oven / Stove / Range you have to troubleshoot properly:
Old electric range ovens use a coil heating element called a resistive coil. This is nothing more than an electrical wire encased in a sheath. They have flat black coils over rounded burner drip bowls that catch your drips and spills.
The newer glass-ceramic cook top style element produces heat that radiates through the glass top to the cookware above.
Gas ovens / stovetop that use gas and not electricity. These work by igniting gas and use actual flame on the the stovetop.
Newest cook top styles, such as the induction or halogen cook tops combine the same style to produce more even heating. Some of these ovens feature thermal limiters or thermostats that regulate the burner system.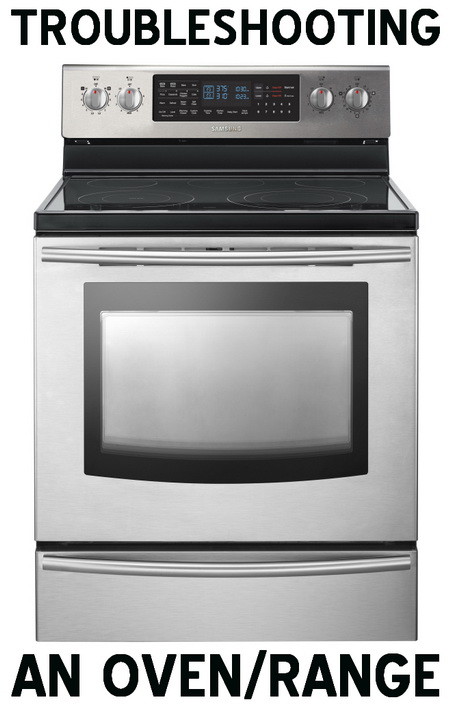 OVEN RANGE TROUBLESHOOTING:
Nothing Works, or the Oven / Range / Stovetop Works Only At Certain Times:
Home breaker flipped or the fuse blown? Possibly an electrical surge has flipped the breaker. Check your breaker or fuse box and replace or reset as necessary.
Power cord plugged in? Grab the plug and wiggle to determine a good connection.
Power cord damage? Damaged rubber with wires showing through or the wire is being pinched can cause issues. Electrical tape is acceptable for covering damaged wires.
A clicking sound could be something wrong with a relay. Check for any loose connections around the main control board on your oven. The click you hear is a relay losing power and switching back on. If the clock resets then something is causing power interruptions to the board.
Oven igniter (only on gas oven) The igniter may be to weak to let the gas valve open. If it glows for around 60 seconds but won't ignite, the oven igniter should be replaced.
Baking element (at bottom) may have burned out. This is the part that glows red to bake your food. If it is not glowing there may be a hole in it that is preventing it from heating. It will need to be replaced.
Broiling element (at top) may have burned out. This is the part that glows red to broil your food. If it is not glowing there may be a hole in it that is preventing it from heating. It will need to be replaced.
The oven control board has relays that turn on and off power. If this is bad then it will not send the proper v0ltage to the heating elements therefore needing replaced.
A faulty Oven thermostat can cause an oven to not heat. Sometimes the thermostat contacts can become burned and will need to be replaced.
If the above solutions haven't helped, unplug the oven and remove the back panel. Make sure the power cord wires connect to a terminal. If wires are loose resecure them on the screw terminal.
Some ranges have fuses under the top of the range. Look around the elements or on the sides of the unit. Fuses control the self-cleaning function, timer, clock and other features. To replace a fuse, unscrew it and replace with the exact same type and size. For circuit breakers, just push "reset" button.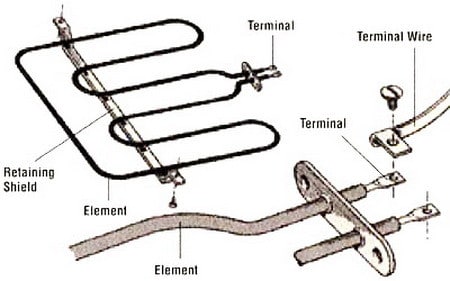 Oven interior of location of screws to remove elements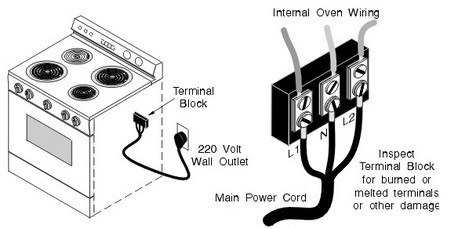 Inspect terminal block for loose or burned wires

HOW DOES AN ELECTRIC RANGE WORK?
Below are some common and helpful oven and range
error and fault codes to help you diagnose your fault.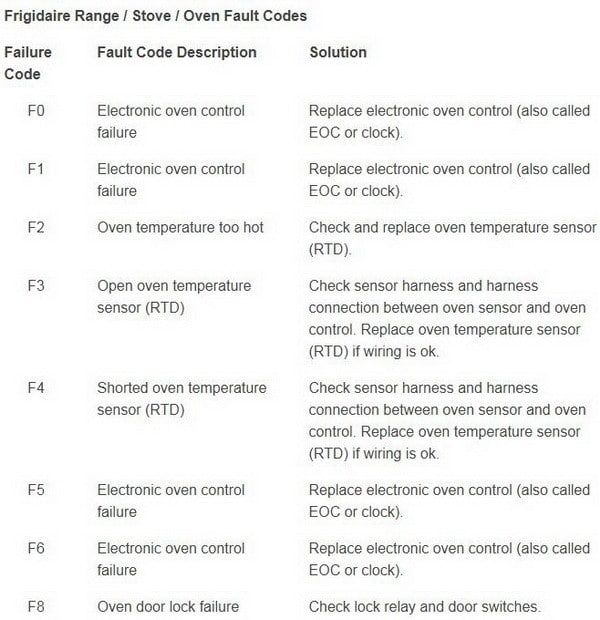 Frigidaire error fault codes oven
———————————————————————————————————————————–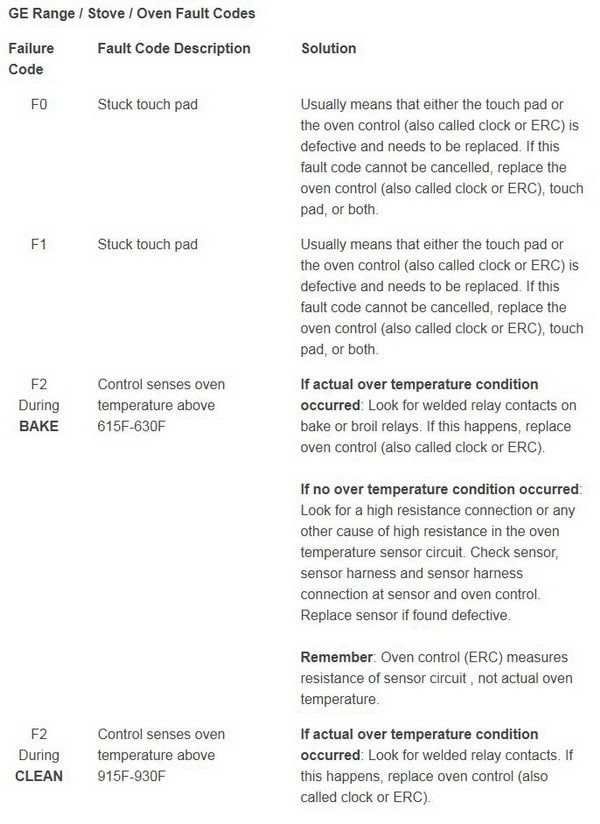 GE error fault codes oven
———————————————————————————————————————————–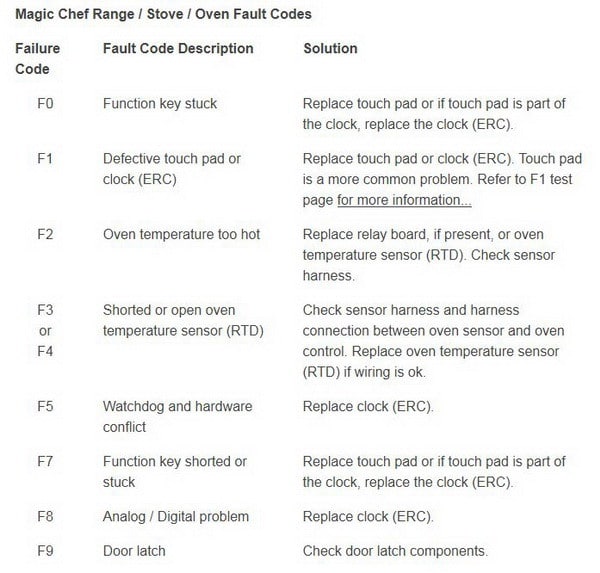 Magic Chef error fault codes oven
———————————————————————————————————————————–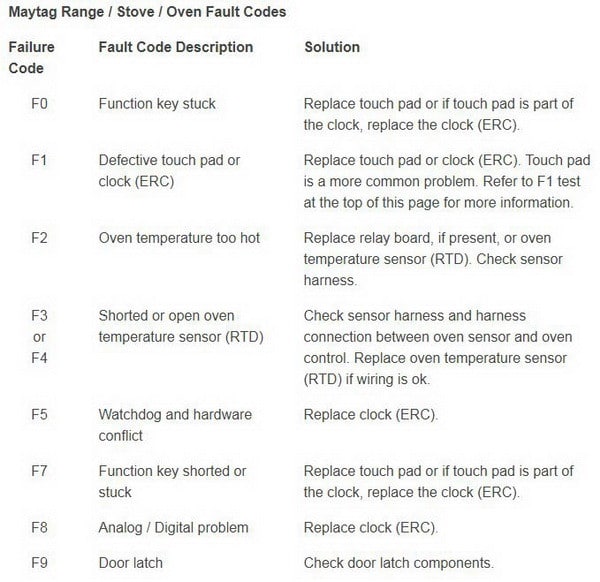 Maytag error fault codes oven
———————————————————————————————————————————–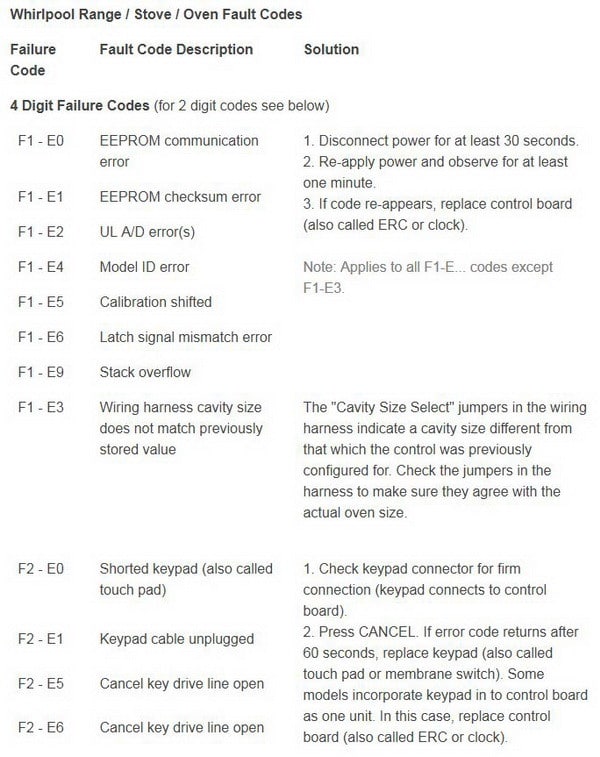 Whirlpool error fault codes oven
———————————————————————————————————————————–

OVEN WILL NOT HEAT

ELECTRIC OVEN REPAIR

HOW TO FIX A KNOB ON AN OVEN