Your ONLY pair of eyeglasses just broke. The cheap plastic frame made in China has snapped. Now they won't stay on your face and you can't see! Instead of sending them off for repair or going to buy special products just DIY! With simple common household items, you can fix them FAST and NOW!!

NOTE: Broken plastic frames once fixed, will more than likely NOT HOLD TOGETHER. This is a temporary fix method to wear your repaired glasses until your new ones arrive!
For broken or snapped plastic anywhere on the glasses (including the center)…
First, clean the broken plastic ends to remove any small pieces.
Use a ruler (or cardboard) with 2 rubber bands to hold the glasses in position to glue. (Example here)
Add a few drops of superglue to the broken ends. (If you have JB weld use that instead)
Immediately put the 2 pieces together and hold with your hands for 30 seconds.
Keep the glasses holding together with the ruler and rubber bands.
Get a paperclip and trim to be long enough to fit over break. (If you have small drill bits then it is best to drill tiny holes in the ends of the broken pieces and slide a paperclip in between and then superglue together)
Put the paperclip over the repaired area.
Wrap the paperclip super tight with a piece of electrical tape or duct tape. (The paperclip helps to reinforce and strengthen the repaired area as superglue alone will not hold)
Your glasses should hold together long enough until your new ones arrive. Cross your fingers…
If the metal hinge area of your glasses has fallen apart or snapped, you can usually put a trimmed paperclip into the hinge and bend to fit to temporarily hold it together.
If your glasses have snapped in the very middle and depending on how thick the plastic frame is, you may have no luck fixing them. Even if you have fixed them it honestly probably will not hold for very long. You should go online to one of the ultra cheap glasses website's that sell prescription eyeglasses for around 10 bucks. There are a bunch of them you can use. We broke our glasses and used Goggles4U.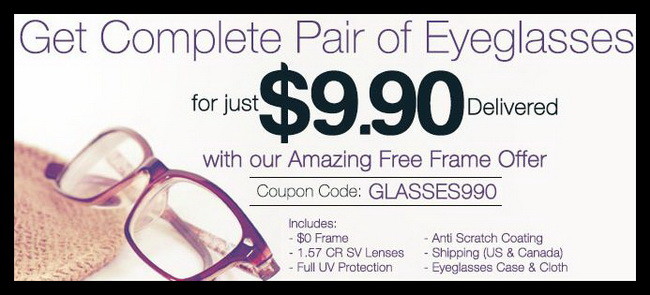 Here are multiple coupon codes for cheap glasses at Goggles4U…
Coupon Code for $9.90 Glasses: GLASSES990
Coupon Code for 20% off Glasses: discount
Coupon Code for Prescription Frames for $4.95 plus shipping: glasses495
Coupon Code for $3.99 Glasses: glasses399
Coupon Code for 30% off Glasses: deal30

We paid about $10 dollars for a generic pair of glasses with straight up no frills plastic lenses. Nothing special but they work. One thing you need to know obviously is your lens prescription. You can either type it in manually or upload the RX picture your eye doctor gave you.
If our way of fixing your prescription glasses is not the best method, let us know your repair method by adding a comment below.