Whether your countertop is formica or laminate, here are a few different approaches on painting them. Old countertops can be ugly and dated, but now there are moderately easy ways to update them in one weekend. If you don't want to spend thousands of dollars having new custom granite or marble countertops installed, buy a countertop kit or purchase the materials separately (see below for list). An all-in-one kit is your best bet as it will have full step-by-step instructions and all materials included.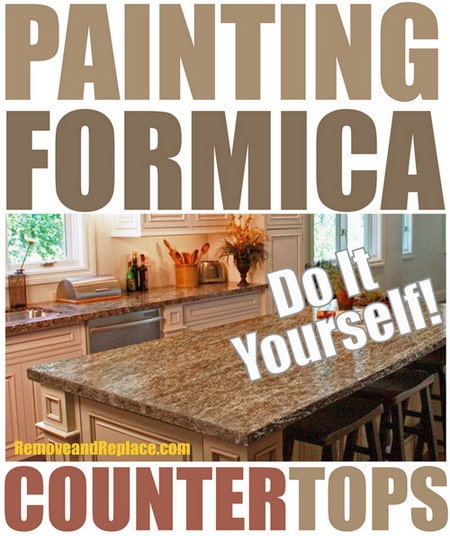 If you purchase a countertop kit, find the company who manufacturers it on YouTube. Then follow along with their step by step video guide to make the refinishing project much easier. Keep in mind that buying the items needed for painting a countertop separately MAY save you some money and will customize your outcome. However, it will all really depend on the exact color and look you are going for. A kit will be the easiest, but won't give you a true custom look as you are just using the colors provided. For a true one-of-a-kind look, you may want to buy everything separately and use colors and materials not found in the countertop kits.
If you decide to NOT use a countertop kit, here is a basic supply list of what will be needed to DIY:
Painter's Tape – 1″ or wider is recommended.
Aluminum Oxide Sandpaper – Coarse is recommended.
Disposable Paint Trim Trays – Should need about 6 to 10 for most projects.
Acrylic Paint – Multiple sizes and colors will vary on your specific project.
Premium Pad Painter – 7″ or 9″ is best.
Frame And Foam Roller – To apply base paint.
Water-Based Interior Exterior Primer Sealer – 1 quart will be needed for most projects.
Painting Sponge Medium Texture – Quantity will depend on how many colors you use.
Polycrylic Protective Finish – Quantity and size will vary with project size.
Clear Varnish – 1 quart should be plenty. (may turn yellowish color is applied heavily)
If you want to take the easier route, buy a countertop refinishing kit. It will be faster and easier than buying everything separate. There are 4 very good kits that we will list below…
NOTE: All of the countertop kits below have gotten great reviews and are recommended.
1. Rust-Oleum (Transformations) Countertop Paint Kits – Replace those dirty, dingy or just plain dated countertops into the look of granite without the cost and mess of total replacement.
2. Giani Granite Countertop Paint Kits – Help your counters look less outdated and more like a slab of new Granite!
3. SpreadStone Countertop Paint Kits – There's no faster, easier, or more economical way to completely RENEW your existing laminate or formica countertop with a new STONE surface you roll on as easily as paint.
4. RECLAIM Countertop Makeover Kits – No sanding, stripping or priming needed.

HOW TO PAINT FORMICA COUNTERS
The easy way to turn any existing Formica countertop into a new surface.
This video uses a Rust-Oleum product but gives you an idea of what is involved to DIY.

Do you know of a better method to refinishing or painting kitchen countertops? Please leave a comment below.