I am going to be painting rooms in a home. I have never painted a room before and I just need a brief but complete run down (maybe a checklist) of what I need to buy. Also what do i need to do in terms of prep to make this easy, fast, but also look great? What supplies will I need to paint my room?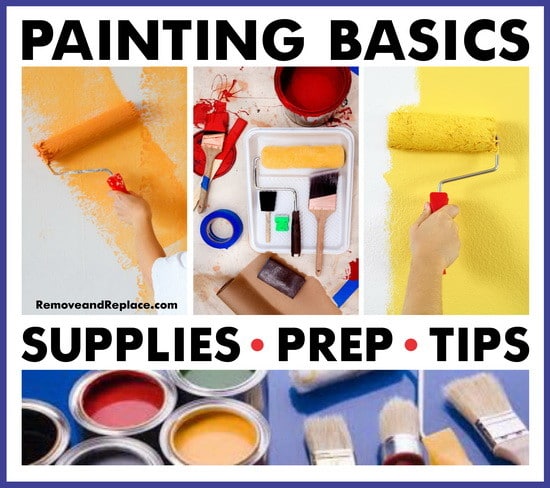 Painting Basics – Supplies, Prep, Tips
What paint supplies do i need to buy at my home improvement store?
Purchase a painting kit:
Your local home improvement store will have complete paint kits with quality brushes. Buying a kit is cheaper than buying all of the items separately. A kit will usually include paint rollers, a rolling handle, a metal tray with plastic liners, a screen that fits the tray, and multiple sized 1″ to 2″ paint brushes. Disposable items that may not be in a kit but will still be needed is wooden paint stir sticks, plastic floor sheeting, and blue painters tape. Other items needed for painting that you probably already have would be a paint can opener (flat screwdriver works), and a damp rag.
Buying painting supplies separate:
Painting supplies needed will be a sturdy paint tray with disposable liners, paint roller, rollers for paint, extendable roller pole for high areas, painter's tape, 2″ or 3″ regular painting brush for corners, wooden paint stir sticks, plastic floor sheeting, blue painters tape, and a paint cup with liners. See below for a complete painting supply list.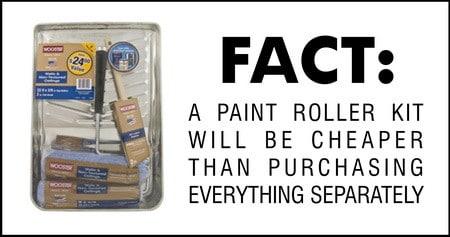 Buy a paint roller kit to save money on painting supplies
What do I need to do with the walls and floors in preparation (prepping) for painting?
For room prepping you will need to prepare the wall surfaces and the flooring area. Each wall should be washed of all dirt, finger marks, and dust, and then left to dry. You can also just wipe the walls down with a damp cloth or sponge if it's already clean. If there are nail or pin holes in the walls they need to be filled with a light weight spackle or hole filler. The floor needs to be protected with plastic, cardboard or cloth drop cloths to avoid drips on your carpet, tile or wood flooring.

Preparing Walls for Painting
Are there any tips or tricks that can help me with painting faster and less messy?
Don't buy an extension pole, use the handle on your broom or mop as the threads are usually the same.
Purchase a paint roller for each color you will be using.
Cover door knobs with plastic bags as they will probably be touched when painting.
Wrap the rollers in saran wrap (or in a large plastic bag) between coats and you'll never have to wash them.
Try not to get ceiling paint on the walls (or wall paint on ceiling) as it will show through and need to be repainted.
Always have a damp cloth near you to quickly wipe up any paint drips.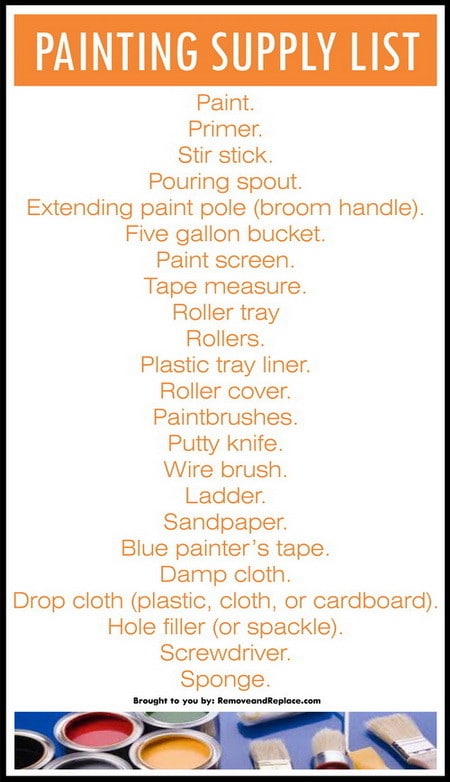 Right click and save on the Painting Supply List then save it and print it!
Here is a complete list of Painting Supplies (for a room):
Paint.
Primer.
Stir stick.
Pouring spout.
Extending paint pole (broom handle).
Five gallon bucket.
Paint screen.
Tape measure.
Roller tray
Ladder.
Rollers.
Plastic tray liner.
Roller cover.
Paintbrushes.
Putty knife.
Wire brush.
Sandpaper.
Blue painter's tape.
Damp cloth.
Drop cloth (plastic, cloth, or cardboard).
Hole filler (or spackle).
Screwdriver.
Sponge.
Do you have another painting supply item we need to add to the list above? Please let us know in the comments below and we will add it to the list.