If your bathroom towel bar is not screwed directly into the wood studs, over time it may loosen or fall out. If the towel bar has pulled out of the wall, there is an easy way to fix this yourself. Whether you need to reinstall an existing towel bar or install a brand new one, we will show you how to do this even if the holes in the wall are damaged.

To repair a loose or broken towel bar:
Remove the old or broken towel bar from your wall.
Use a cordless drill and make the existing holes in the wall larger so you can put in toggle bolts.
Put the toggle bolts on the towel bar mounting hardware by sliding the screw into the mounting hole and threading the spring loaded piece onto the other side.
Slide the spring loaded part of the toggle bolt into the wall far enough so it can spring open.
Tighten the toggle bolts with a screwdriver until they are snug. (do not over tighten)
Attach one of the towel bar brackets to the wall by tightening a small screw with a flat screwdriver.
Put the towel bar into the towel bar holder bracket you just attached.
Put the other end of the towel bar into the other bracket and then secure that bracket to the wall. (if you put both towel bar holder brackets on the wall before the actual towel bar, there will not be enough space for it to slide in)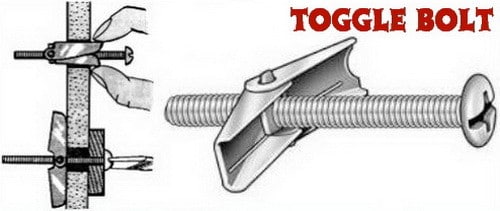 Toggle bolts are best to use in this situation when the drywall is damaged. The image above is of a toggle bolt which will work well in this situation.

Bathroom towel bar repair
If you know of an easier way to repair or fix a towel bar that has fallen out of the wall, please leave a comment below.